Most Underrated 2011 MLB Pickups
This winter saw some big, big free agency signings. Carl Crawford got seven years and over one hundred and forty million. Cliff Lee got five and one hundred twenty from the Phillies. Jayson Werth used a Jedi mind trick to get seven years and one hundred twenty seven from the Washington Nationals. Beyond these, though, were a number of more under the radar pickups that could have huge implications for the upcoming season. They are:
1. Magglio Ordonez resigns with the Detroit Tigers for 1 year; 10 million.
Ordonez reportedly turned down several multiyear offers for more money to re-up with Detroit. While that may be the first time Detroit has been chosen for anything in quite a few years, the move also has major AL Central implications. Detroit solidified their infield early in the offseason by adding catcher Victor Martinez and resigning shortstop Johnny Peralta and third baseman Brandon Inge, but their outfield was still short a productive body. Ordonez was having a great bounceback season before his injury and, if he returns healthy, will give Detroit another potent hitter.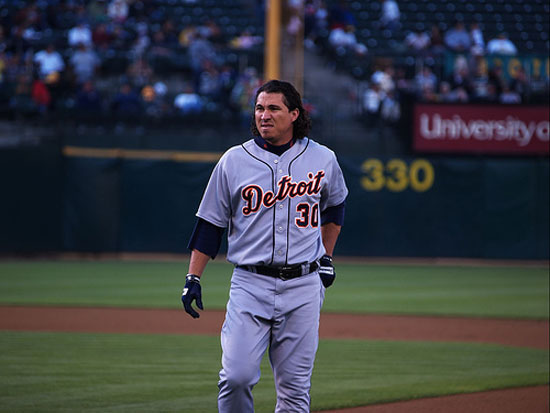 Magglio Ordonez.
Thanks on2wheelz at flickr.com for this photo.
---
2. Jon Garland signs with the Los Angeles Dodgers for 1 year; 5 million.
Garland is one of the most underrated pitchers in baseball. Even accounting for spacious Petco Park, Garland's 3.47 ERA, 1.30 WHIP, and 14 wins were all excellent marks last season. Moreover, he put up those stats in 200 innings of work and he is moving to another pitcher friendly NL stadium so this move gives the Dodgers a very competent workforce for a low price.
Jon Garland.
Thanks SD Dirk at flickr.com for this photo.
---
3. Hideki Matsui signs with the Athletics for 1 year; 4.5 million.
Matsui cannot play the outfield anymore but Oakland doesn't need him out there. Instead, look for the Athletics to slot him in at DH. He filled that role admirably for the Angels last season and, combined with fellow imports Coco Crisp, David DeJesus, and Josh Willingham, the A's offense should be at least average in 2010. That could prove a lethal combination with their elite young pitching.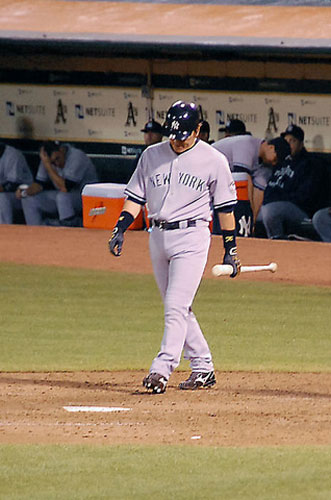 Hideki Matsui.
Thanks Kimberly* at flickr.com for this photo.
---
4. Kerry Wood signs with the Cubs for 1 year; 1.5 million.
The Cubs hit rock bottom in 2010. A high payroll did absolutely nothing and the team failed to contend. However, with almost one hundred and twenty million dollars in 2011 guaranteed salaries, Cubs management didn't have a lot of improvement options. The additions of Pena (coming off a down year but still a left-handed power bat in a contract season) and Wood should help though. Wood's signing was particularly astute since it brings back a fan favorite who will help Cubs fans endure another underachieving season before more money rolls off the books next year.
---
---
What do you think?
We'd love to hear your comments and/or opinions. If you submit them here, other visitors can read them, rate them and comment on them. An e-mail address is not required.
---
From Most Underrated 2011 MLB Pickups to MLB Baseball Blog | Sports Blog | NFL Football Blog | NCAA Football Blog | NFL Football Archives | College Football Archives | College Baseball Blog | MLB Baseball Archives | NBA Basketball Blog | NCAA Basketball Blog | NBA Basketball Archives | NCAA Basketball Archives | Fantasy Football | Fantasy Basketball | Fantasy Baseball | Soccer Archives | Olympics Archives | Stupid Athletes Archives | Other Archives | Football Forum | Basketball Forum | Baseball Forum | NFL Football Store | NBA Basketball Store | MLB Baseball Store | NCAA Football Store | NCAA Basketball Store | NCAA Baseball Store | Fatheads | NFL Football Tickets | NBA Basketball Tickets | MLB Baseball Tickets | NCAA Football Tickets | NCAA Basketball Tickets | NCAA Baseball Tickets |
---
Home Page
About Us | Contact Us | Site Search | Advertise | Terms of Use |
---