Most Consecutive Starts in NFL History
Who has the most consecutive NFL starts in football history? A number of The Best Sports Blog community members have been looking for the answer to this question so we decided to go out and find it. It is now part of our series of articles on major NFL records: we find the modern record, let The Best Sports Blog users know it, and then note previous holders of the record and discuss some modern close runs at it. So, the holder of the record is:
Brett Favre. He started 297 consecutive games for the Green Bay Packers (1992-2007), New York Jets (2008), and Minnesota Vikings (2009-2010).

Here's an article about Brett Favre Jersey.

Favre took over the "most consecutive starts for a quarterback" record while still with the Green Bay Packers. Nicknamed "the Ironman" for his ability to shrug off injuries and continue to perform, Favre became a Packers icon en route to the record. However, after being snubbed by the Packers after un-retiring in 2008, Favre opted to continue his career elsewhere and he passed Cleveland's George Marshall for the all time starts record. He extended his starts record with a 9-7 season in New York and then had a memorable, MVP-caliber season at 40 with the Minnesota Vikings in 2009. Favre set the All Time record for any NFL player in that year and, while he extended it through part of 2010, the iconic Hall of Famer pushed himself a bit too far eventually and suffered an ineffective and injury riddled 2010 season.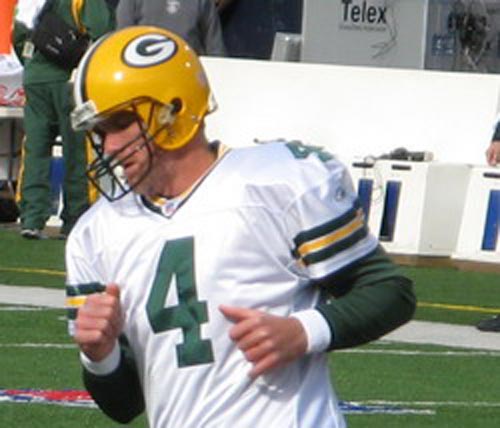 Thanks to PSUMark2006 from Wikipedia.org for this great picture of Brett Favre.


It is also worth noting that, while Favre holds the undisputed record and is unlikely to be passed anytime soon, punter Jeff Feagles actually played in the most consecutive football games of any NFL player ever. Special teams players are not credited with starts but the ageless Feagles played in an unprecedented 352 consecutive games over two decades in the National Football League.

We've got your Peyton Manning Jersey.

Let us know what records you are interested in! Comment below or in the forum if there is a record you are curious about and we will do our best to look it up, find out whatever there is to know about it, and bring it to you!

Other All-Time NFL Records:
What do you think?
We'd love to hear your comments and/or opinions. If you submit them here, other visitors can read them, rate them and comment on them. An e-mail address is not required.