Moneyball 2.0 and the Future of the AL West
By Matt Green
$151 million. $120 million. $52 million. In what is being dubbed by some as "Moneyball 2", the Oakland A's sent shockwaves through baseball, but, more importantly, through their division. The AL West was supposed to go through Anaheim and Arlington for the next decade or so, but with one fell swoop, the Athletics changed the landscape of the division. Now, with a young and talented roster consistent not only of top-notch pitching talent, but also exciting young hitters including Yoenis Cespedes, Oakland has the 2 AL West big dogs in a state of limbo, doubting their recent moves as they move forward with gigantic question marks. Meanwhile, the A's have nowhere to go but up as their players get more experience.
First, for the Rangers, not only did the September collapse hurt this year's team, but it makes the fan base in north Texas doubt the organization a bit moving forward. Josh Hamilton is gone. A welcome sight for some who believe he overstayed his welcome and are sick and tired of the head case that he is. Sure, the guy has all the talent in the world, but when his lows are as low as they are, it becomes fiscally irresponsible to sign him to a long term, lucrative deal. With Hamilton most likely out the door, the makeup of the usually potent Texas lineup becomes dicey. If Ian Kinsler can't regain his pre-2012 form, that 5yr/$75m contract the Rangers signed him to begins to look interminable. Nelson Cruz took a massive step back in 2012 after being the poster child for the Rangers run to the 2011 World Series. Michael Young, in his current state, may not even get ABs if he played for the Mariners. Adrian Beltre was a bright spot, the brightest of spots in fact, and while he is showing no signs of his age catching up to him, I imagine Texas doesn't want to pin its future on a 33 year old corner infielder. David Murphy was very good this year as well, but he's not a guy that can carry a team for a month like Josh Hamilton on a good, caffeinated month could. And then there's Mike Napoli. He's one of the premiere power hitting catchers in baseball, and will no doubt garner a big payday this offseason, so the question is can Texas afford him and still have financial flexibility. The 1st base situation is still unresolved and now there is talk of an Elvis Andrus trade to try and bring in some young pitching.
Speaking of pitching, other than Yu Darvish, there really isn't a guy at the major or minor league level that Ranger fans can look at and say he can be a future ace. Matt Harrison is a decent middle of the rotation guy and Holland is serviceable at the back end, but with Colby Lewis and Neftali Feliz trying to come back from injury, it remains to be seen if Texas can have a viable playoff rotation. Uehara is a free agent, so is Mike Adams, and Ogando was average at best in 2012. Pitching problems in Texas are almost as big as the hitting problems.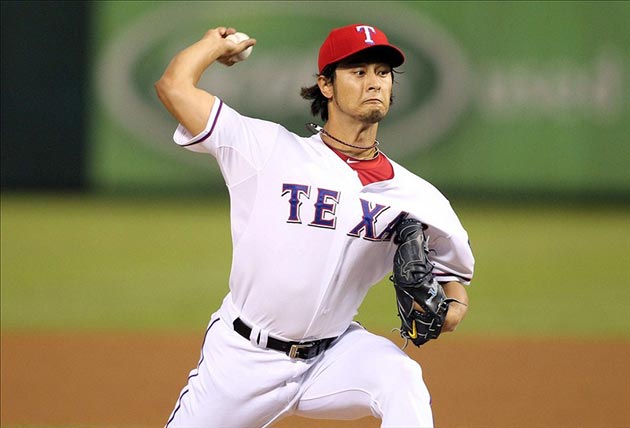 ---
Now for the west-coasters. They were one of the best teams in baseball toward the end of the season, but lacked the consistency that great teams possess. Their middle infield isn't great, with Aybar and Kendrick not really being consistent guys in that lineup and neither having the power to change a game. Trumbo is going to have trouble replicating the power and RBI numbers he had in 2012, unless me and a few other baseball guys I know really underrated this guy. Or unless he plays Texas every game. Pujols rebounded for a nice, typical Pujols year, but at the same time, it's obvious that he is getting older and is losing some of that bat speed. The 10-year deal that the Angels gave him last offseason is looming large for the Halos, and with Vernon Wells' remaining 2 years and $42million, they have about $55 million tied up among 3 guys, those two and CJ Wilson, and that's not even delving into Jered Weaver's deal and Dan Haren's $13.5m team option for 2013. The question becomes how much more money can the Angels take on. They want to re-sign Greinke after the midseason trade, that's obvious, but for the amount of money he is sure to require, and with all the money already tied up in Anaheim, it is extremely in doubt as to whether they can get a deal done.
What is even worse for the Angels is the fact that, if they can't re-sign Greinke, they just gave up almost all of their really good minor leaguers, especially Segura, to get a half-season rental of a guy that didn't even get them to the postseason. Peter Bourjos is now a tradeable piece with the breakout of Trout, so if they can get some decent return, namely in the bullpen, they will be far more formidable in 2013. Other than Trout, Torii Hunter was probably their most consistent bat in 2012, and there is a very good chance that he won't return. He has expressed interest, but if they are serious about getting Greinke back, Hunter will probably be a luxury they can't afford. I would start to delve into the bullpen problems, but that may take me hours to write about, and who has that kind of time? I will say that Frieri isn't a closer. He can be an incredible set-up guy, but it's clear that he's not the solution to close games for the Halos. They need to find some cheap but incredibly effective help at the back end of that bullpen.
It was clear at the beginning of the year that Texas and Anaheim had everything needed to win not only the division, but even a World Series title, but with the emergence of so many quality Athletics, and even Seattle having some nice, young hitters as well as a decent rotation, the future of the AL West remains in doubt, and may not go the way that baseball pundits had expected. Don't get me wrong, Texas and Los Angeles have solid management and should be fine moving forward, but it's not a two-horse race anymore. For now, this division goes through Oakland.
---
What do you think?
We'd love to hear your comments and/or opinions. If you submit them here, other visitors can read them, rate them and comment on them. An e-mail address is not required.
---
From Moneyball 2.0 and the Future of the AL West to MLB Baseball Blog | Sports Blog | NFL Football Blog | NCAA Football Blog | NFL Football Archives | College Football Archives | College Baseball Blog | MLB Baseball Archives | NBA Basketball Blog | NCAA Basketball Blog | NBA Basketball Archives | NCAA Basketball Archives | Fantasy Football | Fantasy Basketball | Fantasy Baseball | Soccer Archives | Olympics Archives | Stupid Athletes Archives | Other Archives | Football Forum | Basketball Forum | Baseball Forum | NFL Football Store | NBA Basketball Store | MLB Baseball Store | NCAA Football Store | NCAA Basketball Store | NCAA Baseball Store | Fatheads | NFL Football Tickets | NBA Basketball Tickets | MLB Baseball Tickets | NCAA Football Tickets | NCAA Basketball Tickets | NCAA Baseball Tickets |
---
Home Page
About Us | Contact Us | Site Search | Advertise | Terms of Use |
---