Monday Night Football Becomes a Defensive Spectacle
In week 10, starting quarterbacks were getting Ding Donged…er, excuse me, dinged up. Quarterbacks were falling left and right, and it's a Wonder anyone was left standing. It's a real problem, as teams don't stand a Sno Balls chance without their starters healthy in the lineup. With quality backup quarterbacks all of a sudden scarcer than golden sponge cake paired with creamy filling, what will Week 11 bring, including in this week's premier matchup, when the 49ers Hostess the Bears.
…Dang it.
Chicago Bears (7-2) @ San Francisco 49ers (6-2-1) – Monday, November 19th, 8:30PM Eastern, ESPN.
Last Week: Believe it or not, things did happen other than quarterbacks going down last week, but you'd have a hard time noticing it if you're a fan of either of these two teams. The Bears were shut down by the Texans 13-6 in an ugly, weather ravaged game up in Chicago – a true defensive struggle between two of the best defenses in the league. As such, it was a throwback to a time when passing was looked on highly dubiously, and three yards and a cloud of dust was the buzzword of choice. The Texans and Bears combined threw for just 222 yards – the fewest this season. Partially, this can be blamed on Jay Cutler's concussion, as backup Jason Campbell was unable to do much. The 49ers also lost their starter, Alex Smith, to a concussion in their divisional battle with the Rams, but with the defenses not being as stout, replacement Colin Kapernick was able to rally the 49ers—and then watch them fall behind, and rally again. In what was a bizarrely even battle, the scoreline was an appropriate 24-24 tie, the first tie since 2008. At least it makes their tiebreakers easier to follow.
Last Meeting: Back in 2009, the two teams were featured on Thursday Night Football, with the 4-4 Bears traveling to Candlestick to take on the 3-5 49ers, crumbling under the tutelage of Mike Singletary. Jay Cutler might be glad he's missing this year's game, because the 49ers dominated him three years ago – five interceptions, including one in the end zone on the last play of the game to seal the loss. It was Alex Smith's first win as a starter since 2007, but he won't like remembering it either – it was an ugly, ugly affair, one that the 49ers were lucky to walk away from with a 10-6 win. Neither team was going anywhere, anyway – a stark difference to this year's matchup.
What's at Stake: To put it quite simply, a bye-week. Whichever team comes out on top in this one will have control of their own destiny as they attempt to win the #2 overall seed in the NFC, behind the Atlanta Falcons – and, as they seem likely to be the #2 and #3 seeds in some combination, possible home field advantage in a Divisional Round rematch. That being said, this isn't going to end either team's season – but the 49ers need the win slightly more, as they try to hold off the Seahawks, and recover after that tie to the Rams. The Bears could actually get in the driver's seat for home field advantage if they win and the Falcons lose.
This Time: Let's put it simply – if one team has their starter ready to go, and the other has to rely on their backup, the team with the starting quarterback is likely to win. As of press time, however, it remains unclear if either will play. Jay Cutler is definitely out for the Bears -- his concussion symptoms have not subsided enough for him to get the all-clear from independent doctors. Alex Smith, however, is more of a question mark. Although he has not yet participated in any contact drills, he has been practicing with the team for the latter half of the week. He still needs to pass a 'contact drill' of some sort before being allowed on to the field, so he's officially listed as 'questionable'. I suppose some chance is better than no chance, so the 49ers have the advantage there.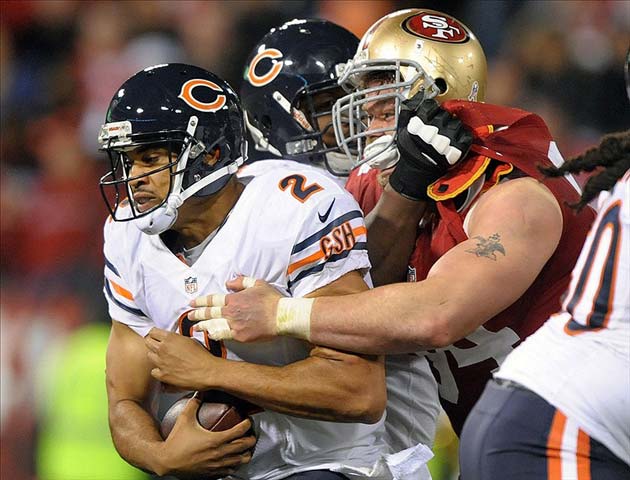 ---
The Bears championship hopes were derailed last year by poor backup quarterback play after Jay Cutler went down, so they went out and got themselves a veteran in Jason Campbell. Campbell's started seventy games in his NFL career, including two very good seasons with Washington in 2008 and 2009, the ill-fated Jim Zorn era. He's had trouble in his career dealing with pocket pressure, although he was doing pretty well in 2011 before getting hurt. Yet another shift to a new offensive coordinator won't help, but by this time, that's old hat for Campbell. He's a veteran who knows how to prepare for a start, and the Bears will be counting on his experience and leadership to help them get through this one.
Colin Kaepernick, on the other hand, is quite the opposite. While Campbell will be making the 71st start of his NFL career, Kaepernick might be making his first. He's still a raw, multi-year project, possibly being forced into a position he's not quite ready for. The biggest problem for the 49ers is the difference between the styles of Smith and Kaepernick – Smith's been coached to take the safe play, do the quick read, and avoid negatives more than go for positives. Kaepernick is more dynamic than Smith, but also doesn't have nearly the same judgment – so the system actually accentuates his negatives. Nor can you go changing the entire offense for one game. Kaepernick, once he got into the swing of things, actually led a couple of good drives against the Rams – but the Rams defense isn't the Bears defense, not by a long shot. Plus, unlike Campbell, he hasn't been the expected starter all week, so he won't have had normal starters practice reps. If the 49ers do end up having to go with Kaepernick, they'll be at a greater disadvantage.
Believe it or not, however, there are more than just two guys playing in this game! No matter who's starting at quarterback, for either side, they're going to have to deal with the ferocious defense staring across at them. The Bears defense, of course, is leading the league in most statistical categories, including points scored – they've got 30 turnovers, and have scored seven defensive touchdowns. That's got to turn around sooner or later, but even if you cross out the lengths of those returns as luck, no team has been more ferocious at stopping opposing offenses than the Monsters of the Midway. The 49ers are no pushovers, either – they're actually allowing less yards per game than the Bears do, even if their turnover rate has dropped from last year. In the last three games, they've racked up 8 sacks, and if there's one thing the Bears offensive line does, it's give up sacks. Both quarterbacks will have to minimize mistakes – something Cutler and Smith have done a surprisingly good job at this year, but Campbell and Kaepernick are more of a question mark.
Prediction: This is a really tough game to call until we know who's going to be starting for the 49ers. If Alex Smith is behind center, I like the 49ers to bounce back from their tie and cement their second place standing in the NFC. The Bears prey on mistakes, and Smith just doesn't make many anymore. But Kaepernick? I think neither offense will click in that case, and yet another defensive or kick return score for the Bears will put them over the top. If Smith plays, 49ers 21, Bears 17. If not, flip it around. One way or another, it should be fun to watch.
---
What do you think?
We'd love to hear your comments and/or opinions. If you submit them here, other visitors can read them, rate them and comment on them. An e-mail address is not required.
---
From Monday Night Football Becomes a Defensive Spectacle to NFL Football Blog | Sports Blog | NCAA Football Blog | NFL Football Archives | College Football Archives | MLB Baseball Blog | College Baseball Blog | MLB Baseball Archives | NBA Basketball Blog | NCAA Basketball Blog | NBA Basketball Archives | NCAA Basketball Archives | Fantasy Football | Fantasy Basketball | Fantasy Baseball | Soccer Archives | Olympics Archives | Stupid Athletes Archives | Other Archives | Football Forum | Basketball Forum | Baseball Forum | NFL Football Store | NBA Basketball Store | MLB Baseball Store | NCAA Football Store | NCAA Basketball Store | NCAA Baseball Store | Fatheads | NFL Football Tickets | NBA Basketball Tickets | MLB Baseball Tickets | NCAA Football Tickets | NCAA Basketball Tickets | NCAA Baseball Tickets |
---
Home Page
About Us | Contact Us | Site Search | Advertise | Terms of Use |
---