MLB Trade Deadline 2012: Winners and Losers
By Matt Green
The non-waiver trade deadline has passed now, so let's check out the winners and losers (and keep in mind, that I firmly believe a ton of action will continue to happen via waiver trades, but for now)...
WINNERS
Los Angeles
It's not mascot specific because both teams were incredibly active and shored up their squads coming down the stretch. The Dodgers were the biggest winner at this years deadline, acquiring the top bat on the market in Hanley Ramirez for, essentially, nothing, except for a decent young pitcher who could be a liability based on the fact that he had Tommy John while he was still in high school.
They also got Shane Victorino to round out one of the top outfields in baseball, joining Matt Kemp and Andre Ethier to provide a solid defensive OF and Victorino has great speed and a decent OBP at the top of the order, something they have been lacking since Dee Gordon went down (and, frankly, even when he was in the lineup, with his .229 AVG and .280 OBP). The Angels almost had to sell the farm this year after the money they spent this offseason, so the fact that they traded probably their two best prospects in Segura and Pena. It may hurt them down the road at some point, but at this point, I don't think anyone can argue that the Angels are the best team in the AL, especially with Chris Iannetta returning soon.
Texas Rangers
There will be A TON of writers and baseball pundits who will try to tell you that the Rangers were unsuccessful at this year's deadline by not acquiring the #1 starter they desperately needed. However, my view tells me a different story. In this day and age, with the instant gratification that most fan bases and media members require, it's hard to get past the fact that the Rangers refused to put Mike Olt and Jurickson Profar and Martin Perez in a package to get a top starter. But, for me, I see it as a good thing. The team, as currently constructed, has a legitimate shot at the World Series again in 2012. Would a #1 starter help? Is Anne Hathaway annoying and overrated as Catwoman? (Spoiler Alert: the answer to both is "yes".)
However, they have kept together maybe the best farm system in baseball, so not only will this group have a chance to win the World Series, but they will be in the running for years to come. Look, everyone on the team right now is having a career worst year. If that continues, obviously Texas is in trouble, but the likely bet is that a lot of the guys get it turned around. And the acquisition of battery-mates Geovany Soto and Ryan Dempster is huge not only talent-wise, but also for fan and more importantly player morale. Things will turn around for Texas. And, the Rangers are a legitimate contender for this year's World Series and still have one of the most talented and deepest farm systems in all of baseball. Success yet again for the best GM in sports.
Pittsburgh Pirates
Alright, obviously they didn't get that big piece, the Justin Upton-type that they were after, but they significantly improved the team. They brought in Wandy Rodriguez, not a huge strikeout guy, or even a great ERA guy, but he's a guy that can keep the ball in the ballpark and keep the team in games, and for Pittsburgh, especially in a division with 3 very average to below-average teams, that's all they need. They traded Casey McGehee, which may seem counter-productive considering he was basically a regular in the lineup for them all year, but a .230 average and sub-.300 OBP is always replaceable, and they went out and got Gaby Sanchez from Miami. Sure, to say Sanchez is struggling this year would be putting it nicely, but the guy was an all-star in 2011, and clearly has the talent to be a star. Pittsburgh is hoping he can have a resurgent second half of the year for the team and get them on the road to the playoffs. They also got Chad Qualls in a deal from the Yankees, who, similar to Sanchez, is having a rough year but has the track record to show that he can play a significant bullpen role.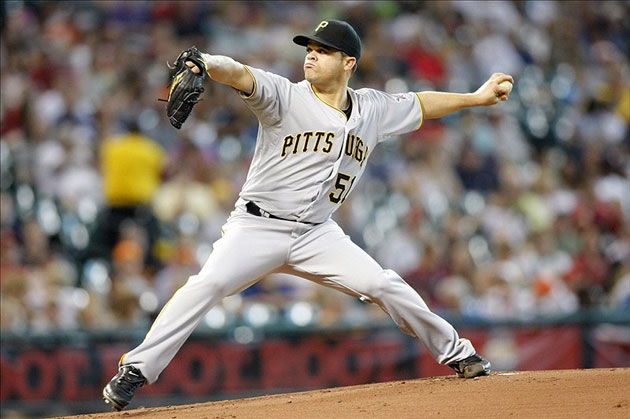 July 28, 2012; Houston, TX, USA; Pittsburgh Pirates starting pitcher Wandy Rodriguez (51) throws a pitch against the Houston Astros in the first inning at Minute Maid Park. Photo Courtesy By Brett Davis-US PRESSWIRE.
---
LOSERS
Atlanta Braves
Fresh off their first Monday win of the year, there is some bad news for the Braves. First of all, let me say that I think the Braves are one of the best NL teams and could very well wind up not only winning the NL East, but also in the World Series. However, they needed some pitching help with Hudson having a very average season, Tommy Hanson being just incredibly erratic. Ben Sheets and Mike Minor have had some recent success, but do you really want to hang your postseason hopes on their shoulders? Also, as I'm writing this, Tommy Hanson is going to the 15-day DL. I know they made a move for Ryan Dempster and supposedly he blocked the trade, but I would have liked to see some more effort in landing a bona fide starter to bolster the rotation. They have a great lineup for sure, but if they fail in the postseason, it will be because they weren't aggressive enough at the deadline.
Milwaukee Brewers
The Brew Crew was incredibly quick to pull the trigger on trading Greinke. They traded him on Friday (FRIDAY!!!), when, if they had waited until Monday or Tuesday, his value would no doubt have increased. I know they didn't want to risk throwing him out there for another start, but man, they could have gotten more than a slightly above-average SS, a decent pitcher and an incredibly average to below-average pitcher for their top pitcher. The Brewers really blew it at this deadline. If they had waited, there is no doubt Texas or Atlanta would have matched and even upped the Angels offer. I am very disappointed Milwaukee's management, seemingly looking at rankings and names rather than production and upside.
Miami Marlins
They gave up Hanley Ramirez, who, just two years ago was considered the future and face of the franchise. I have no problem trading him, as he had hit a rut and was becoming a clubhouse liability, but for such a talented guy who can either play the corner or up the middle, the value they got in return was laughable. Nathan Eovaldi is decent, but not great. It's good that he is 22, but this year with the Dodgers, he struck out just 34 guys in 56 innings, while walking 20. This 1.7/1 K/BB ratio is incredibly poor, and to give up a valuable bat for that and a 22-year old A ball pitcher who's K/BB ratio also hasn't yet reached 2/1 in 2012 is just unbelievable. After a ridiculous offseason that saw them overpay 3 guys in an attempt to generate excitement in the area, they failed even more miserably at the deadline. Miami Marlins, you are officially the laughing stock of baseball.
The non-waiver trade deadline has passed, but there will no doubt be more moves made down the stretch, so watch closely at teams like Washington, Atlanta, Oakland, and Baltimore, who will most likely be the big players.
---
What do you think?
We'd love to hear your comments and/or opinions. If you submit them here, other visitors can read them, rate them and comment on them. An e-mail address is not required.
---
From MLB Trade Deadline 2012: Winners and Losers to MLB Baseball Blog | Sports Blog | NFL Football Blog | NCAA Football Blog | NFL Football Archives | College Football Archives | College Baseball Blog | MLB Baseball Archives | NBA Basketball Blog | NCAA Basketball Blog | NBA Basketball Archives | NCAA Basketball Archives | Fantasy Football | Fantasy Basketball | Fantasy Baseball | Soccer Archives | Olympics Archives | Stupid Athletes Archives | Other Archives | Football Forum | Basketball Forum | Baseball Forum | NFL Football Store | NBA Basketball Store | MLB Baseball Store | NCAA Football Store | NCAA Basketball Store | NCAA Baseball Store | Fatheads | NFL Football Tickets | NBA Basketball Tickets | MLB Baseball Tickets | NCAA Football Tickets | NCAA Basketball Tickets | NCAA Baseball Tickets |
---
Home Page
About Us | Contact Us | Site Search | Advertise | Terms of Use |
---