MLB Players to Watch This Summer
The MLB Season is almost 1/3 of the way complete and there have been a few surprising teams so far (Indians, Orioles, Nationals). As good as those stories have been, I feel there are a few current minor league players that should be in the majors within the next few weeks. Below is a list of players that should be on your watch list for Fantasy Baseball as these players have the capability of having a similar impact that Bryce Harper and Mike Trout have had on their teams.
Trevor Bauer (Arizona Diamondbacks): Bauer was the 3rd overall pick for the Diamondbacks in the 2011 MLB Draft and it seems that he's almost ready for the Major's. His 2011 season got off to a slow start (had a 5.96 combined ERA at A and AA), but in 2012 has bounced back (has a combined 1.60 ERA between AA and AAA) and looks as if he's almost ready for the majors. With the Diamondbacks already featuring a great deal of depth in their rotation, it seems like Bauer could be a key arm in their bullpen as they make a run at the playoffs.
Predicted call up: Early September
Jacob Turner (Detroit Tigers): Turner had a brief stint with the Tigers last year (started 3 games), and showed that he just wasn't quite ready for the major at that time. Detroit currently feature's the best pitcher in baseball (Justin Verlander) to go along with a few pitchers that have the capability of either being great or frustrating to watch. As for Turner, he's currently ranked as the 12 best prospect in baseball, (according to MLB.com) and has the capability of being a very good number 2 pitcher for a team in the future. With that said, I feel Turner might make the majors this year, just on a different team as I feel the Tigers need a present day number 2 pitcher if they want to make a run at the World Series. Turner currently features a 2.73 ERA between both AA and AAA and has the stuff to become a legitimate Ace in the future.
Predicted call up: Early August
Danny Hultzen (Seattle Mariners): Hultzen was the second overall pick by the Mariners in the 2011 MLB Draft and has the capability of being a top of the rotation starter in the near future. Hultzen didn't pitch in the minors all of last year but has so far dominated at AA (4-3 with a 1.81 ERA) and seems as if he'll be the future number 2 starter behind Felix Hernandez. If Seattle decides to bring Hultzen up, I don't think you'll see him in a Mariners jersey until the end of the 2012 season.
Predicted call up: September
Tyler Skaggs (Arizona Diamondbacks): The Diamondbacks have a number of very good young arms (Bauer, Skaggs, and Archie Bradley) to go along with a number of young quality arms already on their roster (Cahill, Kennedy, and Hudson). Since entering professional baseball, Skaggs hasn't had an ERA above 3.29 and it looks like he'll be a very good left-handed pitcher in the near future. Unfortunately for Skaggs, because the Diamondbacks feature such good depth in their rotation, I don't believe he'll make their roster unless they put him in their bullpen. So why did I put him on this list? Because I believe there's a good chance Arizona will look to acquire a hitter at the deadline (they need offense) and will look to trade one of their good young arms (maybe Skaggs) to acquire this.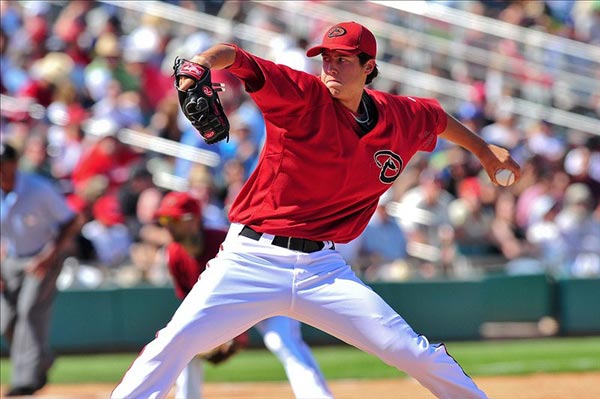 Arizona Diamondbacks pitcher Tyler Skaggs throws a pitch in the seventh inning of a charity exhibition game against the Los Angeles Dodgers at the Kino Sports Complex. Photo Courtesy By: Chris Morrison-US PRESSWIRE.
---
Predicted call up: August
Zack Wheeler (New York Mets): At the trade deadline last year, the New York Mets decided to trade Center Fielder Carlos Beltran to the Giants for their number 1 prospect, Zack Wheeler. Now in his 4th season playing professional baseball (after being the 6th overall pick in the 2009 MLB Draft), it finally looks as if Wheeler's close to reaching the Majors and becoming a quality starter for the Mets in the future. New York has so far had some success from their rotation so far at the early parts of this season; however, it seems like the Mets need an additional starting pitching help if they want to stay in the race in the NL East. If the Mets fall out of the race, I believe they'll look to trade one of their current starters and give Wheeler a chance by the end of the season.
Predicted call up: August
Anthony Rizzo (Chicago Cubs): The Cubs have had a number of problems with their offense this year (have scored the third fewest runs in the National League) and need a major addition to their offense. With their struggles, this could be Anthony Rizzo's chance to make the Cubs roster as he's been tearing-up AAA pitching (.352 Average, 15 Home Runs, and 42 RBI). If the Cubs decide to call-up Rizzo, then they'll have to make sure they find a space for Brian LaHair on their roster. With LaHair, Rizzo, Castro, and Dejesus in their lineup, I feel the Cubs will have the capability of featuring a much improved offense along with being a vastly improved second half team.
Predicted call up: July
Mike Montgomery: The Royals have a lot of great young talent on their roster; however, the majority of their young pitching prospects are still in the minor leagues (Mike Montgomery and Jake Odorizzi). With that said, I feel left-handed starter Mike Montgomery has great stuff and the capability of eventually becoming one of the best left-handed pitchers in the majors. Once Mike Montgomery shows that he can succeed at AAA, then we'll start to see him pitching in the majors at Kauffman Stadium. Predicted call up: Late July/Early August.
---
What do you think?
We'd love to hear your comments and/or opinions. If you submit them here, other visitors can read them, rate them and comment on them. An e-mail address is not required.
---
From MLB Players to Watch This Summer to MLB Baseball Blog | Sports Blog | NFL Football Blog | NCAA Football Blog | NFL Football Archives | College Football Archives | College Baseball Blog | MLB Baseball Archives | NBA Basketball Blog | NCAA Basketball Blog | NBA Basketball Archives | NCAA Basketball Archives | Fantasy Football | Fantasy Basketball | Fantasy Baseball | Soccer Archives | Olympics Archives | Stupid Athletes Archives | Other Archives | Football Forum | Basketball Forum | Baseball Forum | NFL Football Store | NBA Basketball Store | MLB Baseball Store | NCAA Football Store | NCAA Basketball Store | NCAA Baseball Store | Fatheads | NFL Football Tickets | NBA Basketball Tickets | MLB Baseball Tickets | NCAA Football Tickets | NCAA Basketball Tickets | NCAA Baseball Tickets |
---
Home Page
About Us | Contact Us | Site Search | Advertise | Terms of Use |
---