MLB Players to Watch in 2012
By Jason Fryer
There are a lot of players that should be watched for the 2012 season and can change the landscape of the baseball season.

Howie Kendrick (Angels):
Everyone knows about the big names in the Angles lineup (Pujols, Hunter, Wells, and Trumbo), but I feel it's the teams second baseman (Howie Kendrick) that can transform this offense from being a good to a great offense. In 2011, Kendrick made the All-Star team and for only the second time in his career, he played in more than 110 games (the other four seasons he played in under 110 games). If Kendrick can stay healthy and progress into an even better hitter in 2012, then Pujols and the other players in their lineup will be provided with more protection in the future.

Stephen Strasburg (Nationals):
Towards the end of the season 2011, (after having Tommy John surgery), former number one overall pick, Stephen Strasburg, returned to the rotation and had a 1-1 record to go with a 1.50 ERA in 5 starts. The big question surrounding Strasburg this year is if he can prove that he's recovered from having Tommy John surgery which would provide the Nationals with one of the best young rotations in baseball (Strasburg, Jordan Zimmermann, and Gio Gonzalez) to go along with a solid offense (Ryan Zimmerman, Wilson Ramos, Jayson Werth, Michael Morse, and soon top prospect Bryce Harper) in the future. If this core can perform in 2012 and Strasburg can recover and become the pitcher he was seen as, then the Nationals could be a surprise team in 2012 and a dangerous team in the future.

Johan Santana (Mets):
Many people don't know what to expect from the former 2-time Cy-Young Award winner after not pitching in a MLB game since September of 2010. In the 2010 offseason, Johan had shoulder surgery and wasn't able to pitch in any games throughout the 2011 season. I'm not sure the Mets can compete in the NL East in 2012 or for the next few years (the NL East includes: Phillies, Braves, Nationals, Marlins), however, if Johan is healthy and can prove he's still a solid starting pitcher, I feel the Mets can look to eat part of Santana's contract for next year (he also has a team option for the 2014 season or a buyout) and trade him after the season so they can add few more prospects to their minor league system. If Santana can prove that he's back to being the pitcher he once was, then the Mets will have a player that everyone wants on their team and more importantly a left-handed starting pitcher that has a great change-up.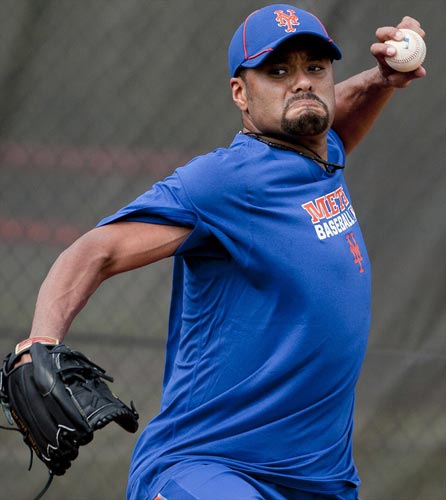 New York Mets pitcher Johan Santana throws live off of the mound at the Mets training facility in Port St Lucie, Florida. This is the first time he has thrown live since 2010.
---

Max Scherzer (Tigers):
The Tigers have the best pitcher in baseball (Justin Verlander) but they need someone else in their rotation to step-up and show that they can support Verlander and become a true number two starter on a team that's capable of winning a World Series. The Detroit rotation currently features the best pitcher in baseball (Verlander), along with 2 solid starters (Scherzer and Doug Fister) and a pitcher that has the capability of being a very good number 3 or 4 pitcher in their rotation (Rick Porcello). Which brings me back to my first point, if Max Scherzer can step-up and show he can become a true number two starting pitcher (which means a All-Star caliber starter), to go along with one of the best rotations in the league, then the Tigers will be one of the top teams in 2012 and will be playing baseball deep into October.

B.J. Upton (Rays):
The Rays and the rest of baseball have been waiting for B.J. Upton to become the player we saw during the 2008 playoffs when it looked like the Upton and Longoria combination would be one of the best 3-4 combination's in all of baseball. Four years later, Upton's offense still hasn't returned from his 2008 season postseason dominance as he's never had an average above .243 since the end of the 2008 playoffs. With that said, Upton's still one of the best defensive center fielders in all of baseball, but if he can become a solid offensive center fielder, he'll make himself a lot of money (he's a free agent after this season) and the Rays will have a good offense to go along with the best young starting rotation in all of baseball. In my mind, B.J. Upton could be the key to the Rays going deep in the playoffs this season.

Derek Holland (Rangers):
Yes, I did chose Derek Holland over Yu Darvish as one of the players to watch in 2012 (even though I'm excited to see what Darvish has to offer during the 2012 season. Back to Holland, with C.J. Wilson signing with the rival Angels, its time for Holland to step up and show that he's not just a pitcher that can just throw complete games (4 last year), but that he can be a pitcher that can be counted on as a legitimate number one pitcher. Currently, the Rangers have one of the best offenses (Hamilton, Beltre, Young, Andrus, Cruz, Napoli), a good bullpen (Nathan, Adams, Ogando), and a rotation that has a ton of question marks, but still has the capability of being a great rotation this year (Lewis, Holland, Harrison, Darvish, and Feliz). If Derek Holland can be a dominate pitcher in 2012, the Rangers might find themselves back in the World Series.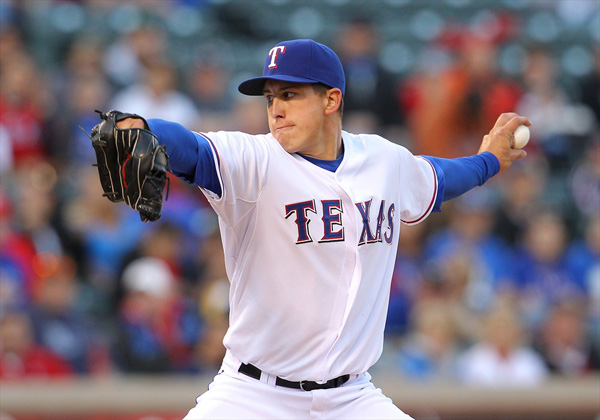 Texas Rangers starting pitcher Derek Holland (45) pitches during the game between the Seattle Mariners and the Texas Rangers at the Rangers Ballpark in Arlington, Texas.
---

Josh Johnson (Marlins):
The Marlins went out this offseason and signed Mark Buehrle to a four-year deal as he'll become the number 2 starter in the Marlins rotation. The rest of Miami's rotation should be solid with Sanchez and Nolasco to go along with a good bullpen (highlighted by Heath Bell) and a lineup that's as good as any in the league (Reyes, Ramirez, Sanchez, Morrison, Stanton). However, if the Marlins want to be a true contender in 2012, they need for Josh Johnson to prove he's healthy and show he can be a the ace they thought he would be a few years ago. Before he got hurt last year, Johnson had a 1.64 ERA and since the start of the 2008 season, he's never had an ERA above 3.70. In my opinion, the Miami Marlins will only go as far as their star pitcher takes them.

Chad Billingsley (Dodgers):
The Dodgers have two of the best players in all of baseball (Kemp and Kershaw), one of the most clutch hitters in the game (Ethier), solid relief pitching (Guerrier, Jansen, and Guerra) and one of the fastest players in the league (Dee Gordon). In 2007, 2008, and the start of the 2009 season (when he was named an All-Star) it seemed that Chad Billingsley was on his way to becoming one of the best young pitchers in baseball, however, since the 2009 All-Star break, Billingsley hasn't been nearly the same pitcher as many times he's struggled and hasn't come close to mirroring the same pitcher from the past. If Billingsley can return to the pitcher he was a few years ago, then the Dodgers will be able to keep up with the Giants rotation (who have the best 1-2 duo in the league with Matt Cain and Tim Lincecum) and at the same time feature a solid lineups to go with Billingsley and Kershaw.
---
What do you think?
We'd love to hear your comments and/or opinions. If you submit them here, other visitors can read them, rate them and comment on them. An e-mail address is not required.
---
From MLB Players to Watch in 2012 to MLB Baseball Blog | Sports Blog | NFL Football Blog | NCAA Football Blog | NFL Football Archives | College Football Archives | College Baseball Blog | MLB Baseball Archives | NBA Basketball Blog | NCAA Basketball Blog | NBA Basketball Archives | NCAA Basketball Archives | Fantasy Football | Fantasy Basketball | Fantasy Baseball | Soccer Archives | Olympics Archives | Stupid Athletes Archives | Other Archives | Football Forum | Basketball Forum | Baseball Forum | NFL Football Store | NBA Basketball Store | MLB Baseball Store | NCAA Football Store | NCAA Basketball Store | NCAA Baseball Store | Fatheads | NFL Football Tickets | NBA Basketball Tickets | MLB Baseball Tickets | NCAA Football Tickets | NCAA Basketball Tickets | NCAA Baseball Tickets |
---
Home Page
About Us | Contact Us | Site Search | Advertise | Terms of Use |
---