Mike Shanahan Deserves Blame for RGIII's Critical Knee Injury
Mike Shanahan, what were you thinking?
The Redskins lost to the Seahawks Sunday because Robert Griffin III was in no shape to finish the football game. After leading the Redskins to two quick touchdown drives early on, he clearly re-injured his knee, and possibly his hand as well, and wasn't the same. Any of the rushing prowess we're used to seeing him go through was gone. The accuracy of his passing vanished, too, probably due to being unable to plant properly for the deep ball. The Seahawks were able to adjust their defensive strategy once they saw RGIII wasn't going anywhere to stop Alfred Morris, sending the Redskins offense sputtering to a halt. I'm not saying Kirk Cousins would have won the game, necessarily, but at a certain point, a non-injured quarterback is going to give you better odds than a hurt one.
But that's not the point.
If the only thing going on was Griffin playing poorly, that's one thing. But this is an injury. An injury that existed before the game and was exacerbated during it. That happens – football is a violent game, and all the rule changes in the world won't stop people from getting hurt. But it was Shanahan's press conference after the game that made me do a double take.
Shanahan said that Griffin told him that he was "hurting, but not injured" and that he was ready to go back into the game. I understand that no one knows how bad pain is more than the person in question, but take into account the fact that 56% of players said that they would hide injury symptoms in order to stay in a game. And that's talking about concussions – something the NFL has specifically tried to get the message out on this year. See Alex Smith losing his job due to injury, and Greg McElroy trying to hide symptoms in order to play. You expect a player to say "no, take me out coach, I'm hurt"? In a playoff game? When everything drilled into their head from Pop Warner on up is about toughness and fighting through adversity and things? That's not their job – that's your job, as the head coach.
Take into account the surroundings, too. Shanahan admitted that the offense wasn't playing well with RGIII hurt, so from a football perspective, it would seem to be better to get him out of the game. In addition, this week, news had come from Dr. James Andrews, who was on the sideline for many Redskins games down the stretch, that RGIII was not cleared to play – at least not by Andrews – after his knee injury back on December 9th, and that he's "been a nervous wreck letting him come back as quick as he has…[Griffin's] still recovering and [he's] holding [his] breath because of it." Shanahan disputes that Andrews didn't clear him, but even if that's right – even if Andrews, for some reason, is lying about clearing RGIII – he still has doctors saying they're nervous about the state of Griffin's knee. On that (deplorable) sod in Washington, with Griffin limping and unable to protect himself, with the offense sputtering, with doctors concerned over the long-term future of Griffin's knee, how on earth can you delegate the decision to play to the player? Mike Shanahan is making seven million dollars a year to make decisions like this – it's his call.
Instead, he's passing blame onto the player – a rookie, fresh out of college, with an injury history. Even if you don't agree with me that Shanahan should have taken him out, you have to admit that passing the buck for the decision onto the player is pretty darn low. If he really thinks it was the best decision to leave him in, he should have said that – not that RGIII has earned the right to make that decision for himself. The health of a player should never come down to the player himself – doctors give recommendations to the coach, and the coach is the one who needs to make that decision. Certainly take into account how the player is feeling, but it is never in the best interest of any player to make the decision if he's healthy enough to play, especially with all the surrounding elements.
Combine this situation, with the MRI pending, with the unreported concussion RGIII suffered earlier this season, and with the knee injury argument with Andrews we talked about earlier, and it seems that Shanahan does not have the best interests of Griffin in mind. Shanahan better hope the MRI shows no more damage to the knee. If that happens, this will all blow over – we'll credit RGIII for playing through pain and credit his moxie and toughness and all that. But if there's serious damage – even damage he can recover from, like Adrian Peterson showed -- this has to go down as the single dumbest decision a coach has made this season, and for quite a while back, as well. This is dumber than throwing an illegal challenge flag or something like that – this is someone's future at stake and, with it, the future of an entire franchise.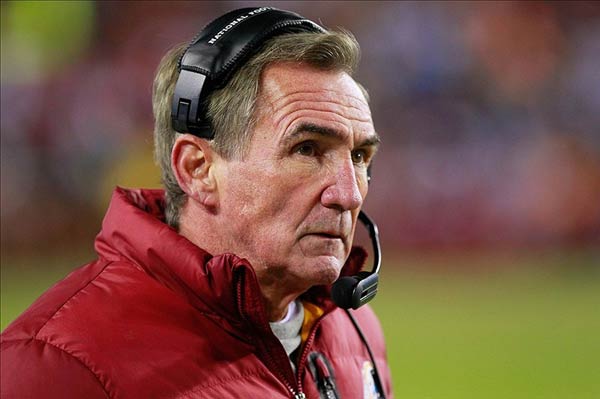 ---
The name flashing across twitter after the injury was Greg Cook. Many readers won't remember who Greg Cook was, because he was the AFL rookie of the year in 1969, but he was one of the most dynamic players the AFL had ever seen. In his rookie season, he set some records that still stand – 17.5 yards per completion, 9.4 yards per passing attempt – and led the sadsack Bengals to their best record ever, at the time, with wins over top AFC competition. However, early in the season, he tore his rotator cuff, and partially detached his biceps muscle. He missed a few weeks, but came back and continued to play despite the injury, and play well. Surgery in the offseason, however, showed the extent of the damage, and, other than a failed comeback attempt four years later, never played again. One of the most promising young players ever was lost because Cook wanted to play though the pain. Obviously, medical technology of 2013 is slightly different than that of 1969, but the point remains the same – playing through injury can lead to permanent damage. The last thing we want is to remember RGIII as a great one-shot player whos career was tragically shortened. We want RGIII to be a player to watch for years to come. That means, sometimes, a manager needs to make the call to shut a player down to save him from himself.
Maybe Shanahan should go across town and talk to Davey Johnson, who shut Steven Strasburg down due to his arm injury – and that's in a non-contact sport. Maybe if Griffin hadn't played for a few weeks before the playoffs, he would have been ready to go. Maybe they dodged a bullet, and RGIII will be perfectly fine. Maybe Kirk Cousins and a punishing ground game would have been enough to get the Redskins past the Seahawks. We don't know – we can't know. We can't just judge decisions based on their outcomes, we need to judge them based on the process people take to get to them – and the decision to let RGIII play based on RGIII saying he could is a serious lack of judgment. Shanahan is being paid a lot of money to make these decisions. With the NFL's continued emphasis on player safety, he'd better watch out – if he doesn't start taking better care of his players, and the NFL's newest stars, he might just see Goodell lower a boom on him that will make Bountygate seem like a picnic.
What was Shanahan thinking? I don't think he was thinking at all. And I think, regardless of the results of the MRI, people should hold him accountable. He's the head coach, the buck stops with him. And so should have RGIII's playing time.
For a contrary opinion, read Shanahan Was Right to Play RGIII.
---
What do you think?
We'd love to hear your comments and/or opinions. If you submit them here, other visitors can read them, rate them and comment on them. An e-mail address is not required.
---
From Mike Shanahan Deserves Blame for RGIII's Critical Knee Injury to NFL Football Blog | Sports Blog | NCAA Football Blog | NFL Football Archives | College Football Archives | MLB Baseball Blog | College Baseball Blog | MLB Baseball Archives | NBA Basketball Blog | NCAA Basketball Blog | NBA Basketball Archives | NCAA Basketball Archives | Fantasy Football | Fantasy Basketball | Fantasy Baseball | Soccer Archives | Olympics Archives | Stupid Athletes Archives | Other Archives | Football Forum | Basketball Forum | Baseball Forum | Sports Trivia Questions | NFL Football Store | NBA Basketball Store | MLB Baseball Store | NCAA Football Store | NCAA Basketball Store | NCAA Baseball Store | Fatheads | NFL Football Tickets | NBA Basketball Tickets | MLB Baseball Tickets | NCAA Football Tickets | NCAA Basketball Tickets | NCAA Baseball Tickets |
---
Home Page
About Us | Contact Us | Site Search | Advertise | Terms of Use |
---