Mid-Major Basketball Teams to Keep an Eye on in 2012
By Dennis Berry

We are almost through the first month of the college basketball season. We know about the top teams in the country. We know that North Carolina, Kentucky, Duke, Ohio State, Syracuse, and Connecticut are probably the best teams in nation. We expect them to be there all season long.
So what teams have gotten off to a good start that you may have not heard about? These are teams from "Mid-Major" conferences that do not get a lot of coverage nationally. You know about Belmont, Xavier, and Gonzaga, but what other teams not part of majors conferences should you be keeping your eye on?

Harvard Crimson
The Crimson made a statement when they defeated Florida State, then ranked 22nd in the AP Poll, last week in the Battle 4 Atlantis Tournament. They would go on to win that tournament by defeating Central Florida in the finals. Harvard has been on the upswing over the past couple of seasons. They have won 20-plus games the last two seasons since going 14-14 in 2008-09. This is not a case of having an upper classmen heavy roster. They have eight players averaging over 15 minutes a game, that group includes freshmen and sophomores.

We will know more on December 8 against Connecticut. We will see just how good this team is against one of the best teams in the country.

Long Beach State 49ers
It is hard to say a team that has already beaten a Top 10 team is under the radar, but most fans of teams in major conferences probably are not aware of the 49ers. They knocked off then #9 Pittsburgh on November 16 in Pittsburgh. They have gone 1-2 since, but they will be contender for the Big West. They are led by senior point guard Casper Ware, who is averaging almost 20 points a game.

We will know more about the 49ers over the next few weeks. They recently just lost to Louisville, but gave the Cardinals a tough game at their place. They have a tough schedule for the rest of December that includes Kansas (Dec 6), North Carolina (Dec 10), and Xavier (Dec 22) before heading into conference play.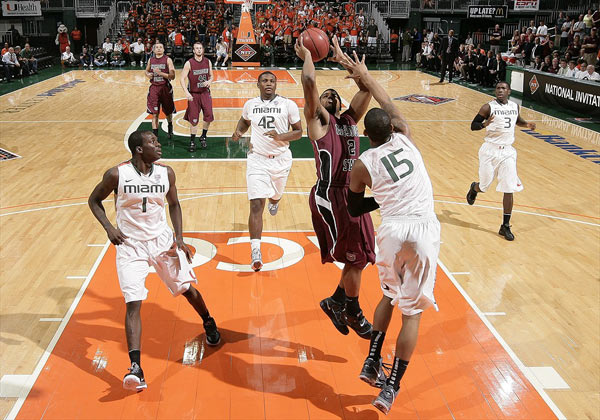 Saint Louis Billikens
The Billikens made some noise over Thanksgiving weekend by winning the 76 Classic Tournament. They defeated three teams from major conferences to do it. The knocked off Boston College (ACC), Villanova (Big East), and Oklahoma (Big 12) in route to the title. Before that, they defeated the Washington Huskies, whom many see as a contender in a wide open PAC-12 conference. Rick Majerus seems to be hitting all the right buttons to start the season. The Billikens only won 12 games last year, but should have no problem top that mark this year. The Atlantic 10 appears to be loaded this year, if they can get a NCAA Tournament berth coming out from there, they will be a tough match up for any opponent.

Creighton Bluejays
The Bluejays are off to a 5-0 start, but they have not really been tested to this point. Their best win was on the road against Iowa. They have some tough match ups down the road. They play at San Diego State Wednesday night, followed by a game against Nebraska. Then at the end of December they host Northwestern before Missouri Valley play starts. Creighton should be favorites in the MVC, but will have to battle Missouri State and Indiana State for the NCAA berth.

Murray State Racers
The Wildcats and Cardinals are not the only teams that are making noise in the Bluegrass State. The Racers from Murray State have jumped out to a 7-0 start. They won the Great Alaska Shootout over Southern Mississippi in double overtime. They are lead by Isaiah Canaan, who was the MVP of the Great Alaska Shootout. The Racers are in the Ohio Valley Conference which appears to be very down this year. The next three games will tell a lot about the Racers. They play at Western Kentucky, Dayton, and Memphis.


What do you think?
We'd love to hear your comments and/or opinions. If you submit them here, other visitors can read them, rate them and comment on them. An e-mail address is not required.