Michigan State Basketball
See our Michigan State Basketball Store.
This article is an overview of Michigan State Basketball: its history, player accomplishments, and current level of success. One thing a number of Best Sports Blog users have asked for is biographies on major NCAA basketball programs-Michigan State among them-so this is one of a series of articles designed to meet that need. So, without further ado, let's take a look at the history of Spartans basketball:
Michigan State Basketball has one of the richest traditions in the Big Ten. Unlike many Big Ten rivals, whose programs have been nationally relevant for decades but rarely been contenders, Michigan State has won two NCAA national championships, reached an additional NCAA championship game, attended seven NCAA Final Fours, and won a record twelve Big Ten championships.
Michigan State Basketball began in 1899, which makes it one of the oldest programs in the nation. Under coach Chester L. Brewster, the Spartans went 70-25 from 1903-1910 and were arguably the strongest men's college basketball program in America. However, after Brewster's departure, Michigan State went through a long period of decline until the mid 1950s. In 1957, the school reached its first NCAA Final Four but, after one more NCAA Elite Eight appearance in 1959, the Michigan State basketball program again sank into mediocrity.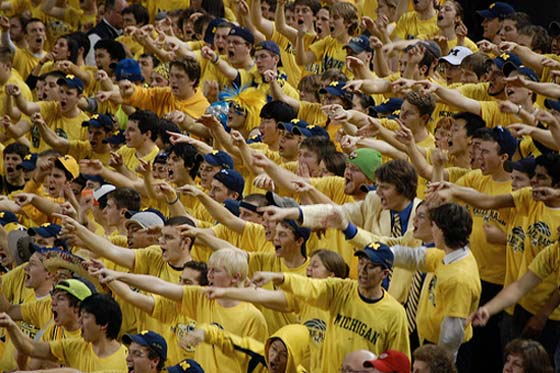 Maize Rage: Go! Thanks to Jason McMann from Flikr.com for this great picture of Michigan State fans.
---
However, the Spartans rose rapidly to national prominence in the late 1970s after nearly two decades of dormancy. Coach Jud Heathcote recruited local high school legend Earvin "Magic" Johnson and a new Spartan dynasty was born. Michigan reached the NCAA Elite Eight in 1978 but was defeated by Kentucky. The next year, the Spartans came back with a vengeance and, after roaring through a 26-6 season, reached the NCAA championship game. There they faced 33-0 Indiana State which was led by senior star Larry Bird. Though Indiana State was favored to win the game, it was the Spartans who came out as 1979 champions. However, Johnson left for a Hall of Fame NBA career and the Spartans were unable to remain national title contenders.
After a decade and a half of fairly mediocre play, Michigan State's fortunes changed with the arrival of Hall of Fame coach Tom Izzo in 1995. A gifted coach and extraordinary recruiter, Izzo rebuilt the illustrious program quickly. By 1999, Michigan State was back in the Final Four. In the following year, 2000, led by future NBA stars Zach Randolph and Morris Peterson, Michigan State won its second NCAA national title. Since then, Michigan State basketball has remained dominant for much of the past decade with NCAA Final Four appearances in 2001, 2005, and 2010 and an NCAA runner-up finish in 2009. Plus, even though the 2011 season was disappointing and marred by injury, Michigan State should be back healthy and in contention for 2012 and the near future.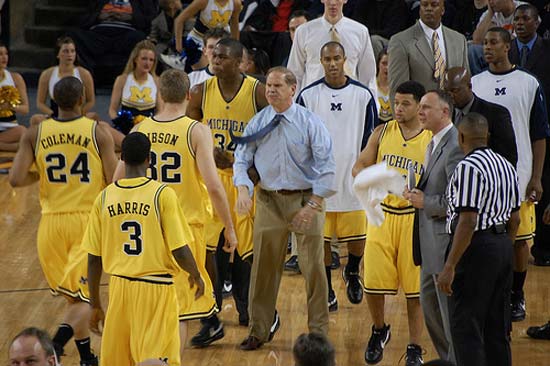 Thanks to Jason McMann from Flikr.com for this great picture of John Beilein's not happy at Michigan vs. Ohio State game.
---
---
---
From Michigan State Basketball to NCAA Basketball Blog | Sports Blog | NFL Football Blog | NCAA Football Blog | NFL Football Archives | College Football Archives | MLB Baseball Blog | College Baseball Blog | MLB Baseball Archives | NBA Basketball Blog | NBA Basketball Archives | NCAA Basketball Archives | Fantasy Football | Fantasy Basketball | Fantasy Baseball | Soccer Archives | Olympics Archives | Stupid Athletes Archives | Other Archives | Football Forum | Basketball Forum | Baseball Forum | NFL Football Store | NBA Basketball Store | MLB Baseball Store | NCAA Football Store | NCAA Basketball Store | NCAA Baseball Store | Fatheads | NFL Football Tickets | NBA Basketball Tickets | MLB Baseball Tickets | NCAA Football Tickets | NCAA Basketball Tickets | NCAA Baseball Tickets |
---
Home Page
About Us | Contact Us | Site Search | Advertise | Terms of Use |
---