Michelle Kwan is Sadly Gone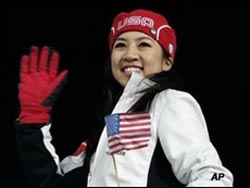 Sometimes I like to make things rhyme. Reminds me of being a kid.
Michelle Kwan's decade-long quest for Olympic gold came to a sorrowful end Sunday when she withdrew because of an injury, taking the biggest name out of the Torino Games.
Sure it's macho to say that guys shouldn't care about figure skating. But I do feel bad for her. Only because she won five world and nine U.S. titles but never got that elusive Olympic gold. She finished with a silver in 1998 and bronze in 2002. She has carried herself with class and grace throughout her career.
Remember the Nancy Kerrigan-Tonya Harding incident 12 years ago? Michelle was suppose to go to the Olympics but her spot was given to Nancy Kerrigan. Nancy got a medical exemption and Tonya Harding still got to skate despite being suspected for knee thumping. Some athletes would have complained. We never heard one gripe about it from her.
So it was only deserving she got a medical exemption to join the Olympic squad. Emily Hughes, who now comes to Torino to compete, became an alternate when Kwan was added. Kwan deserved one last chance to attain gold. If they didn't feel she would be fit enough to compete they wouldn't have given her the final spot. But you feel like it was a lifetime award moment for giving her that exemption.
It's too bad also because it lessens the drama of the highest rated sporting event in the Winter Olympics. I would have watched her go for her last chance at gold. It's high drama and I'm not afraid to admit wondering if a skater will land that triple axel doesn't feel like a hail mary pass waiting to be caught.
She leaves with grace and leaves with her head held up high. Just like winning a Super Bowl doesn't define a football player like Dan Marino or Barry Sanders. Michelle will be remembered as a great champion even though she never got an Olympic gold.
---
What do you think?
We'd love to hear your comments and/or opinions. If you submit them here, other visitors can read them, rate them and comment on them. An e-mail address is not required.
---
From Michelle Kwan is Sadly Gone to Olympics Archives | Sports Blog | NFL Archives | College Football Archives | MLB Archives | NBA Archives | NCAA Basketball Archives | Soccer Archives | Stupid Athletes Archives | Other Archives |
---
Home Page
About Us | Contact Us | Site Search | Advertise | Terms of Use |
---