Miami Marlins Fire Sale Sets an Example of Budget Reform for the U.S. Government
America's government is currently examining various methodologies to dramatically cut the United States' future budget and avoid the "fiscal cliff." Perhaps they should take a leaf out of Miami Marlins owner Jeffrey Loria's playbook: when you overspent, are way over budget, and suffering from waste and mediocre returns, dump it all and start fresh with a clean slate.
Loria, unlike the U.S. government, operates like a dictator. Fickle and cheap, he signed off on this fire sale with one stroke of his pen; effectively ending the Marlins' chances of contention for a half decade. His "budget reform" was devastating for the team's performance but great for the franchise's balance sheet and his personal checkbook; the Marlins now have less than $25 million in guaranteed contracts, down from $100 million in 2011. Equivalent "budget reform" by the United States government would involve cutting nearly $3 trillion annually, or 75% of the budget, and probably kill of the military, social security, and medicare.
So, no one is endorsing Loria-style budget reform.
Yet, Loria's drastic actions do provide an instructive lesson in taking decisive action to solve growing problems that could become endemic and worse by the year. America's government certainly could learn from that mentality.
Perhaps, to apply that mantra, America's politicians could act to balance the future budget for social security. It would be difficult but certainly not impossible, involving tweaks to the retirement age, monthly payout totals and eligibility. A hard decision but one clearly necessary; kind of like Loria's decision in July to trade Anibal Sanchez, his best starting pitcher, for top prospects just months before he hit free agency.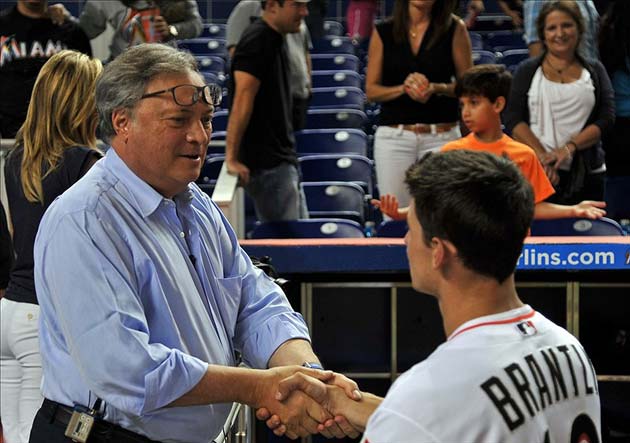 ---
Maybe, the government could even be slightly more aggressive; moving deftly to tackle the elephant in the Federal budget room: Medicare. That sacred cow will be much tougher to reform than social security; the math is tougher to balance and the path to a bipartisan solution is fraught with clearly defined party lines. Sacrifices will be needed on both sides to get a deal done; much like Loria's reluctant parting with his ace, Josh Johnson, in order to get out from under long, onerous future contracts to ageing pitcher Mark Buerhle and speedster Jose Reyes.
Sure, Loria's decisions are simpler. He is an owner, a King, completely free to sell of his team if he so chooses. Unlike politicians, he doesn't have to respond to popular opinion in South Florida and cater to his fan's needs – he can instead extend a chosen finger in their direction. The government's task is infinitely harder, and its needs much more nuanced than Loria's crude fire sale, but America's politicians should still learn something from the Marlins owner's actions.
When faced with impending disaster, don't wait around and quibble. Be decisive and take action: in times of great distress, any action is often better than no action at all.
---
What do you think?
We'd love to hear your comments and/or opinions. If you submit them here, other visitors can read them, rate them and comment on them. An e-mail address is not required.
What Other Visitors Have Said
Click below to see contributions from other visitors to this page...

Harder Question: Was it Smart or Not? Not rated yet
I like the topic, but the harder issue is whether you think it's a good example or a bad one. that's the harder question of course. certainly it was …
---
From Miami Marlins Fire Sale Sets an Example of Budget Reform for the U.S. Government to MLB Baseball Blog | Sports Blog | NFL Football Blog | NCAA Football Blog | NFL Football Archives | College Football Archives | College Baseball Blog | MLB Baseball Archives | NBA Basketball Blog | NCAA Basketball Blog | NBA Basketball Archives | NCAA Basketball Archives | Fantasy Football | Fantasy Basketball | Fantasy Baseball | Soccer Archives | Olympics Archives | Stupid Athletes Archives | Other Archives | Football Forum | Basketball Forum | Baseball Forum | NFL Football Store | NBA Basketball Store | MLB Baseball Store | NCAA Football Store | NCAA Basketball Store | NCAA Baseball Store | Fatheads | NFL Football Tickets | NBA Basketball Tickets | MLB Baseball Tickets | NCAA Football Tickets | NCAA Basketball Tickets | NCAA Baseball Tickets |
---
Home Page
About Us | Contact Us | Site Search | Advertise | Terms of Use |
---