Miami Heat Explore Ways to Add Carmelo Anthony
By Aaron Sass

It's been reported this week that the Miami Heat intend to pursue possible free agent Carmelo Anthony this summer if he chooses to opt out of his contract with the New York Knicks this summer. Anthony, who would make $23.3 million if he stays in New York for one more year, would have to take a significant pay cut if he were to join the east-coast powerhouse.
If Anthony were to opt out of his current contract this summer teams with cap space would be lining up to offer him a max deal. Also, in order to sign Melo the Heat's big 3 would all have to opt out of their deals and take a significant pay cut themselves.

Dwyane Wade is on the back end of his career, so if the Heat do offer him a long term deal it definitely won't be for anything close to what he's making now. Chris Bosh is still an all star caliber player, but like Wade he probably won't get a deal worth what he's making now. So the Heat will likely be able to get those two to take a pay cut.

LeBron James is by far the best player in basketball and Melo is close to being a top 5 player in the league. In order for the Heat to not go over the salary cap this off season they need Bosh and Wade to take their pay cuts as I mentioned. But they need LeBron and Melo to agree to a contract that's back-end loaded – meaning they can still sign for max money and max years, but in order for the team to sign all of them, they'll make significantly less money this year than they'll make for the subsequent three years.

When LeBron and Melo were drafted back in 2003 – LeBron by Cleveland and Melo by Denver, it was thought that they would have a Magic vs. Bird type rivalry and oppose each other in the NBA finals for the next decade. Now it seems that they'll be joining forces to enhance LeBron's legacy.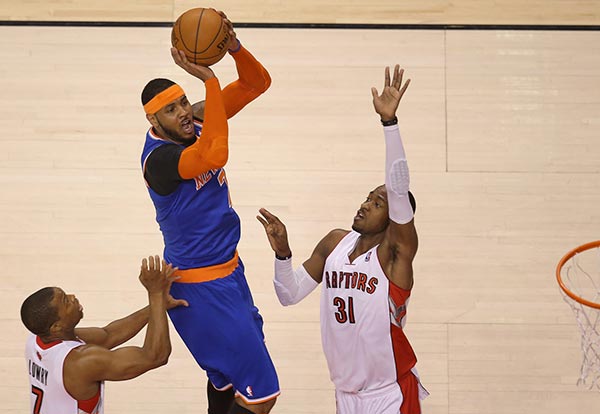 If the Heat are able to bring Melo on board it will be greeted with a collective sigh from fans around the league. It would almost set in stone the NBA champion for the next 3 or 4 years. It would extend Wade's career, and make Erik Spoelstra look like a much better coach than he actually is.

As for LeBron's legacy if Melo joins forces with him, I think it'll be hurt. He'll have won all of his titles teaming up with 3 of the best players of his generation.

On a personal level I'm hoping LeBron goes back to Cleveland. That would only enhance his legacy. LeBron has said that the outcome of the finals will not change his decision on what he's going to do this summer. So what that will be remains to be seen. However, I think it's a strong possibility that Melo joins LeBron, Wade, and Bosh in Miami this summer.


What do you think?

We'd love to hear your comments and/or opinions. If you submit them here, other visitors can read them, rate them and comment on them. An e-mail address is not required.
Miami Heat Explore Ways to Add Carmelo Anthony to NBA Basketball Blog