Matching 2013 Major League Teams to Their Movies
No baseball movies!

Your first inclination, when matching teams to films, is to go with sports movies.  Who is having their Field of Dreams moment?  But that's just too cliché.
So, let's match the 2013 Major League Baseball season's most interesting teams to their most interesting movies.

The New York Yankees meet The Most Exotic Marigold Hotel
What do you get when you pair six of Britain's most famous actors and send them to India?  A heartwarming tale about living your dreams that satisfies viewers but still falls well short of truly great.  Meet your 2013 New York Yankees.  Chock full of big names and slightly past it stars, the Yankees are more than good enough to satisfy most fans over the course of the season but don't expect October heroics.

The Chicago Cubs meet American Wedding
It's full-scale rebuilding for this venerable franchise.  American Wedding was the disaster movie that came after instant classic American Pie and its B- successor American Pie 2.  Likewise, the Cubs are going through a wrenching rebuilding period after their glory years of 2002-2004 and their pretty good 2006-2008 years and its going to be a couple years before they are watchable.  Hopefully, Chicago puts together its good comeback team soon, "American Reunion-style."

The Los Angeles Angels meet Braveheart
All sticks and no cavalry – that is the motto of Braveheart, where William Wallace and his band of freedom-fighting pikemen stand up to English knights in the name of freedom.  The Angels, who have put all their money in bats Josh Hamilton and Albert Pujols, have very little pitching cavalry to help in their quest for a division title and freedom from third-place purgatory and 89 wins.  Freeedoooom!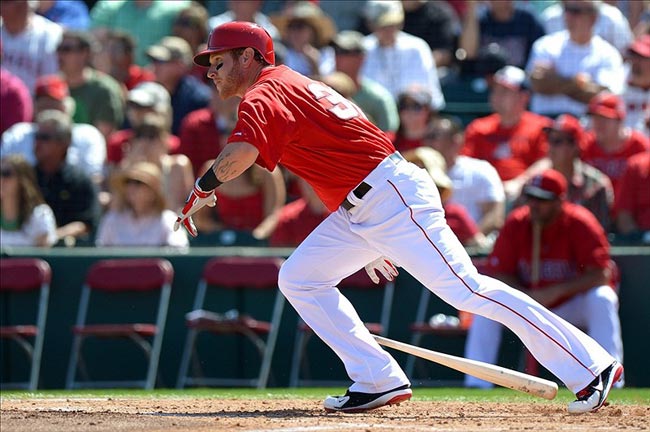 Mar 17, 2013; Tempe, AZ, USA; Los Angeles Angels left fielder Josh Hamilton (32) at bat during the second inning against the San Diego Padres at Tempe Diablo Stadium. Photo Credit: Jake Roth-USA TODAY Sports.

The Miami Marlins meet Major League III
Like the 2003 Marlins, the first Major League was an instant classic, delighting fans everywhere.  Then, like owner Jeffrey Loria, the producers ripped the beautiful comedy to shreds and released a sad, mediocre second edition that deflated comedy fans across America.  But it was not until later, when they released the disgusting monstrosity named Major League 3: Back to the Minors, that fans really understood the depths to which they had sunk.  The 2013 Marlins are just like that.

So, who are your team-meets-movie tandem picks?

What do you think?
We'd love to hear your comments and/or opinions. If you submit them here, other visitors can read them, rate them and comment on them. An e-mail address is not required.