Marquette Basketball
Here's our Marquette Basketball Store.
This article is an overview of Marquette Basketball: its history, player accomplishments, and current playing level. A lot of Best Sports Blog users have asked for is biographies on major NCAA basketball programs-Marquette among them-so this is one of a series of articles designed to meet that need. So, without further ado, let's take a look at the history of Marquette basketball:
Marquette's basketball program is one of the most unique in the country. Even though Marquette is a relatively small, Catholic university, the school's basketball team plays its games in the Bradley Center-also home to the NBA's Milwaukee Bucks-and ranks tenth in attendance for NCAA Division I men's basketball programs. The enduring and fervent loyalty of their fan base has kept the Golden Eagles' program relevant and, occasionally, in national contention over the past five decades.
The Golden Age of Marquette basketball came in the early to mid 1970s. Under coach Al McGuire, the Golden Eagles developed into a national power. After reaching the NCAA Elite Eight in 1969, McGuire led Marquette's 1974 team to the championship game. Their title game loss was bitterly disappointing but McGuire came back with a vengeance three years later and his team won the 1977 NCAA National Title game. That moment remains the pinnacle of the program's illustrious history.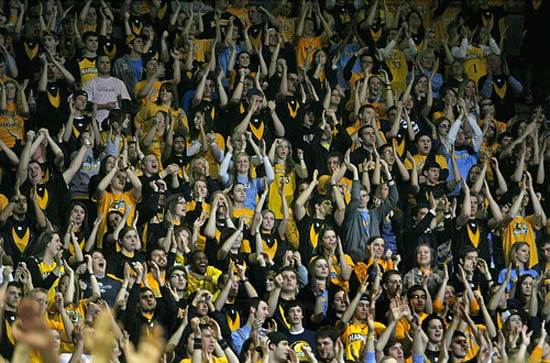 Thanks to Marquette University from Flikr.com for this great picture of Marquette men's basketball vs. Seton Hall at the Bradley Center.
---
After winning the national title, Marquette basketball experienced a period of significant regression. Despite regularly attending the NCAA tournament, the Golden Eagles were never national contenders and did not reach the NCAA Sweet Sixteen again until 1994. However, when phenomenon shooting guard Dwayne Wade arrived in 2001, hope sprang anew. Wade led Marquette for three years during a miniature Golden Age that ended with a run to the 2003 Final Four. But, when Wade left for the NBA in the 2003 draft to star for the Miami Heat, Marquette was left without a cornerstone player and again regressed. Since 2003, they have regularly attended the NCAA tournament but failed to break through past the Round of 32.
Looking forward, Marquette basketball remains a strong program with a devoted fan base. Nonetheless, Marquette will again have to recruit elite talent at Dwayne Wade's level if the program is to become a national contender again in the near future.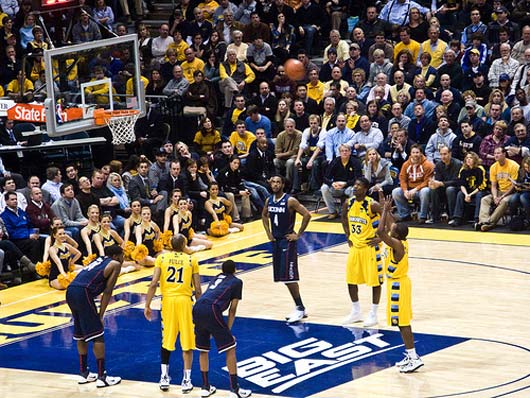 Thanks to Eyton Z from Flikr.com for this great picture of Marquette basketball.
---
---
---
From Marquette Basketball to NCAA Basketball Blog | Sports Blog | NFL Football Blog | NCAA Football Blog | NFL Football Archives | College Football Archives | MLB Baseball Blog | College Baseball Blog | MLB Baseball Archives | NBA Basketball Blog | NBA Basketball Archives | NCAA Basketball Archives | Fantasy Football | Fantasy Basketball | Fantasy Baseball | Soccer Archives | Olympics Archives | Stupid Athletes Archives | Other Archives | Football Forum | Basketball Forum | Baseball Forum | NFL Football Store | NBA Basketball Store | MLB Baseball Store | NCAA Football Store | NCAA Basketball Store | NCAA Baseball Store | Fatheads | NFL Football Tickets | NBA Basketball Tickets | MLB Baseball Tickets | NCAA Football Tickets | NCAA Basketball Tickets | NCAA Baseball Tickets |
---
Home Page
About Us | Contact Us | Site Search | Advertise | Terms of Use |
---