March Madness Sweet Sixteen Review
Wow. That is the word to use for this year's NCAA Sweet Sixteen. After an upset-filled Round of 32 where a 1 seed (Pittsburg), 2 seed (Notre Dame), and two 3 seeds (Purdue and Syracuse) went down in defeat, this year's Sweet Sixteen was actually even crazier. I didn't think it was possible but I was wrong. Arizona, a team many did not expect to survive two tournament rounds, stunned overall favorite Duke, tournament darling Butler shut down Wisconsin's high octane offense, and a red-hot Connecticut team sent San Diego State packing. It's a crapshoot from here on out and, knowing that, let's take a closer look at the results from this year's NCAA Sweet Sixteen:
Arizona (5) def. Duke (1) 93-77:
This year, powerhouse Syracuse lost to Marquette. Top seeded Pittsburg was ousted by Butler. Florida State and VCU crushed Notre Dame and Pittsburg. But this was the tournament's biggest upset by far. Though a five seed, Arizona was very underrated and few analysts expected the Wildcats to get past Texas in the Round of 32. Even those who expected to see them in the Sweet Sixteen didn't foresee a win over Duke. But they did win….and it was not even close. Known for their tight defense and phenomenal discipline, Duke's team gave up fifty-five points in the second half. It was one of the most stunning upsets in years and no one should doubt what Arizona is capable of now.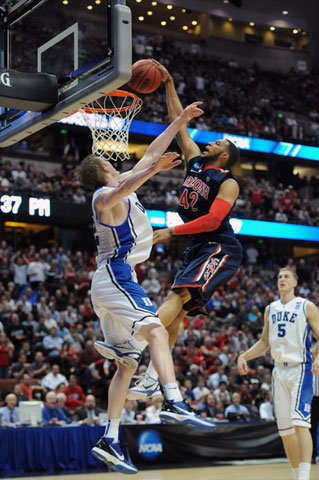 March 24, 2011: Forward Jamelle Horne (42) of the Arizona Wildcats
slam dunks against the Duke at the Honda Center in Anaheim, CA.
Florida (2) def. BYU (3) 83-74:
Florida's victory was perhaps the most predictable of this year's NCAA Sweet Sixteen. Florida's athleticism and capable defense effectively cut off Jimmer Fredette and took advantage of BYU's lack of a post game. Billy Donovan's Gators now have a good chance to make their first Final Four since back to back Championships in 2006 and 2007 but first they must get past a surging Butler team in the NCAA Elite Eight.
Butler (8) def. Wisconsin (4) 61-54:
Matt Howard and Shelvin Mack led Butler's surprising victory over Wisconsin. Last year's finalists, who many expected to be eliminated in the opening round, were coming off two last second victories. Despite appearing vulnerable to an onslaught from Wisconsin's top notch offense, Butler shut the Badgers down and, in holding them to 54 points, earned a spot in the NCAA Elite Eight. Next up are Billy Donovan's balanced and dangerous Gators who will look to shut Mack down with their capable defense and win a tough game this weekend.
Connecticut (3) def. San Diego State (2) 74-67:
Although technically an upset, Connecticut's victory over SDSU shouldn't truly surprise anyone. Connecticut has not lost in a month and has been red-hot since the start of the Big East tournament. Star guard Kemba Walker willed them through this game with 36 points and, if he continues his incredible shooting and maintains his focus and leadership, there is nothing left to stop Connecticut returning to the Final Four once again.
Kansas (1) def. Richmond (12) 77-57:
Richmond's impressive and improbable run came to a screeching halt against Kansas. The Jayhawks were dominant throughout and battered Richmond on both sides of the ball. With Ohio States' defeat at the hands of Kentucky and Duke's loss to Arizona, Kansas is now the favorite to win the NCAA Championship.
North Carolina (2) def. Marquette (11) 81-63:
Unpredictable Marquette came into this matchup looking to take advantage of a young North Carolina team….and ended up well short. The Tar Heels looked dominant throughout the game and continued to grow as a team. Strong performances by team leaders center Tyler Zeller and forward Harrison Barnes led to an early game rout that only continued to get worse for Marquette. Looking forward, North Carolina will face an equally talented-and equally inexperienced-Kentucky team in the NCAA Elite Eight.
VCU (11) def. Florida State (10) 72-71:
This one was a wild ride. The tournament's two surprise teams were pitted against one another and the matchup didn't disappoint. Both squads had a tough, bulldog attitude and worked hard to win. Ultimately VCU pulled it out but this one could have gone either way. Of course, now VCU gets Kansas in the Elite Eight, which will be a tough game to pull out.
Kentucky (4) def. Ohio State (1) 62-60
Ohio State's defeat was the last major upset of the NCAA Sweet Sixteen. However, despite being a heavy underdog, Kentucky was actually the more talented team. The Wildcats currently field their most complete team in years. Freshmen stars guard Brandon Knight and forward Terrence Jones are the best talents on the team but now experienced senior center Josh Harrellson has begun to step up and provide veteran leadership. This team has everything it needs to advance to the Final Four.
---
What do you think?
We'd love to hear your comments and/or opinions. If you submit them here, other visitors can read them, rate them and comment on them. An e-mail address is not required.
---
From March Madness Sweet Sixteen Review to NCAA Basketball Blog | Sports Blog | NFL Football Blog | NCAA Football Blog | NFL Football Archives | College Football Archives | MLB Baseball Blog | College Baseball Blog | MLB Baseball Archives | NBA Basketball Blog | NBA Basketball Archives | NCAA Basketball Archives | Fantasy Football | Fantasy Basketball | Fantasy Baseball | Soccer Archives | Olympics Archives | Stupid Athletes Archives | Other Archives | Football Forum | Basketball Forum | Baseball Forum | NFL Football Store | NBA Basketball Store | MLB Baseball Store | NCAA Football Store | NCAA Basketball Store | NCAA Baseball Store | Fatheads | NFL Football Tickets | NBA Basketball Tickets | MLB Baseball Tickets | NCAA Football Tickets | NCAA Basketball Tickets | NCAA Baseball Tickets |
---
Home Page
About Us | Contact Us | Site Search | Advertise | Terms of Use |
---