March Madness is Pure Sports
The NCAA's March Madness and an Annual Return to Pure Sports
Paul Grossinger
Thursday March 15th, 2012 was quite a day in sports, a pivotal moment for three different sports leagues, but what most fans cared about was March Madness. When you think about it, isn't that profound?
Thursday was the NBA's trade deadline: an afternoon filled with flip flopping (that's you Dwight), last minute deals (who saw that Wizards zinger coming), and crippled franchises (New Jersey, the whole country feels for you. But don't we always?).
It was also part of the opening salvo of NFL Free Agency. Fans saw Buffalo shell out $100 million for Mario Williams, Tampa Bay spend $100 million on Vincent Jackson and Carl Nicks (surprising but they had to per the NFL's cap rules), and the Chicago Bears finally trade for an elite receiver.
But most sports fans were glued to one thing: the first day of March Madness.
The NBA's trade deadline and the NFL's free agency period are very important to their respective sports. But are they fun to watch? NO. We live in an online, multimedia sports age where ESPN hypes up every slight move in any sport, so some fans were checking to the wire at every second to see who signed with what team. But most sports fans still don't care.
Most sports fans just want to see games. They want to watch pure sports competition at its purest level. That is what March Madness gives them.
It's why the event is so addictive to Americans of every age and stripe.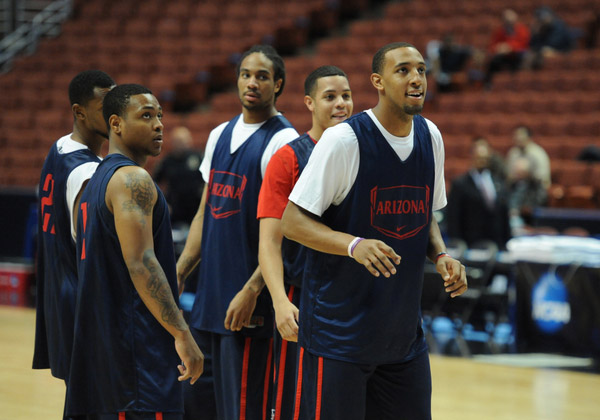 Forward Derrick Williams (23) of the Arizona Wildcats during the Arizona Wildcats practice for the Sweet Sixteen round of the Division I Men's NCAA Basketball Tournament at the Honda Center in Anaheim, CA.
---
The NCAA's March Madness is the best collegiate athletics has to offer. College athletes don't make money. While a select few (perhaps forty in a given year) are playing for future NBA stardom, the remaining hundreds (if not thousands) are playing for glory. They are playing to achieve something memorable, a moment that they can cherish and recall once they have moved on to the rest of their lives.
It's like the NCAA's new commercial says" "Most of us will be going pro in something other than sports."
Fans love that unfiltered competition. They are drawn to that pure athleticism, to the "madness" of 64 teams vying for one NCAA title. Who needs to watch big-time NBA stars cripple franchises twice over or NFL defensive ends get overpaid when you can watch gritty, devoted college athletes fight tooth and nail for their one shot at athletic immortality?
Take one look around your office, check to see what the TVs are glued to. You can answer that.
---
What do you think?
We'd love to hear your comments and/or opinions. If you submit them here, other visitors can read them, rate them and comment on them. An e-mail address is not required.
---
From March Madness is Pure Sports to NCAA Basketball Blog | Sports Blog | NFL Football Blog | NCAA Football Blog | NFL Football Archives | College Football Archives | MLB Baseball Blog | College Baseball Blog | MLB Baseball Archives | NBA Basketball Blog | NBA Basketball Archives | NCAA Basketball Archives | Fantasy Football | Fantasy Basketball | Fantasy Baseball | Soccer Archives | Olympics Archives | Stupid Athletes Archives | Other Archives | Football Forum | Basketball Forum | Baseball Forum | NFL Football Store | NBA Basketball Store | MLB Baseball Store | NCAA Football Store | NCAA Basketball Store | NCAA Baseball Store | Fatheads | NFL Football Tickets | NBA Basketball Tickets | MLB Baseball Tickets | NCAA Football Tickets | NCAA Basketball Tickets | NCAA Baseball Tickets |
---
Home Page
About Us | Contact Us | Site Search | Advertise | Terms of Use |
---