March Madness Final Four Review
VCU, Butler, Connecticut, and Kentucky. That's our Final Four. VCU was one of the new "First Four" teams and was not expected to defeat Georgetown in the Round of 64. Butler, last year's NCAA tournament runner-up, was considered a dangerous floater but no one expected them to get past 1 seeded Pittsburg. Connecticut was fresh of a Big East tournament win but had gone through a mediocre regular season and was in the same region as NCAA tournament favorite Duke. Of all four teams, Kentucky was the only one given long shot odds of winning the whole tournament.
But, with all that said, it was those four teams that played in the 2011 NCAA Final Four. It just goes to show you: we can analyze these games all day and night, use complex rankings systems and lineup evaluators, and more but what it really comes down to is determination and sheer force of will. The college game is not professional; talent matters but, ultimately, the team that wants it the most will end up winning. That is what Americans love about it so much; even as television networks, schools, and NCAA officials milk the game for every dime its worth, at its heart college basketball remains about the heart, desire, and determination of the kids that play every game. Knowing that, let's take a look at this year's Final Four results:
Butler (8) def. VCU (11) 70-62
In this rare matchup of Cinderellas, one remarkable story had to come to an end. Would it be VCU; the unlikely First Four team that parlayed a sub-par regular season into a Final Four appearance? Or would it be Butler; last year's runner-up but a team lacking a frontline talent since star Gordon Heyward's departure in the 2010 draft?
Ultimately, Butler came through in this game because of the pure determination of its two stars: Matt Howard and Shelvin Mack. Mack had his most statistically impressive game of the 2011 NCAA tournament with 24 points, six rebounds, and an assist. Considering the stage, it was an incredible effort by a talented scorer who was thought of as an afterthought to forward Heyward last season. Matt Howard, despite a poor 3-10 shooting night, displayed incredible poise and effort by repeatedly grabbing and kicking out offensive rebounds, playing tenacious defense, and going 11-12 from the foul stripe. Indeed, it was Howard's work at the line that ultimately allowed Butler to hold VCU at bay in the game's final two minutes and advance to the title game. There, Butler will have to put everything on the line because, with the departures of Mack and Howard coming after this season, the school will likely go through a major retooling period. Still, Butler's ability to make repeat Final Fours is nearly unprecedented for any school….and has never been done by a mid-major in NCAA history.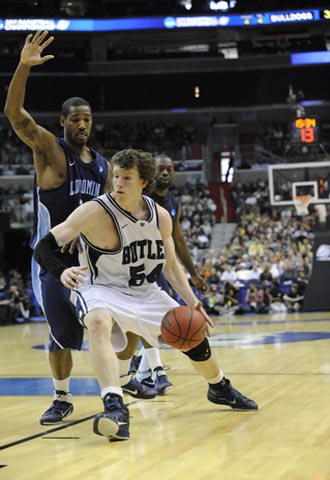 Forward Matt Howard (54) of the Butler Bulldogs during the Butler Bulldogs game versus Old Dominion Monarchs at the Verizon Center in Washington, DC.
---
Connecticut (3) def. Kentucky (4) 56-55
This was a very intriguing matchup: the tournament's hottest team (Connecticut) against the most talented (Kentucky). It proved to be just as engaging a game. After a lopsided first half dominant by the Huskies, Kentucky managed to even it out in the second period. Kentucky forward Terrence Jones had a phenomenal game with 11 points, 15 rebounds, and 5 steals and almost led the Wildcats back at the end. However, Kentucky failed to convert any of its final five shot attempts of the half, which cost them the game.
Close to the final seconds, this was an NCAA Final Four game for the ages. It also featured yet another impressive performance by Connecticut's star guard Kemba Walker. Walker went off for 18 points, 7 assists, and 6 rebounds and helped to keep Connecticut slightly ahead of the Wildcats all the way until the end. He may not become an NBA star due to his complete lack of size (he is probably under 5'11") but Walker is a college phenomenon and Connecticut will sorely miss him after his departure in the 2011 NBA Draft.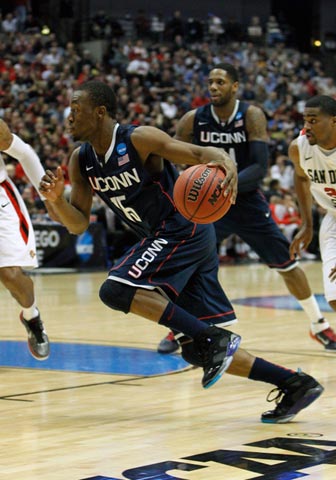 Guard Kemba Walker (15) of the UConn Huskies drives the lane versus the San Diego State Aztecs at the Honda Center in Anaheim, CA.
---
Meanwhile, Kentucky lost today but the Wildcats continue their resurgence with coach and recruiting guru John Calipari at the helm. Last year, Calipari's first on the bench, the Wildcats were led to the NCAA Elite Eight by freshman phenom point guard John Wall and center DeMarcus Cousins. This year, guard Brandon Knight and forward Terrence Jones led them to the NCAA Final Four. Knight is almost certain to leave but Jones may stay to polish his game. Next year they will be joined by top high school recruits forward Anthony Davis, forward Michael Gilchrist, and point guard Marquis Teague. With unprecedented levels of talent coming down the pipeline and a more veteran roster left to lead them, Kentucky will be the odds on favorite to win the 2012 NCAA Tournament.
But, for now, we are left with a battle between blue-blooded Connecticut and mid-major Butler for the 2011 NCAA Tournament crown! It should be a very interesting game so check back for our preview of the 2011 NCAA Championship Game!
---
What do you think?
We'd love to hear your comments and/or opinions. If you submit them here, other visitors can read them, rate them and comment on them. An e-mail address is not required.
---
From March Madness Final Four Review to NCAA Basketball Blog | Sports Blog | NFL Football Blog | NCAA Football Blog | NFL Football Archives | College Football Archives | MLB Baseball Blog | College Baseball Blog | MLB Baseball Archives | NBA Basketball Blog | NBA Basketball Archives | NCAA Basketball Archives | Fantasy Football | Fantasy Basketball | Fantasy Baseball | Soccer Archives | Olympics Archives | Stupid Athletes Archives | Other Archives | Football Forum | Basketball Forum | Baseball Forum | NFL Football Store | NBA Basketball Store | MLB Baseball Store | NCAA Football Store | NCAA Basketball Store | NCAA Baseball Store | Fatheads | NFL Football Tickets | NBA Basketball Tickets | MLB Baseball Tickets | NCAA Football Tickets | NCAA Basketball Tickets | NCAA Baseball Tickets |
---
Home Page
About Us | Contact Us | Site Search | Advertise | Terms of Use |
---