March Madness 2011 Championship Preview
The moment we have all been waiting for has arrived. After almost a month of March Madness, the 2011 NCAA Championship Game is here! All the drama of the early round upsets, Sweet Sixteen craziness, and the strangest Final Four in recent memory has led to this: a University of Connecticut vs. Butler Final Four matchup. Few fans predicted this before the tournament: the most popular bracket championship matchup was Kansas vs. Ohio State followed by Duke vs. Kansas, and Kentucky vs. Kansas. Did you see Butler in there? I didn't think so.
But, despite what everyone (myself included) thought back in mid March, Butler is back in the NCAA Championship Game. The defending runner-ups, Butler has now become the only mid-major school ever to reach two NCAA tournament finals….let alone two consecutive NCAA tournament championship games. The very thought is mind-boggling when you think about it: Butler reached two consecutive title games? Who would have imagined that? But that is the beauty of March Madness; unlike college football or professional sports, college basketball's postseason is neither arbitrary nor predictable. NCAA basketball teams get to the finals on one thing and one thing only: merit. Butler has just proved that….twice over.
Still, don't count out Connecticut. The Huskies are the hottest team in college basketball. Despite a pedestrian 9-9 Big East regular season mark, they have not lost since before their Conference Tournament began (yes you heard correctly) and will now challenge for the title. The Huskies made that mad charge for glory behind the spectacular play of star guard Kemba Walker. Walker will be playing in the biggest game of his college career (and likely his whole life) so you can expect him to try and live up to the moment. If he can do that, and pace the Huskies to another NCAA title, he will go down as one of the all-time Connecticut greats.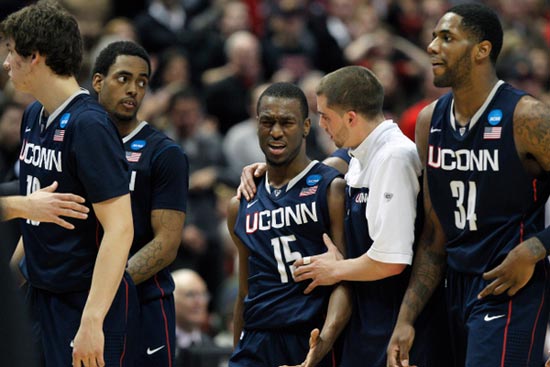 Guard Kemba Walker (15) of the UConn Huskies during the UConn Huskies game versus the San Diego State Aztecs in their Sweet Sixteen game at the Honda Center in Anaheim, CA.
---
This is a matchup of two teams who rely on defense, will, and sheer determination to win games. All of college basketball's truly elite talents are gone now: Jared Sullinger of Ohio State and Kyrie Irving of Duke were knocked out in the NCAA Sweet Sixteen, Derrick Williams of Arizona and Harrison Barnes of North Carolina lost in the NCAA Elite Eight, and Kentucky's duo of Brandon Knight and Terrence Jones made a dramatic final four exit. The stars who are left: Walker, Butler guard Shelvin Mack, and fresh-faced Matt Howard, are all great college players whose determination and sheer grit will take them farther at this level of the game than any other. A professional future beckons but it is unlikely to offer any of them the kind of starring glory they could earn in this unprecedented title game. And make no mistake, all three know that and they will play their hearts out to claim a piece of it.
So, who is my pick to win the whole 2011 NCAA Tournament? Picking Butler is tempting because coach Brad Stevens is a savant who excels at exploiting matchups, inserting unlikely contributors, and working other team's weaknesses. Plus, Mack and Howard are two of the most determined athletes I have ever had the privilege of watching. But, Connecticut is one of my favorite teams. They were my bracket sleeper this year (perhaps the only thing I got right on my bracket this season) and I picked them to win this game originally (over Kansas but we'll have to forget that part.) I love how the Huskies function: they are a group of determined ballplayers who take their cue from their gritty 5'11" floor-leader. Connecticut's players have won with fearless abandon this tournament and I expect them to bring more of that to the table and win the 2011 NCAA Title.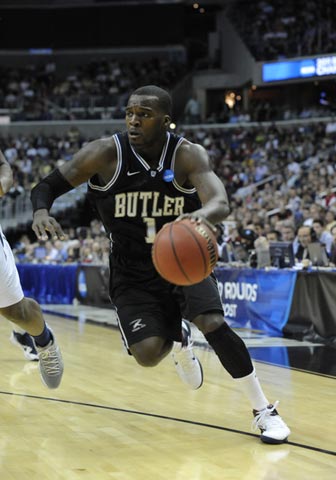 Guard Shelvin Mack (1) of the Butler Bulldogs during the Butler Bulldogs game versus the Pittsburgh Panthers at the Verizon Center in Washington, DC.
---
---
What do you think?
We'd love to hear your comments and/or opinions. If you submit them here, other visitors can read them, rate them and comment on them. An e-mail address is not required.
---
From March Madness 2011 Championship Preview to NCAA Basketball Blog | Sports Blog | NFL Football Blog | NCAA Football Blog | NFL Football Archives | College Football Archives | MLB Baseball Blog | College Baseball Blog | MLB Baseball Archives | NBA Basketball Blog | NBA Basketball Archives | NCAA Basketball Archives | Fantasy Football | Fantasy Basketball | Fantasy Baseball | Soccer Archives | Olympics Archives | Stupid Athletes Archives | Other Archives | Football Forum | Basketball Forum | Baseball Forum | NFL Football Store | NBA Basketball Store | MLB Baseball Store | NCAA Football Store | NCAA Basketball Store | NCAA Baseball Store | Fatheads | NFL Football Tickets | NBA Basketball Tickets | MLB Baseball Tickets | NCAA Football Tickets | NCAA Basketball Tickets | NCAA Baseball Tickets |
---
Home Page
About Us | Contact Us | Site Search | Advertise | Terms of Use |
---