March Madness 2011 Championship Game Review
Connecticut def. Butler 53-41
Wow. I don't mean "wow" in an exhilarated way; I mean wow in an "that was the worst NCAA Title Game I have ever seen" way. It's one of those wows; the type that registers my complete shock that two teams who made it this far, upset so many tough foes, and went through so much to this point played a game this bad.
The 2011 NCAA Tournament was upset special. From Selection Sunday on, when pundits joked that there was little difference between a four seed and a twelve seed, everyone has known that upsets would rule the day in this tournament. That said, no one knew how many upsets there would be and almost no one predicted a Butler-Connecticut title game.
The sheer unpredictability of this game made it compelling. Butler-UConn? Butler might have been the 2010 runner-up but, with Gordon Heyward's departure, no one expected an encore. Connecticut was a 9-9 Big East team and few thought that magical Conference Tournament run would propel them to a title game. But, with both equally unlikely stories matched against one another, it looked like a fantastic game on paper. What a flop.
From the first minute, both of these teams looked out of sync. Maybe Butler and Connecticut were both spent from such a tough run to the title? It's hard to say. To be fair, both the Bulldogs and Huskies played tough, gritty defense. But nothing can justify Butler's collective fifteen percent shooting mark for the game midway through the second half. The Bulldogs passed the thirty point marker with five minutes left. In their second straight title game, with so much on the line for themselves and their school, that kind of unspeakably atrocious offensive performance was totally unacceptable.
Shopping for a Kemba Walker Jersey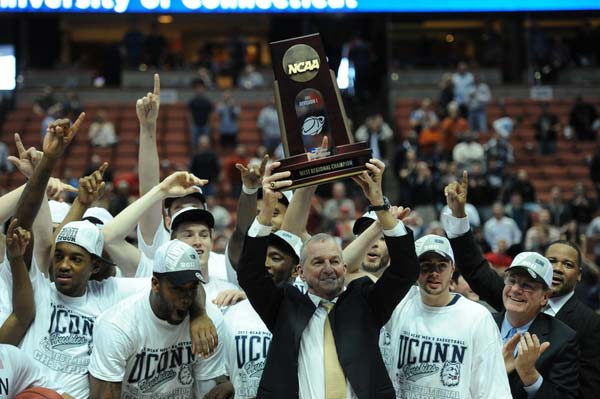 UConn Head Coach Jim Calhoun holds up the trophy during the Elite Eight round of the NCAA Division I Men's Basketball Championship between the UConn Huskies and the Arizona Wildcats at the Honda Center in Anaheim, CA.
---
I picked Connecticut to win this game and, though the Huskies hardly played like the '96 Bulls, they won this NCAA Championship handily. Connecticut's combination of gritty defense on every possession and just enough passable offense to crack the fifty point mark was enough to win it. The fact that the Huskies would have lost every other NCAA tournament final I have ever watched with that performance was ultimately irrelevant; they bagged this one. Connecticut's players may have won this game in completely unwatchable fashion but they will walk away as 2011 NCAA Tournament champions.
To be honest, I really feel bad for Butler's stars. That is what I want to close with since there was hardly a "game highlight" worth relaying. Matt Howard and Shelvin Mack were fantastic college players. This was, most likely, the biggest basketball game of their lives. And, with a beyond unlikely second chance to win an NCAA Title, they completely flopped. Hopefully, this will leave them with a determination to do better in the future. With that thought, I am going to put this unwatchable game behind me and look forward to next year. Onward to March Madness 2012!
---
What do you think?
We'd love to hear your comments and/or opinions. If you submit them here, other visitors can read them, rate them and comment on them. An e-mail address is not required.
---
From March Madness 2011 Championship Game Review to NCAA Basketball Blog | Sports Blog | NFL Football Blog | NCAA Football Blog | NFL Football Archives | College Football Archives | MLB Baseball Blog | College Baseball Blog | MLB Baseball Archives | NBA Basketball Blog | NBA Basketball Archives | NCAA Basketball Archives | Fantasy Football | Fantasy Basketball | Fantasy Baseball | Soccer Archives | Olympics Archives | Stupid Athletes Archives | Other Archives | Football Forum | Basketball Forum | Baseball Forum | NFL Football Store | NBA Basketball Store | MLB Baseball Store | NCAA Football Store | NCAA Basketball Store | NCAA Baseball Store | Fatheads | NFL Football Tickets | NBA Basketball Tickets | MLB Baseball Tickets | NCAA Football Tickets | NCAA Basketball Tickets | NCAA Baseball Tickets |
---
Home Page
About Us | Contact Us | Site Search | Advertise | Terms of Use |
---