Manny Pacquiao vs. Juan Manuel Marquez: Redux
By Aaron Reynolds

Gatti vs. Ward? Sugar Ray vs. Hearns? Ali vs. Frazier? Boxing fans have been in desperate need of a classic rivalry to define the 21st century and have hopelessly set their faith on Manny Pacquiao and Floyd Mayweather Jr. which, up to this point has never materialized and remains doubtful ever to become a possibility. The reality is that Pacquiao, 34, and Mayweather, 35, are approaching the end of their careers and the possibility of only one fight between the two versatile prizefighters is questionable much less a series to truly define it as a rivalry.
In sight of that unfortunate fact, boxing experts are failing to recognize that after Pacquiao-Marquez IV, we've found the definition of the greatest 21st century boxing rivalry.

Pacquiao-Marquez has endured four classic bouts and considering that the fifth match is only a matter of technicalities at this point, I will go out there and say it that Pacquiao-Marquez has defined the generation.

Truth is, Pacquiao-Marquez has slipped under the radar and though the fourth match was widely hailed as the best fight of 2012, TV viewers still didn't turn out in record numbers to watch the two Featherweight/Welterweight fighters square off. Why not? In all actuality Pacquiao-Marquez has the resemblance of any great boxing rivalry in the history of the sport. Let's examine:
Juan Manuel Marquez is the Ultimate 'Underdog'
Ever since getting snubbed in the controversial first fight, Juan Manuel Marquez has been the vintage underdog. Underappreciated his entire career, the crafty 40 year-old has never received the respect he deserved despite going toe-to-toe with arguably the greatest pound-for-pound fighter in the past 20 years who was once considered one of the greatest of all-time.

Pacquiao's rapid downfall at the tail end of his career has certainly hurt his reputation, yet when Marquez steps into the ring to face the Filipino giant he still does so with a chip on his shoulder and something to prove. Don't agree? How many casual boxing fans can recognize Manny Pacquiao? How many casual fans can recognize Juan Manuel Marquez? Would anyone place a bet on him at bwin.com/en/boxing?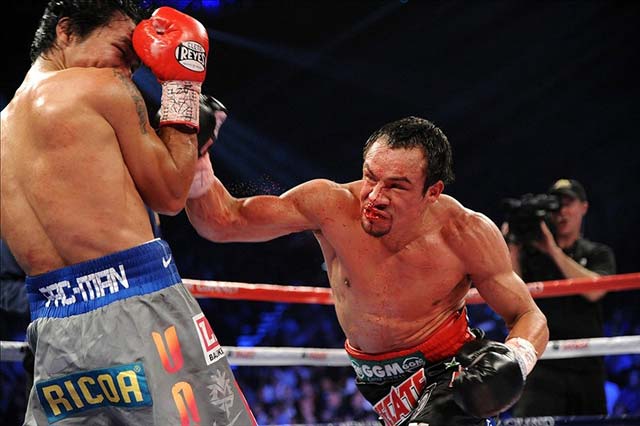 Manny Pacquiao's Nemesis and Final Shot at Redemption
Aside from Pacquiao-Marquez V guaranteed to bring in a massive amount of cash, for Manny Pacquiao the fifth and likely final fight would be a chance at redemption for a boxer who remains a star, bigger than the world in the Philippines, yet disgruntled and reputation slightly beaten down after Pacquiao-Marquez IV.

Marquez has always been a thorn on Pacquiao's side with controversial split-decisions in the first two fights which was finally followed by a decisive win in the third match. Each fight in the series has built with anticipation and what's at stake, the strongest measure of what defines a boxing rivalry.

Viewing Pacquiao-Marquez Historically
How will Pacquiao-Marquez go down in the history of boxing? It will surely not beat some of the rivalries of the 'Golden Age' of boxing yet you would be hard pressed to find one that has been nearly as entertaining given that we've already seen four great fights with hopefully another one to add to the list soon. Fact is, even though much more publicized rivalries like Ali-Fraiser get press, those two only squared off three times opposed to what will likely end up five for Pacquiao-Marquez. How does the rivalry stack up with your greatest of all-time list?


What do you think?
We'd love to hear your comments and/or opinions. If you submit them here, other visitors can read them, rate them and comment on them. An e-mail address is not required.
From Manny Pacquiao vs. Juan Manuel Marquez: Redux to Boxing Blog