Major League Baseball's Best General Managers Today
Major League Baseball teams are the toughest franchises to run of any sport.  General Managers must deal deftly with the regular draft, the Rule 5 draft, international free agency, unrestricted international free agency, regular free agency, trades, minor claims – you name it there are a million ways to improve or destroy a baseball club.

So, who ranks as the top ten General Managers in baseball?
1) John Mozeliak, St. Louis Cardinals
The Cardinals have the total package in Mozeliak. He runs a first class organization that has developed homegrown talent in every department, from hitting (Allen Craig, David Freese) to pitching (Jaime Garcia, Adam Wainwright).  St. Louis has not missed Albert Pujols one bit and looks poised to contend for the next decade with an excellent minor league pipeline, underpaid major league stars in their prime, and almost no bad contracts.

2) Brian Sabean, San Francisco 49ers
You just can't argue with the results.  Two World Series titles in four years is an incredible accomplishment for a General Manager.  Consider: Andrew Friedman is widely viewed as a top GM in the game and he has yet to win even one – though no doubt his payroll is a major factor in that missing element of his resume.  Sabean's championships have also not come through luck (I am looking at you Kenny Williams), they have come through astute commitment to continuous development of young pitching to headline the roster. 
Right now, the Giants are in a bit of trouble as they have a payroll bloated by contracts like the one given to Angel Pagan and they have big decisions to make on regressing players like Tim Lincecum (who may, or may not, be returning to CY Young form late this season).  But, Sabean will get them back into contention soon enough.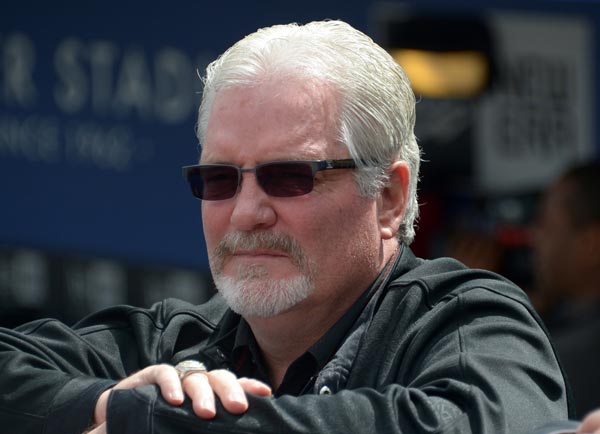 3) Theo Epstein, Chicago Cubs
Yes, I cheated: Epstein is really the Vice President of Basketball Operations while Jed Hoyer is GM.  But the Cubs are my team and I could not resist including their leader on this list; not-coincidentally the young savant behind the Boston Red Sox's titles in 2004 and 2007.  Epstein's blueprint has the Cubs on their way back to contention, particularly in 2015 and after due to strong spending in the draft and international free agency.  If the Cubs can get around to spending like a big market club instead of sporting a mid-major payroll as they are today, Epstein should be ready to make miracles when the Cubs are ready.

4) Andrew Friedman, Tampa Bay Rays
You can make a good case to put Friedman at the top of his list.  The Rays' GM is the Majors' best at making do with very little and runs the best scouting and talent department in baseball (though the Cardinals could dispute them for the title).  Like Sabean, he builds around excellent young pitching and just enough hitting to post a 90+ win season.  The difference is Sabean is capable of resigning his stars when they hit maturity.  If you are looking for a reason Sabean has two rings to Friedman's none that is probably it.

5) Brian Cashman, New York Yankees
Let the debate begin.  Few General Managers elicit a more wide range of opinion than Cashman.  Many consider him a weak GM; long a pawn of George Steinbrenner, not even the final decision maker on baseball matters (and humiliated with surprising regularity) and owner of such a massive payroll that he almost has to win.  The Yankees also have little to show for a half decade of aggressive minor league spending and are struggling with serious age concerns on the major league club.  But, the fact remains that Cashman has been part of five World Series winning management teams.  No one else comes close.

And the honorable mentions go to:

  6) Walt Jocketty, Cincinnati Reds

  7) John Daniels, Texas Rangers

  8) Dave Dombrowski, Detroit Tigers

  9) Ned Colletti, Los Angeles Dodgers

10) Billy Beane, Oakland Athletics

So, who do you think are the best GMs in the game today?


What do you think?
We'd love to hear your comments and/or opinions. If you submit them here, other visitors can read them, rate them and comment on them. An e-mail address is not required.