Major League Baseball's Best General Managers Since 2010
By Jason Fryer

Since the start of the 2010 offseason, we have seen general managers make moves that have turned franchises around for the better or worse. When assessing the decisions general managers have made over the past three seasons, I wanted to examine four different qualities:

Success at the major league level
Creating a foundation at the minor league level
Making key trades
Successful free agent signings
Honorable Mention:
Walt Jocketty (Reds), Dave Dombrowski (Tigers), Neal Huntington (Pirates) and Brian Sabean: Three of the four managers have brought their respected teams back to the playoffs (and baring a historic collapse, Neal Huntington and his Pirates will make it in 2013) and made their respected franchises into powerhouses. In the case of Walt Jocketty, Dave Dombrowski, and soon Neal Huntington, they have brought these franchisees back to prominence after not having their franchises make the playoffs for over a decade. Each general manager has done it in a different way, but has been successful since taking over.

Walt Jocketty has created a great core group (Joey Votto, Brandon Phillips, Jay Bruce, Mat Latos, Johnny Cueto, Todd Frazier, Devin Mesoraco, Homer Bailey, and Aroldis Chapman) in Cincinnati with a number of key trades and locking up their top players. Jocketty isn't apart of the top five though because since 2010, the Reds have only won two playoff games, he hasn't drafted any upper level players, and has only made one signature trade since the 2009 offseason (acquiring Shin-SooChoo). Since Dave Dombrowski took over in Detroit, he has taken the Tigers to the World Series twice and playoffs three times. Dombrowski traded for the best player in baseball (Miguel Cabrera) and in return gave up two players that have since been released/traded from the Marlins (Andrew Miller and Cameron Maybin) three years after the initial trade. Detroit has established an elite core in Cabrera, Prince Fielder, Justin Verlander, Max Scherzer, Victor Martinez, and Austin Jackson.

Speaking of Jackson and Scherzer (the favorite for the 2013 Cy-Young Award), Dombrowski might have made the best trade since the 2010 Offseason when he traded Curtis Granderson, Ian Kennedy, and Edwin Jackson (three quality players) for Scherzer, Phil Coke, and Austin Jackson; this gave the Tigers the leadoff hitting center fielder and number two pitcher they always wanted. So why isn't Dombrowski in the top 5? Not to his fault but he has one of the best owner's in all of sports (Michael Ilitch) who is willing to spend north of 130+ million per season and has had a problem solidifying the Tigers bullpen. With that said, there's no doubt Dombrowski has done a tremendous job in Detroit since taking over in 2002.

Since Neal Huntington took over as the Pirates GM in 2007, Pittsburgh has shown a transition both on the field and in the draft. Huntington has added/signed via Latin America Starling Marte, Pedro Alvarez, Jeff Locke, and Gerrit Cole all while revamping the farm system of the Pirates with Jameson Taillion, Gregory Polanco, along with other. As great a drafter as Huntington has been, he's been even better at taking a number of castoffs (Russell Martin, Garrett Jones, A.J. Burnett, Francisco Liriano, Jason Grilli, MarkMelancon) and turning them into quality players. The Pirates had been looking for a manager and pitching staff that would be able to take on a young and unproven pitching staff and there's not question they have finally found that in manager Clint Hurdle and pitching coach Ray Searage.

I decided to not put Huntington into the top five because even though he's done a terrific job with the Pirates minor league system and changing the direction of the franchise, the Pirates still hasn't officially made the playoffs and he hasn't made a signature trade. There has only been one general manager to win multiple world series titles over the past five seasons…Brian Sabean. Following the end of the Barry Bonds era in San Francisco, the Giants decided to restructure their roster around pitching and defense, which included young first round draft picks Matt Cain, Tim Lincecum, Madison Bumgarner, and Buster Posey.

In addition to having three of the best arms in baseball, Sabean and the Giants added a number of proven veterans (Aubrey Huff, Juan Uribe, Aaron Rowand, Pat Burrell, Edgar Renteria, Cody Ross, Ryan Theriot, Hunter Pence) and quality arms in their bullpen (Brian Wilson, Sergio Romo, Santiago Casilla, Jeremy Affeldt, Javier Lopez) to help them win two championships. The reason Saben is not in the top 5 is because of the Barry Zito contract (although he was crucial to the Giants pitching staff during the 2012 playoffs), the Carlos Beltran trade in 2011 (Beltran left after the season and the Giants traded star prospect Zach Wheeler for a half of season from Beltran), and the San Francisco minor league system is currently one of the worst in baseball.

4. Jon Daniels:
On July 31, 2007, the Texas Rangers were 46-59 and 16 games back of the division leading Los Angeles Angels of Anaheim and not apart of the 2007 playoff hunt. With the Rangers out of the playoff chase and a team that was a few years away from the playoffs, the Rangers decided to trade All-Star first baseman Mark Teixeira (who had a year and a half left on his contract) to the Atlanta Braves for Jarrod Saltalamacchia, Beau Jones, and prospects Elvis Andrus, NeftaliFelez, and Matt Harrison. The following offseason, the Rangers decided to trade top prospect EdinsonVolquez to Cincinnati for former number one overall pick Josh Hamilton to provide the power Texas was looking for in the outfield. The Rangers would continue their rebuilding process for two more seasons before the 2010 season saw the Rangers prepared to take the next step and make the playoffs.

On July 9th, with the Rangers holding a 5½ game lead in the American League West, Texas showed they were ready to go "all in" when they traded former first round picks (Justin Smoak and Blake Beavan) along with two other prospects for 2008 Cy-Young Award winning pitcher Cliff Lee to help anchor their rotation. Texas finally had the pitching (Lee, C.J. Wilson. Colby Lewis, Tommy Hunter, NeftaliFelez, Darren O'Day, Darren Oliver) to complement one of the best lineups (which now featured future Hall-of-Famer Vladimir Guerrero). Following the 2010 season, Texas decided to allow ace Cliff Lee leave via free agency and instead signed third baseman Adrian Beltre to bolster their defense and lineup. The deal would payoff as Beltre would go on to win both the gold glove and silver slugger at third base and help lead the Rangers back to the World Series. Following another American League Championship, the Rangers would again allow their star left-handed ace leave via free agency (C.J. Wilson) and instead use the money on Japanese All-Star Yu Darvish.

Darvish would go on to make the All-Star game in his first two seasons and become one of the most dominant pitchers in baseball. The final key move the Rangers decided to make was when Daniels decided to allow former MVP Josh Hamilton leave via free agency (who would sign a 5 year deal worth over $100 million with the rival Los Angeles Angels). The Rangers and Jon Daniels have done a terrific job at knowing when it's time to invest in a player long-term (Adrian Beltre, Ian Kinsler, Joe Nathan, Yu Darvish), when to allow a player to leave in free agency (Cliff Lee, C.J. Wilson, Josh Hamilton), and how to draft/sign amateur free agents (Leonys Martin, JuricksonProfar, Mitch Moreland, Martin Perez). The two reasons Jon Daniels isn't higher on this list is because following back-to-back AL Championships, the 2012 Rangers completely fell apart and melted down the stretch. The Rangers also made one of the worst transactions when they traded Chris Davis and Tommy Hunter for Koji Uehara.

3. Sandy Alderson:
During the 2010 offseason, the New York Mets decided to release general manager Omar Minaya and replace him with long time executive Sandy Alderson. Alderson was taking over an organization that had both on and off the field problems along with one of the worst minor league systems. The Mets first significant move in the Alderson era came when he decided to trade closer Francisco Rodriguez (during the All-Star game) for two minor league players to start the rebuilding process. A few weeks later, hours before the 2011 MLB trade deadline, New York decided to trade all-star outfielder Carlos Beltran to San Francisco for 21 year old and former 6th overall pick Zack Wheeler to help bolster their future rotation.

Following the 2011 season, Alderson and the Mets once again had another colossal question in front of them… resign Jose Reyes to a 100+ million dollar contract or allow him to leave via free agency? New York decided against signing him and continued their rebuilding process when they traded veteran Angel Pagan to San Francisco for Ramon Ramirez and Andres Torres. In 2012, the Mets would once again struggle (finishing with a 74-88 record) but would feature the NL Cy-Young Award winner: R.A. Dickey. With one year left on his contract, the Mets decided to see what they could get for the reigning Cy-Young award winner and were able to find a match with the Toronto Blue Jays when they traded Dickey for John Buck and prospects Noah Syndergaard, Travis d'Arnaud, and Wuilmer Becerra. Becerra is an 18 year old outfield prospect that has a tremendous upside and someone Mets fans should keep an eye on.

As for Syndergaard and d'Arnaud, the two players are the two top players in the Mets system and two of the top 20 prospects in baseball. Although Alderson and the Mets have finished in 4thplace each of his three seasons as the team's general manager, the Mets finally have the young starting pitching they've been looking for in Matt Harvey (when he return from his injury), Wheeler, and Syndergaard and don't have any bad long term contracts on their books (only have David Wright signed to a significant log term deal). Look for the Mets to be towards the top of the NL East by the 2015 season and have one of the top rotations for years to come.

2. Andrew Friedman:
Following the 2005 season, 28 year old Andrew Friedman was named general manager of the then Tampa Bay Devil Rays. Friedman's first significant decision was his most important when he named longtime Angels assistant bench coach Joe Maddon manager the teams manager. Tampa Bay knew if they wanted to compete with the kings of the AL East (Boston and New York), they would have to be creative; putting together an excellent pitching staff that form their roster via the draft/castoff free agents. Following the 2006 season, Tampa started addressing their rotation problems by hiring Jim Hickey (who was the Astros pitching coach when they reach the 2005 World Series) as the teams pitching coach. The Devil Rays already had a young ace at the top of their rotation (Scott Kazmir) but needed to fill out the remainder of their rotation/bullpen.

The first key move to bolster their rotation was when they traded for hard throwing Edwin Jackson during the 2006 offseason. Following two additional losing seasons, Tampa Bay decided to change the franchise's name to the Rays and more importantly made the most important trade of the Andrew Freidman era when they traded former number one overall pick Delmon Young and Brendon Harris for Jason Bartlett and top pitching prospect Matt Garza. With Kazmir, Jackson, Garza, and Shields in place, the Rays finally had the rotation that could help them compete in the AL East. In addition to their great young rotation, the Rays also decided to bring up two young prospects in Evan Longoria and David Price.

Tampa would go on to win the American League Championship in 2008 and become a power in the American League for years to come. Although the winning is great, there's three other key reasons why Friedman is high on my list. For starters, the Rays organization has been one of the elite drafting organizations in the game, which allowed them to continually replace players when they leave via free agency. In addition to being a terrific at drafting players, the Rays do a great job at signing so called "rejects" (Carlos Pena, Eric Hinske, Casey Kotchman, Luke Scott, James Loney Dan Wheeler, Grant Balfour, Rafael Soriano, Joaquin Benoit, Kyle Farnsworth, Juan Curz, Fernando Rodney) and turning them into key contributors on a winning team.
Lastly, the Rays are great at trading players when there value is at its highest. I mentioned before the Rays most significant trade (Matt Garza), but there were other trades that helped keep the Rays as one of the top American League teams. In 2009, with the Rays out of the playoff chase, Tampa decided to ace Scott Kazmir to the Angels, allowing the Rays to save 20 million over the next two seasons and replace him with younger/less expensive options that were ready to enter their rotation. The other most noteworthy trades involved their top two pitchers (and workhorses) in Matt Garza and James "Big game" Shields.
During the 2011 offseason, Tampa decided to trade 2008 ALCS MVP (Matt Garza) to the Chicago Cubs for Sam Fuld and four prospects including Hak-Ju-Lee (the Rays current top prospect) and Chris Archer (one of the leaders for 2013 rookie of the year). This past offseason saw the Rays trade the leader of their rotation when they sent James Shields and Wade Davis for prospects Mike Montgomery, Jake Odorizzi and Wil Meyers (who like Archer will be a finalist for the 2013 rookie of the year). The Rays have become the model MLB franchise and show that lower market teams can succeed in today's MLB.

1. John Mozeliak:
Following a disappointing 2007 and problems with upper management, the St. Louis Cardinals decided to part ways with long time general manager Walt Jocketty and named then 38 year old John Mozeliak as the team's general manager. So why is John Mozeliak my top GM over the past half decade? Just weeks after taking over as the teams general manager, Mozeliak traded longtime Cardinal favorite Jim Edmonds for a former 9th round third baseman. Edmonds would be released just over a month into the season and the former 9th round pick St. Louis traded for (David Freese) would go on to win the 2011 NLCS and World Series MVP.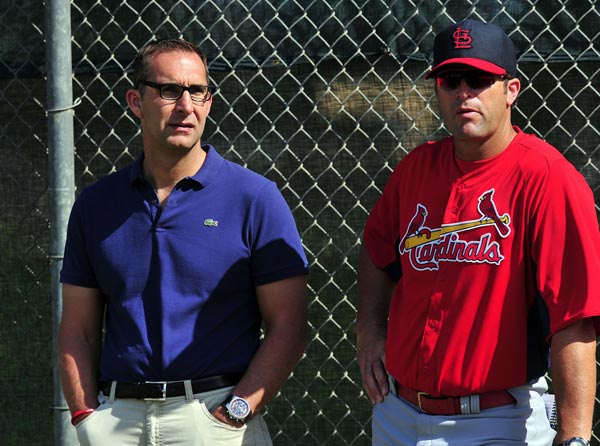 Following the Cardinals second straight missed postseason and in need of an impact bat, St. Louis decided to trade for All-Star outfielder Matt Holliday (who was in the final year of his contract) for three prospects (two of which are on their second team since the trade). With the addition of Holliday, the Cardinals would go on to make the playoffs and resigned him during the 2010 offseason to give Albert Pujols the protection he needed. In 2011, the Cardinals decided to transform the Cardinals roster when they traded top young outfielder Colby Rasmus and three young relievers for relievers Octavio Dotel, Marc Rzepczynski, and Edwin Jackson.
The deal worked as St. Louis would beat all the odds and win the World Series. John Jay proved to be a great fit in centerfield and the pitchers acquired in the trade helped turn the St. Louis bullpen from a weakness to strength. Following the 2011 World Series Championship, future Hall-of-Fame first baseman Albert Pujols was set to be a free agent and GM John Mozeliak had to decide between signing Pujols (and losing a number of key players on their roster) or allow the face of the franchise to leave.

If that wasn't enough, longtime manager Tony LaRussa decided to retire just days after the 2011 World Series. After naming former catcher Mike Matheny as the teams manager, the Cards and Mozeliak decided to let Pujols leave via free agency and with the money saved, were able to sign a number of players (Carlos Beltran, Yadier Molina, Adam Wainwright) to long term contracts. The decision to not sign Pujols has looked better and better  by the day as Albert has struggled/been injured in his first two seasons on the west coast. His replacement, Allen Craig has picked up where Pujols left off, hitting over .300 both seasons in addition to recording 90+ RBI's and has become one of the best hitters with runners in scoring position.

Along with making significant moves via free agency, Mozeliak has been successful in the draft: selecting current MLB players Matt Carpenter, Lance Lynn, Joe Kelly, Shelby Miller, Trevor Rosenthal, and Kevin Siegrist since the 2008 season. In addition to being a great talent evaluator (and world series champion), John Mozeliak has shown he's willing to make bold moves, even if it means being criticized by the baseball world and Cardinals fans.


What do you think?
We'd love to hear your comments and/or opinions. If you submit them here, other visitors can read them, rate them and comment on them. An e-mail address is not required.