Major League Baseball 2013 Season Previews
Finishing previews before opening day?  That's so 2012.

Ahem.

Here are your slightly delayed, but still ahead of 99% of the regular season, predictions for the American League!

AL East: Orioles v. Red Sox v. Yankees v. Rays v. Blue Jays
That's why they pay me the big bucks – I've managed to narrow down the winner of the AL East to "one of the teams that play there".  All sarcasm aside, the AL East is by far the most wide-open division this season – you can't seriously eliminate any of the teams entirely from consideration.  It's somewhat pleasant to see the Yankees and the Red Sox, possibly battling for the bottom of the totem pole in the division – with the Yankees trying to get past their massive injury issues and the Red Sox trying to bounce back from one of their more disastrous seasons in recent memory.  You can't count them out – there's a lot of talent in New York, and Boston has a lot of bounce-back potential – but I don't see either team grabbing a spot in the uber-competitive division.  As for the Orioles, I think they'll improve – on the field, but not in the record books.  They were 29-9 last season in one-run games.  They had 16 straight extra-inning wins.  You can say all you want about clutch performances and heart and all that, but I look at those numbers and see a lot of luck.  Baltimore's headed in the right direction, but they won't be as lucky this year – hence, improvement while falling short of last year's success.

That leaves Toronto and Tampa Bay, and a lot of that will depend on how good Tampa Bay's young players are how soon – will Wil Myers win Rookie of the Year, will Matt Moore take one more step forward, etcetera.  Meanwhile, up in Canada, you have to wonder if all the pieces Toronto went out and acquired over the offseason (RA Dickey, Jose Reyes, Josh Johnson, MarkBuerhle), etc, will click together.  Then there's the issue of Jose Bautista and Evan Longoria, who both battled through injuries last season.  I think I like Toronto to win the division, but I'm going to give Tampa Bay a wildcard, anyway – assuming the rough division doesn't batter down their win totals too badly.

AL Central: Indians v. Tigers
Cleveland instead of the White Sox?  It's more likely than you think – the Sox finished on a 14-22 slide to end last season, watching the Tigers pull away, and the team's aging quite noticeably.  The Indians, on the other hand, have made some very interesting rebuilding moves this offseason, bringing in Michael Bourn and Nick Swisher, and putting Terry Francona in charge of running it all.  The lineup looks much improved from last season, and defensively, they're looking like a team that could go from a celler-dweller to one of the top squads in all of baseball.  This is a young team on the rise, and they'll make some noise.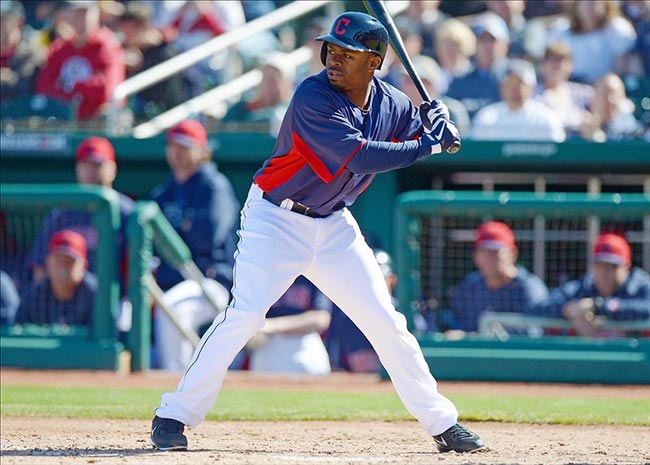 Feb 22, 2013; Goodyear, AZ, USA; Cleveland Indians center fielder Michael Bourn (24) at bat during the second inning against the Cincinnati Reds at Goodyear Ballpark. Photo Credit: Jake Roth-USA TODAY Sports.

That is, they'll make some noise as soon as they develop a pitching rotation, which is currently filled with more question marks than one of the Riddler's suits.  Last year, they managed a 5.25 ERA, second worst in the AL, and they haven't made any real moves to improve it, instead hoping Ubaldo Jimenez can regain his 2010 form.  I don't think they'll see enough improvement there, this year, to catch the defending AL champs.  They're old, they're slow, but they have the Triple Crown winner still hitting for them, and Justin Verlandercan win you games no matter what.  There's just too much talent here --Detroitshouldn't have much trouble retaining their AL Central crown – the question is whether or not they can turn that into going the final step in the postseason.
AL West: Angels v. Athletics v. Rangers
Whelp, since the Astros won their first ever game as an AL team, I should put them on this list, right?  Maybe not.  I want to pick the As, I really do – I had the fortune to watch Hiroyuki Nakajima live when I lived in Japan, and I think his skillset is going to transfer nicely to MLB – though maybe not his glove.  Plus, they have one of the most promising young pitching staffs in all of baseball.  Still, that's a lot of "maybes" going on there, and if just a few things go wrong, they could find themselves tumbling down into the…well, not the cellar, because the Astros live there, but the ground floor, certainly.

That leaves us, yet again, with Los Angeles and Texas, and I think they'll both grab playoff berths; the question is in which order.  The question this year, of course, is how the defection of Josh Hamilton will effect both clubs – will the Rangers be able to replace his power and production?  They've also got problems in their starting rotation, where I'm not sure Derek Lowe and Alexi Ogando are going to be able to produce at high levels.  The Angels aren't perfect either, of course, but I'm looking at that lineup, with Mike Trout and Albert Pujols and Josh Hamilton starring for them, and a solid, if unspectacular, pitching rotation – and I just feel that Los Angeles is going to be able to take the needed steps to ensure a division crown, while Texas bounces back into the playoffs.

And now, your playoff predictions

Wildcard Round: Atlanta over San Francisco, Tampa Bay over Texas
It's so hard to predict a one-game series, so I'm going with the teams I have with home-field advantage.  So much will depend on a number of factors, though – what if Atlanta is struggling to try to win the division until the final days of the season, while the Giants get to set their order to have Barry Zito go in the wildcard game?   A one-game playoff is something of a crapshoot – an exciting, wonderful situation, but not the way to determine which team is better.

Divisional Round: Washington over Atlanta, LA Dodgers over Cincinnati, Toronto over Tampa Bay, LA Angels over Detroit
Yup, I've got both wild card teams playing their division rivals in this round, which is something of a shame – Washington v. Atlanta could easily be the NL Championship Series.  The Tigers loss ensures an entirely new LCS from last year; while the dangers of an LA Traffic Jam series rise to a fever pitch.

Championship Series: Washington over LA Dodgers, Toronto over LA Angels
Double bummer – not only would we miss out on a quasi-all-LA series, but just a few short years ago, this would have been an all-Canadian Word series.  Maybe the winner could have gotten Youppi!, maybe we could have gotten the NHL to loan out the Stanley Cup, maybe ... some kind of joke with Poutine.  Ah well.

World Series: Washington over Toronto
Steven Strasburg v. RA Dickey isdefinitely a contrast in styles, and would be a thrilling matchup to watch – assuming the Nationals opt to use their star pitching in the postseason, this time around.  NL MVP Bryce Harper has a World Series to remember, hitting five home runs, and leading the Nationals to the first world series title in franchise history, and the first Washington title since 1924, in seven games … at home in Washington thanks to a ninth inning single by Giancarlo Stanton in the All-Star Game.

After all, we wouldn't want the season to make TOO much sense, would we?

What do you think?
We'd love to hear your comments and/or opinions. If you submit them here, other visitors can read them, rate them and comment on them. An e-mail address is not required.