Madness in March: Why All NCAA Tournament Predictions Are Bogus
Harvard is more known for producing American presidents than point guards.  But - this year - the Crimson upset NCAA darling No. 3 seed New Mexico for their first ever NCAA tournament victory.
Going in to March Madness, the Crimson were an NCAA sleeper; a trendy pick for the Final Four by those pickers seeking to defy convention.  New Mexico may have, in the process of becoming underrated, in fact become overrated but that hardly changes the monumental nature of Harvard's upset.

Indeed, real "experts" liked New Mexico.  Ken Pomeroy, the widely known "guru" of NCAA statistical analysis, had them as a Top-25 team nationally with a decent shot at the Sweet Sixteen.  Plus, New Mexico was not even the only hit Pomeroy took early on this year: his top underrated pick, Pittsburgh, which he ranked in the top-10 teams nationally despite its No. 7 seed, got thrashed by Wichita State by 20 points.

Where does that leave NCAA tournament fans and bracket freaks desperate for an edge in the company pool?  Right back where they started – because all March Madness predictions are bogus.

That's why its March Madness people.

Seriously though, the beauty of March Madness is in its unpredictability.  In sports, as in life, we've tried to boil everything down to its simplest elements, to empirical science – testing and using data, iterating on that data, and then reaching inescapable conclusions and predictions.  In large part, we have succeeded.  When was the last time you saw an underdog team win the NBA Championship?  We can predict the likely Finalists before the season even begins.  Major League Baseball, with the Yankees, Rangers, and Angels continually at the top of the pecking order, may be the most predictable sport of all.  And don't try and say the NFL: everyone knew the Baltimore Ravens and San Francisco 49ers were great from the very beginning of the year.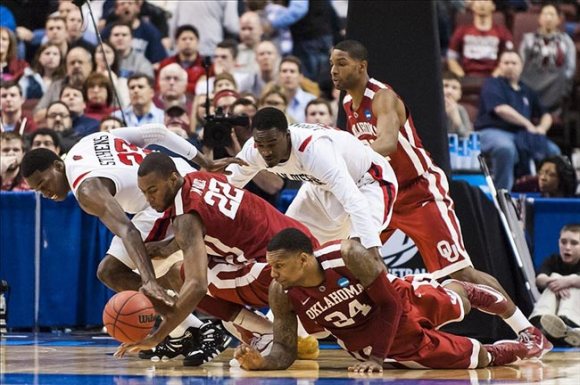 Mar 22, 2013; Philadelphia, PA, USA; Oklahoma Sooners forward Amath M'Baye (22) and San Diego State Aztecs forward DeShawn Stephens (23) dive for a loose ball during the first half during the second round of the 2013 NCAA tournament at the Wells Fargo Center. Photo Credit: Howard Smith-USA TODAY Sports.

March Madness stands alone. It's unpredictability, its maddening Madness, is what makes it the most exciting sports event of the year.  In March Madness, predictions are bogus, so just learn to love the surprises.

After all, it's best to lose that office pool to your boss anyway, right?
What do you think?
We'd love to hear your comments and/or opinions. If you submit them here, other visitors can read them, rate them and comment on them. An e-mail address is not required.