Louisville Basketball
This article is an overview of Louisville Basketball: its history, player accomplishments, and current level of success. One thing a number of Best Sports Blog users have asked for is biographies on major NCAA basketball programs-Louisville among them-so this is one of a series of articles designed to meet that need. So, without further ado, let's take a look at the history of Cardinals basketball:
Louisville Cardinals men's basketball is one of the most successful programs in history. The Cardinals are the 18th winningest team in college basketball history and have the tenth best winning percentage of all time. Moreover, they are one of only a few teams that have consistently fielded strong teams over the past five decades.

The Louisville Cardinals made their first NCAA Tournament appearance in 1951. However, the program's first tournament win did not come for eight more years. But, in 1959, Louisville cracked the first round and advanced all the way to the NCAA Final Four. After losing there, however, the Cardinals were unable to make a similar run for several years. Despite making the NCAA tournament four times during the 1960s, the Cardinals did not advance past the NCAA Sweet Sixteen. Only in 1972 did they return to the NCAA Final Four but, after an impressive season, the Cardinals were again unable to bring home an NCAA Championship.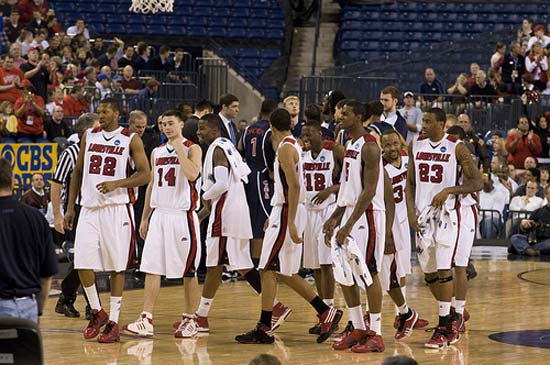 Thanks to Bradjward from Flickr.com for this great picture of Louisville Cardinals basketball team.


In 1971, the University of Louisville hired coach Denny Crum to revamp the school's basketball program. Crum immediately became a Louisville legend by reaching the NCAA Final Four in his first season. That 1972 NCAA Final Four appearance began the Golden Age of Louisville basketball. The Cardinals again returned to the NCAA Final Four in 1975 and, after consecutive Sweet Sixteen appearances in 1978 and 1979, the Cardinals finally broke through and won their first NCAA Championship in 1980. It was a crowning achievement for the proud program.

After their 1980 NCAA Championship, Louisville cemented itself as a college basketball powerhouse. Still coached by legend Denny Crum, the Cardinals returned to the NCAA Final Four yet again in 1983. Three years later, Louisville won a second NCAA Championship in 1986 and completed one of the most impressive runs in college basketball history: two NCAA Championships and two additional NCAA Final Fours in ten years.

However, after their 1986 tournament victory, the Cardinals program faded from national contention. Besides an NCAA Elite Eight appearance in 1997 the Cardinals were a virtual non-factor on the national stage for fifteen years. As a result, Denny Crum retired and Rick Pitino was hired out of Kentucky in 2001 to revamp the program and recapture some of its former luster. Since then, Pitino has reached one NCAA Final Four in 2005 and back to back NCAA Elite Eights in 2008 and 2009.


17 March 2011: Head coach Rick Pitino and Guard Chris Smith (5) of the Louisville Cardinals during the second round of the NCAA Division I Men's Basketball Tournament at the Pepsi Center in Denver, Colorado.

Due to this success and Louisville's decision to join the Big East in 2005, the program has again become a player on the national stage. Looking forward, Louisville fans can expect Pitino and his Cardinals to rebound from a surprising 2011 NCAA tournament upset and contend in the near and distant future.
What do you think?
We'd love to hear your comments and/or opinions. If you submit them here, other visitors can read them, rate them and comment on them. An e-mail address is not required.