Long List of Teams Interested in Kevin Love
By Aaron Saas

It's almost a sure thing that Minnesota Timberwolves all-star power forward Kevin Love will be playing somewhere else next season. Since Love was drafted by the Memphis Grizzlies, then traded to the T-Wolves on draft night, the Timberwolves have failed to make it to the postseason.

Love has finally voiced his frustration, and claims that he will not re-sign with the Timberwolves if he's not traded, which would cause the team to lose him and get absolutely nothing in return.

If the Wolves front office were logical, and I assume they are, they would trade their unhappy superstar. The question now, though is not will Love be traded, but where will he be traded to?

The list of interested teams is probably very long, but there are only a few realistic possibilities. First on the list, and the team most likely to get him is the Los Angeles Lakers. Love played his college ball at UCLA, and the Lakers could offer up their 7th overall draft pick in return for Love, as every Laker with the exception of Kobe Bryant and Steve Nash isn't under contract for next season, so they wouldn't have to make an even trade cap wise.

Other possible and realistic trades are listed below.

Kevin Love to Chicago.

Bulls acquire – Kevin Love, J.J. Barea, and Alexey Shved.

Timberwolves acquire – Taj Gibson, Carlos Boozer, Jimmy Butler, and a lottery-protected 2015 1st round pick.

Kevin Love to Cleveland.

Cavs acquire – Kevin Love, J.J. Barea, and Alexey Shved.

Timberwolves acquire – Anderson Varejao, Dion Waiters, Anthony Bennett, Tristan Thompson, and a top-10 protected first round pick.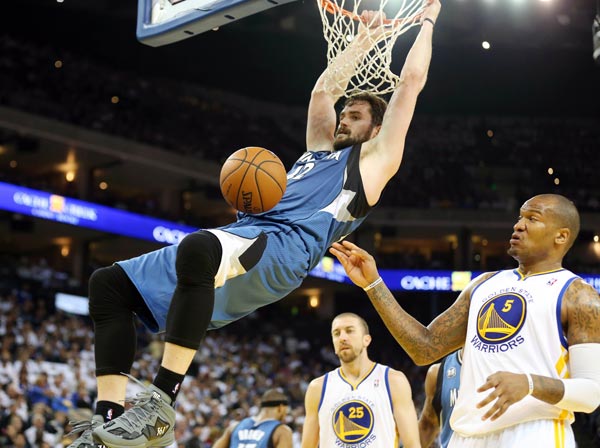 There is one team that has a shot in the dark to acquire Kevin Love, and that's the Sacramento Kings. I know, it seems a little unrealistic that Love would be enthusiastic about going to a team that hasn't been close to making the playoffs for almost a decade, however, there could be a chance of the Kings making a return to the postseason if they're able to acquire Love.

Over the last couple of days there have been a few reports that the Kings are very interested in Love and would be willing to take a chance on him not re-signing with them after next season. What could Sacramento offer the Wolves to make this happen? The answer is below.

Kings acquire – Kevin Love.

Timberwolves acquire – Jason Thompson, Travis Outlaw, Jason Terry, Ben McLemore, and the Kings current first round pick, which is 8th overall and could very well end up being Julius Randle, who would be a good replacement for Kevin Love.

Love in Sacramento could be a very good fit. Him and DeMarcus Cousins would be a very potent front court pairing. And if Rudy Gay accepts his player option this summer that would be very good trio. Not to mention that they may be able to bring back Isaiah Thomas, and that would make up a very good top 4 players.

In my opinion, Love will end up in Los Angeles. But it would be great to see him in a Kings uniform next season. Sacramento is a great basketball city, and it would be great to see them be relevant again, and Kevin Love would certainly make them just that.

What do you think?

We'd love to hear your comments and/or opinions. If you submit them here, other visitors can read them, rate them and comment on them. An e-mail address is not required.
Long List of Teams Interested in Kevin Love NBA Basketball Blog