Live with Ryan Braun, Die With Him
By Jason Fryer

Like all other big sports scandals, Milwaukee Brewers Outfielder Ryan Braun will have a sit-down interview before the start of the 2014 season.

Over the past 30 years, we've seen a number of big scandals in sports, ending with athletes apologizing/telling their story in a tell-all primetime interview. Some of the most significant conversations have included Pete Rose, Alex Rodriguez, Mark McGwire, Lance Armstrong, Andre Agassi, Tiger Woods, along with others. So with that said, there's no doubt that prior to the start of the 2014 season, Ryan Bryan and his representatives will look to tell his side of the story and provide some type of positive light for the future of the former league MVP.
With Braun being a big name in the sport of baseball and not a "cultural name" (Tiger Woods/Lance Armstrong), Ryan will look to interviewed by a person in the baseball environment and not someone from the national scene. Below are a few options he should consider doing a sit-down interview with when the time is right:
 
Bob Costas: Costas has been a member of the sports world for over four decades and during his time, he"s been through a great deal of of significant sports moments. In addition to being apart of various controversial stories, Costas currently works for the MLB Network and with his experience and connections to baseball, he would be someone that knows the game and has seen what has transpired throughout the "steroid era". With all that said, Braun will look elsewhere for his sit-down interview. For one, he has already interviewed a member of the steroid era, "Mark McGwire" a few years back on the same topic. In addition to that, Costas has been very vocal on his stance of steroids in baseball so that might be someone who will be demanding and not sympathetic with Braun.

Peter Gammons: Is there a bigger name in the baseball world than Peter Gammons. The longtime writer for the Boston Globe and on-air analyst for ESPN and MLB Network has been around baseball since the 1970"s and knows the insides and outs of the game. Peter has always been fair with both the general public and the players that have made him one of the most followed and trusted baseball analysts ever. Though Mr. Gammons would be a qualified and impartial person for Ryan Braun, I don"t feel he will interview him prior to the 2014 baseball season. Like Costas, Gammons has been apart of a noteworthy steroid story when he did a sit-down interview with Alex Rodriguez prior to the start of the 2009 season.

Dan Patrick: Patrick has been a member of the sports media for over three decades with ESPN and now the Dan Patrick Show on NBC Sports Network. Since Dan started his own show in 2007, he has interviewed hundreds of people and a few years back was apart of a controversial interview when he talked to Charlie Sheen on a subjects that might have made some people uncomfortable. Mr. Patrick handled the situation as best he could and the interview went viral when everyone in the entertainment industry decided to play excerpts of the conversation to their shows.
So will Dan not be asked to do the interview? Because what has made Dan so great would be the worst thing for Braun? Patrick has said in the past that he refuses to have a list of "off limit question" which would force Braun to be on the spot with each question. It would make for a fantastic interview to watch but wouldn"t be the best person to have Braun interview with.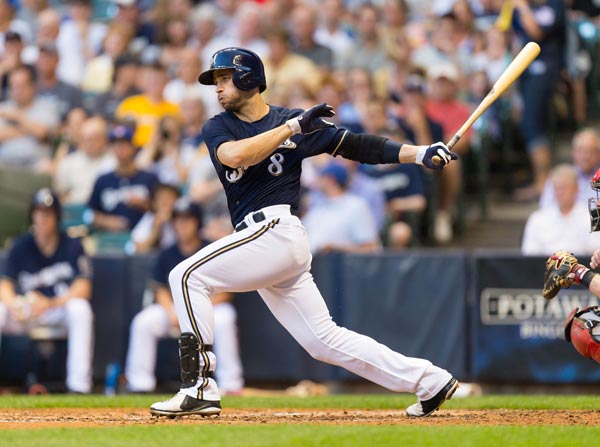 Braun could also look to go the route of having a former baseball player interview him but the majority of the current and former players have strong views on the subject that could damage Braun. Ryan and his representatives will look to have someone who has had a lot of previous experience and ask necessary questions all while making it seem that Braun is sympathetic, has learned from his mistakes, and is ready to move forward. With that said, when Braun released a statement, following an admission to taking performance enhancing drugs, he said:
Because of this, it would be in the best interest of Braun and his camp to have the sit-down interview someone whose is connected with the Milwaukee Brewers and the baseball environment . That leaves me with two names that fit this criteria:

Bob Ueker: A baseball icon and member of the baseball Hall-of-Fame (won the Ford C. Frick Award in 2003), Bob Uecker has been Milwaukee icon and the radio voice of the Brewers since he retired following a famed playing career. In addition to his radio work, Ueker was the color commentator for both ABC and NBC throughout the MLB Playoffs for over 20 years. Sounds like an ideal person to interview Braun: a significant member of Milwaukee, recognizable in the baseball world, and a member of the broadcaster"s Hall-of-Fame.
Though Uecker is one my two (tied with Vin Scully) favorite baseball commentators to listen to, I don"t believe Ueker should be the person to interview Braun prior to the start of the 2014 season. Nevertheless, I don"t believe Ueker will be the person to interview Braun for one key reason: like Dan Patrick with his demanding view on asking any question, what makes Bob Ueker so great is his humor to any situation and with everything surrounding Ryan Braun and steroids, this isn"t the best interviewer for Braun.

So that leaves one person…Brain Anderson. Who? Yes Brian Anderson.  Since the baseball playoffs were picked up by TBS in 2007, Anderson has become the lead voice for the baseball playoffs and the television play-by-play for the Milwaukee Brewers. With his connections to Milwaukee, the Brewers, and the national baseball scene, Anderson would be the ideal person for Braun to do a crucial sit-down interview to the future of Ryan Braun"s career. Like Braun said, he needs to regain the trust of the Brewers fans and organization before he can move forward.
Anderson is someone who has been around Braun from day-by-day basis since he entered the league and would be able to ask all the key questions while bring out the best in Braun so he can improve his image for the future. With Anderson"s employment with TBS and the Milwaukee Brewers, he will make sure to protect everyone"s involvement in the process while providing the necessary information to help us better understand the Ryan Braun timeline.

The five people I listed above are not just some of my favorite sports personalities but are the most respected interviewees in baseball. If any one of these individuals interview Braun, they would be professional and provide a fair platform for Braun to tell his side of the story.


What do you think?
We'd love to hear your comments and/or opinions. If you submit them here, other visitors can read them, rate them and comment on them. An e-mail address is not required.