Line of Succession Franchise Transition
Best Franchise Quarterback Transitions
One of the rarest feats in pro football is a successful transition from one franchise quarterback to another. In fact, only one team managed it in the first fifty years of the NFL's Superbowl era. Joe Montana, arguably the greatest quarterback in NFL history, led the San Francisco 49ers to four Superbowl victories between 1979 and 1992. Then, an ageing Montana was traded to the Kansas City Chiefs and his successor, Hall of Famer Steve Young, led the 49ers from 1992-1999 and won the Superbowl in 1994. Both Montana and Young were all time quarterbacks and together they presided over one of the best teams in a Golden era of NFL history.
Here's an article about Brett Favre Jersey
However, while the Montana-Young transition remains the best in NFL history, Aaron Rodgers has done an amazing job succeeding Brett Favre. Favre, the "Iron Man" of the NFL, led the Packers from 1992-2008 and set almost every major NFL passing record. He restored glory to historic but tired and beaten down franchise and led the Packers to a Superbowl win in 1997 and another appearance in 1998. In 2008, Favre retired after an outstanding season but changed his mind and wanted to return. In most situations, the NFL team in question would have happily welcomed their franchise quarterback back but the Packers were dead set on starting Aaron Rodgers.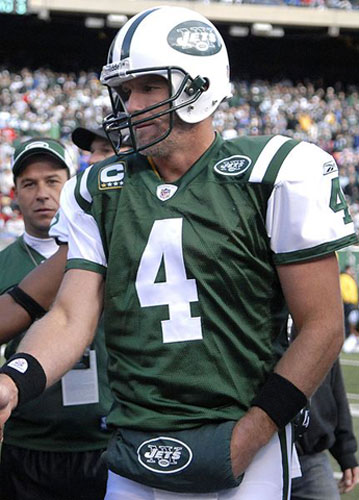 Brett Favre from the New York Jets during the coin toss on the field at the Meadowlands.
Thanks to Joe R. Campa Jr. at wikipedia.org for this photo.
---
Visit Joe Montana Jersey
Many players, commentators, and pundits questioned the decision but Rodgers exceptional play as Favre's successor has proved them wrong. A talent worthy of the first overall pick, Rodgers fell in the draft due to injury and attitude concerns and sat behind Favre for three seasons. He evidently learned a lot from his predecessor because he threw for over 4,000 yards and 25 touchdowns in his rookie season, played even better in the following season, and is now headed to the Superbowl. He also owns the top regular season passer rating in NFL history at 98.7 and the second best playoff passer rating of all time. Whether or not he manages to bring another championship to Titletown on February 6th, Rodgers has proved himself a worthy successor to Favre and should lead a contending Packers team for years to come.
Here's our Steve Young Jersey
---
What do you think?
We'd love to hear your comments and/or opinions. If you submit them here, other visitors can read them, rate them and comment on them. An e-mail address is not required.
---
From Line of Succession Franchise Transition to NFL Football Blog | Sports Blog | NCAA Football Blog | NFL Football Archives | College Football Archives | MLB Baseball Blog | College Baseball Blog | MLB Baseball Archives | NBA Basketball Blog | NCAA Basketball Blog | NBA Basketball Archives | NCAA Basketball Archives | Fantasy Football | Fantasy Basketball | Fantasy Baseball | Soccer Archives | Olympics Archives | Stupid Athletes Archives | Other Archives | Football Forum | Basketball Forum | Baseball Forum | NFL Football Store | NBA Basketball Store | MLB Baseball Store | NCAA Football Store | NCAA Basketball Store | NCAA Baseball Store | Fatheads | NFL Football Tickets | NBA Basketball Tickets | MLB Baseball Tickets | NCAA Football Tickets | NCAA Basketball Tickets | NCAA Baseball Tickets |
---
Home Page
About Us | Contact Us | Site Search | Advertise | Terms of Use |
---