A Letter to Chad Johnson
Chad Johnson
---
(update: I have complied a page with all of Chad Johnson's touchdown celebrations including video from this season)
I just read that that Chad Johnson originally wanted to do a Janet Jackson end zone celebration in the 2003 Pro Bowl after the Super Bowl hafltime show fiasco.
"I cut a hole in my jersey and stitched it back together," Johnson said Wednesday. "When I scored, I was going to pull it open. He (Tony Dungy) talked me out of that one. He was right. I didn't want to tease the league like that."
That would have been classic. But that got me thinking about other great touchdown celebrations he could do. Ones that would make him untouchable. Sharpie?? Cell phone what?? People would forget about those. So I stayed up late and thought of ways to help Chad expand his horizons. These dances are safe from fines from the NFL and ,most importantly of course, all in good fun. So I write this letter to Mr. Johnson hoping he'd see this and help him be all that he can be in the end zone.
---------------------------------------------------------------------------------------------------------------
Dear Mr. Johnson,
I know you'll have a long career and many more opportunities for end zone celebrations. To date I've thoroughly enjoy your touchdown dances so far but here at the Sports Pulse I have some suggestions that would elevate your dances to levels never to be touched again. To be the best, you have to be creative.
Now to reach that level you have to dig way down in the deep and go where people haven't gone before… back to the 80's. Big hair, great music, and even better dance moves. Some moves are from music, some from movies, and other from television. You have to think outside the box.
Trust me on these and when you do them give some props
10) The Axl Rose
Hold on to a fake microphone stand and, with head lowered, move one leg out to the side, only about a foot off of the ground. As soon as your foot hits the ground, immediately repeat move with other leg. Repeat at least 10 times. As seen on "Sweet Child Of Mine" and other Guns & Roses late-eighties videos.
9) Loveshack Shimmy
You shimmy. You have your arms either up above your head or by your side, and you shake your entire body in a sort of Ricky Martin-hula-like fashion. It's on the B-52's Loveshack video. "The whole shack shimmy!"
8) Ed Lover Dance
From "Yo MTV Raps". With both arms out to the sides, step with your right and pop your right hip forward, then to the left with the left hip, then back to the right twice, left, right, left, left.
7) Skywalk
We've seen the Moonwalk and the Thriller by Donovan McNabb but you can do better! This is just like the Moonwalk except it makes you look as if your floating sideways across the air.
6) The African Anteater Ritual
Okay I understand if you don't know this dance but it was the craze back in the 80's. Popular with the white kids. From a movie called "Can't Buy Me Love".The girls loved it. Kinda hard to describe the dance but Paula Abdul choreographed it if you need some credentials.
5) The Hammer Dance
You probably had those baggy genie pants and not for Halloween either I'm sure. Keep legs wide apart, slightly bents, shuffle quickly one way, then the other. Go Chad! Go Chad!
4) The Carlton (from the Fresh Prince of Bel-air)
I know you have seen this dance move and probably have practiced it in your mirror. Only a man with rhythmn can pull this off. You just swing your arms back and forth to the rhythm of any music and maybe put in a hip wiggle or something.
3) YMCA
I know it's been done at many school dances and weddings but it's never been done as a celebration! This is great for crowd participation. No one has ever gotten the crowd invovled in a TD dance! Y..M..C..A!
2) The Pee Wee Herman
Be sure it's the dance and not his "movie drive in move". The dance is seen in Pee Wee's Big Adventure. You kinda take and wave both hands in the front and then wave them in back of you and then you have to walk on the tips of your toes. I understand if you don't use groovy platform shoes.
And the #1 dance that you can do to become the ultimate legend with all fans of all ages….
1) The Truffle Shuffle
This is the dance that Mouth makes Chunk (the fat kid) do in The Goonies, before he lets Chunk into the house. Basically Chunk lifts his shirt to show his stomach, and then wiggles around and ripples his stomach while making funny sounds with his mouth and tongue. You won't have as much fat but just slouch like the rest of us and we'll see the rolls. It looks funny but trust me, everyone will know what you're doing.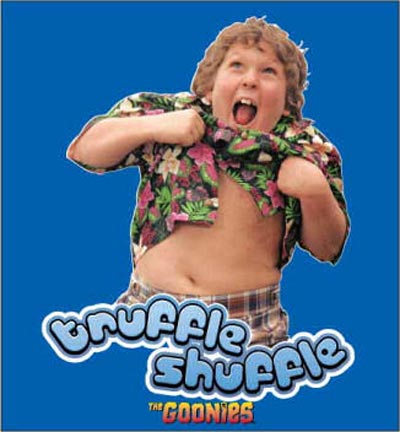 Truffle Shuffle.
---
Sincerely,
Benny @ The Sports Pulse
---
What do you think?
We'd love to hear your comments and/or opinions. If you submit them here, other visitors can read them, rate them and comment on them. An e-mail address is not required.
What Other Visitors Have Said
Click below to see contributions from other visitors to this page...

---
From A Letter to Chad Johnson to NFL Archives | Sports Blog | College Football Archives | MLB Archives | NBA Archives | NCAA Basketball Archives | Soccer Archives | Olympics Archives | Stupid Athletes Archives | Other Archives |
---
Home Page
About Us | Contact Us | Site Search | Advertise | Terms of Use |
---