Let the 2006 Torino Olympics Begin
The 2006 Winter Olympics have started. You always know it starts when they put on a production that looks like an expensive Cirque de Soleil act. People in weird costumes doing acrobatic stuff. I did not watch the whole three hour production. I used the greatest invention ever created, Tivo, to help me get through the boring parts. My observations from the opening ceremony.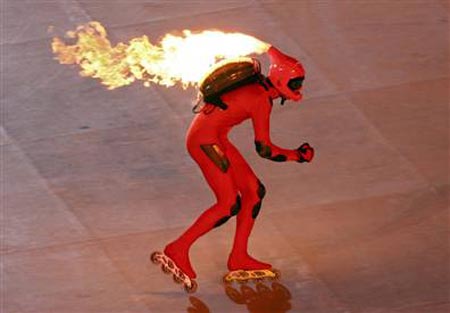 Celzic Ceremony
---
- Visually the set and the different colors looked amazing. The guys in the ice skates with flames shooting out of their heads were a highlight. Kids all over the country are starting their Christmas list now.
- It's always fun to watch the parade of nations to see who has the fewest athletes come out. I saw many country with one athlete including Ethiopia and Chinese Taipei. The coaches always outnumber the one athlete.
- What was Yoko Ono doing at the Olympics?!? She's not Italian the last time I checked. Sure she introduced John Lennon's "Imagine" but they could have gotten some cute 12 year old Italian girl instead to talk about peace and togetherness. Would have been much more effective. Plus Yoko broke up the Beatles. Not the best to talk about togetherness.
- Peter Gabriel sang "Imagine". He tried to put people to sleep. He sang it more like William Shatner than Peter Gabriel. Not the best choice to sing that song. Was Beyonce not available? Only cause it'd be funny to hear Bob Costas say "bootylicious".
- Pavarotti closed out the ceremony. He was the "surprise" guest. Not a fan of opera but he is the voice of Italy so surely the crowd was excited to hear him.
- What's the only thing anyone wants to see? How they light the cauldron. To me that was the best part of the show. It was clever. It was flashy. It looked awesome. You can see NBC's replay of the torch being brought into the stadium till the cauldron is lit.
The Olympics have begun. 19 days of winter sports only strange and people would make up. I'll be doing as much write up as I can on the Olympics.
---
What do you think?
We'd love to hear your comments and/or opinions. If you submit them here, other visitors can read them, rate them and comment on them. An e-mail address is not required.
---
From Let the 2006 Torino Olympics Begin to Olympics Archives | Sports Blog | NFL Archives | College Football Archives | MLB Archives | NBA Archives | NCAA Basketball Archives | Soccer Archives | Stupid Athletes Archives | Other Archives |
---
Home Page
About Us | Contact Us | Site Search | Advertise | Terms of Use |
---