LeBron James vs Michael Jordan
LeBron James Will Never Come Close to Michael Jordan
Since LeBron James tattooed the words "Chosen One" on his back and led the Cavaliers to the 2007 NBA Finals, fans and pundits alike have developed many lines of argument to prove that LeBron James is the next Michael Jordan. Some argue that James' per minute statistics are better while others point out that he is a better rebounder and passer. This has in turn led to equally poor counterarguments: James is just "not a winner," he "doesn't have a fourth quarter," and he "lacks the necessary moral fiber to win it all." The reality is much simpler: James will never come close to Michael Jordan because he never has, and now never will get the chance to, won several titles as the undisputed leader of his team.
There are many statistics measured nowadays: PER, plus minus rating, and assist to turnover ratio, to name just a few"¦but only one statistic really matters: winning. Great players help their teams win championships. NBA stars like Scottie Pippin, James Worthy, David Robinson, and Sam Jones all helped their teams win multiple NBA titles. But comparing them to Jordan would be criminal because, even though they were great players, they were never the undisputed leader of an NBA title team. The few players who have accomplished that particular feat are something beyond simply great; they are all-time players.
Shopping for a LeBron James Jersey.
Yet, there are perhaps twenty all-time players who led their franchise to a single title as undisputed team leader and this list, which includes players like Dirk Nowitzki and Julius Erving, is still not nearly exclusive enough to contain only the players who could possibly challenge Jordan for the title of Greatest of All Time (GOAT). The players on that "GOAT Contender List" are those who led their respective teams to at least three NBA titles and it is a very, very short collection of players:
We've got your Dwyane Wade Jersey.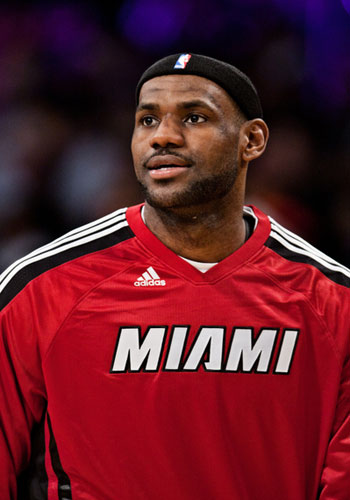 Guard LeBron James of the Miami Heat against the Los Angeles Lakers during warmups before the Heat's 96-80 victory over the Lakers on Christmas Day at the STAPLES Center in Los Angeles, CA.
Michael Jordan [6 NBA Titles]
George Mikan [5]
Magic Johnson [3]
Larry Bird [3]
Tim Duncan [3]
Shaquille O'Neal [3]
Each of these players was an all-time great and theoretical GOAT contender but none truly compare to Jordan. Mikan played in the 1950s when no one could jump over a thumbtack. Magic won five overall titles but two of them were while Kareem Abdul Jabbar was the Laker's team leader and the remaining three came with Jabbar and fellow Hall of Famer James Worthy. Bird was the undisputed leader of the Celtics but he played with Hall of Famers Robert Parish, Kevin McHale, and Bill Walton. Shaquille O'Neal had fellow all-time great Kobe Bryant. Bill Russell, the big name omitted from the list, won an incredible eleven titles but he played with multiple Hall of Famers and was never an offensive threat. Michael Jordan won six NBA titles-twice more than anyone other than Mikan-while playing with just one great player in Scottie Pippin. Clearly, Jordan is unique when compared to the rest of these so-called GOAT contenders.
Here's our Hakeem Olajuwon Jersey.
LeBron James, by contrast, has never won a championship and now, due to his decision to join the Miami Heat, will never get the chance to win a title as the undisputed leader of his team. James had a chance to win a championship as the heart and soul of the 2007 Cavaliers but they were whitewashed by Tim Duncan's Spurs 4-0. It was perhaps the most lopsided NBA finals in the history of the game. Now, in Miami, James may be the most talented player on the roster but Dwayne Wade is the team's leader and the Heat's soul. He was drafted by the franchise, has played his whole career in South Beach, and won the 2006 NBA Title after a heroic Finals MVP effort. Even if James wins the next six titles in Miami to equal Jordan's overall championship total, none of them will come as both the team's leader and best talent. Without that possibility, there is no chance that he will ever approach Jordan, let alone become his equal. After all, PER and A/TO aside, winning is everything. That makes Jordan, and his legacy, peerless.
Visit Kareem Abdul Jabbar Jersey.
There are lots of reasons to hate LeBron James. Here are four good ones.Check out our The Legitimate Reasons to Hate LeBron James
Scottie Pippen caused quite an uproar when he said Lebron James might be greater than Michael Jordan. No way, and Scottie quickly backed off the comment James Greater than Jordan.
---
What do you think?

We'd love to hear your comments and/or opinions. If you submit them here, other visitors can read them, rate them and comment on them. An e-mail address is not required.
---
From LeBron James vs Michael Jordan to NBA Basketball Blog | Sports Blog | NFL Football Blog | NCAA Football Blog | NFL Football Archives | College Football Archives | MLB Baseball Blog | College Baseball Blog | MLB Baseball Archives | NCAA Basketball Blog | NBA Basketball Archives | NCAA Basketball Archives | Fantasy Football | Fantasy Basketball | Fantasy Baseball | Soccer Archives | Olympics Archives | Stupid Athletes Archives | Other Archives | Football Forum | Basketball Forum | Baseball Forum | NFL Football Store | NBA Basketball Store | MLB Baseball Store | NCAA Football Store | NCAA Basketball Store | NCAA Baseball Store | Fatheads | NFL Football Tickets | NBA Basketball Tickets | MLB Baseball Tickets | NCAA Football Tickets | NCAA Basketball Tickets | NCAA Baseball Tickets |
---
Home Page
About Us | Contact Us | Site Search | Advertise | Terms of Use |
---