Lane Kiffin's Transformation
By Matt Green

Two years ago, Lane Kiffin was quite possibly the most hated man in college football. After being fired by the Raiders, he immediately took the head coaching job at Tennessee. While with the Vols, he made sure to ruffle some feathers, talking smack to a Florida team that everyone knew was going to smash Tennessee. And then, after just a single year at Rocky Top, Kiffin jetted for his dream job at USC.
Now, I don't have a problem with a guy leaving a job for another, especially when that job is his dream job, but to leave after just one year, after pledging his loyalty to the University of Tennessee the way he did, and leaving the school with recruiting violations, was despicable. I had no respect for the man, and if you had told me that in two years I would be writing an article outlining the respect that I have formed for Kiffin, I would have laughed in your face and kicked you out of my house.

But today, I am impressed with Lane Kiffin. He's still very young. He's only 37, and has a very long career ahead of him. He just needed to mature. After leaving the offensive coordinator job at USC to be head coach of the Oakland Raiders, it was clear that Kiffin acquired a sense of entitlement, and the idea that his coaching was unrivaled. Obviously, he was wrong. He was fired after just over a year at the helm in Oakland, having failed to take the team anywhere. Then came the fiasco at Tennessee. Given the talent in the program, he did an outstanding job to lead the Vols to a 7-6 record.

But 7-6 wasn't good enough when, in the preseason, you vow to "sing Rocky Top all night long after we beat Florida." (http://www.youtube.com/watch?v=zaVaUpelPmc) At the time, he was only 35. You must keep in mind his age and his experience because it is vitally important to see the transformation of his character.

After his cockiness that was so prevalent at Tennessee, he became the head coach of Southern California, taking the place of his former employer Pete Carroll who jumped ship at took a job with the Seahawks. When USC was slammed with scholarship reduction and a 2-year postseason ban, the Kiffin-haters, including myself, were laughing at the man for having jumped aboard a ship going nowhere. But this was when Kiffin showed his true colors as a coach.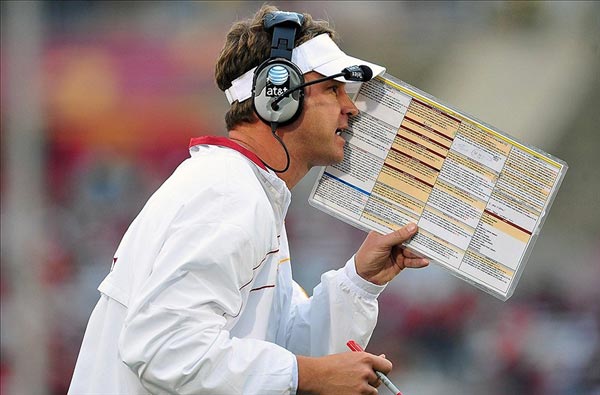 In his first two seasons at USC, he has compiled an 18-7 record, despite the fact that his team has essentially nothing to play for since they cannot reach a bowl game. To be able to motivate your team to play hard and win even when they don't have an immediate or obvious goal to play for is difficult, if not impossible. Kiffin has done it for two years. And he has done it without fanfare, controversy and while keeping his mouth shut, which is the most important thing. Not only has his team been winning, but recruiting has not taken a hit during the ban, which is probably even more incredible.
Two years ago, I couldn't stand the guy. He was an arrogant, entitled Daniel Tosh look-a-like. But, in the last two years, Lane Kiffin has transformed into a man and a football coach. He still hasn't won anything as a coach, but it won't be long. And this year, well, this is the year. He has the best QB in the nation, as well as a savage defense led by his defensive-genius father, along with a new batch of great recruits and more coming in. If you aren't scared of the empire that's about to form in SoCal, you should be.

Lane Kiffin has grown into himself, and it's time that people recognized it. He's a scary good coach who has learned some self-control. Lane Kiffin, I commend you on your transformation and maturation, and while I will still hold the Tennessee Kiffin in my mind, it's time for people to realize that this isn't the same old Lane Kiffin. He's ready for a championship. Fight on.

Check out extensive CFB season previews: 2012 College Football Season Preview.

More on Lane Kiffin and the current state of USC football: USC Football Lane Kiffin needs to make defense a priority in the off season.


What do you think?
We'd love to hear your comments and/or opinions. If you submit them here, other visitors can read them, rate them and comment on them. An e-mail address is not required.