Laettner Enters the Lion Den and Comes Out A Winner
By Dennis Berry

Some call it the greatest college basketball game ever played. Some argue that it is the best basketball game ever on any level.

The Kentucky-Duke NCAA Regional Final in 1992 had everything you need to for a great game. Two of the most historic basketball programs in the country. Duke was the defending NCAA Champion. Kentucky was back in the NCAA Tournament for the first time since coming off probation for rules violations.
Each team had a future Hall of Fame coach on the sideline, Duke's Mike Krzyzewski and then Kentucky coach Rick Pitino. There was the Kentucky comeback, down 12 with 11 minutes to play in the game. There was overtime and a great finish that saw the change five times over the last 30 seconds.

There was a hero or villain depending on who you were rooting for. Christian Laettner hit college basketball's 'Shot heard 'Round the World' after taking a 75 foot inbounds pass from Grant Hill and then hitting a turn around jumper with 2.1 seconds left. Duke would be on their way to a repeat. Kentucky was on their way home.

For Kentucky fans that play still stings. It has been almost 20 years since that game was played, yet it still lingers. Kentucky has won two NCAA titles since then in 1996 & 1998. The 1998 title team even defeated Duke in the Regional Final. Yet there is still an subtle anger from fans about it.

Perhaps it has something to do with the fact that every year around March Madness Kentucky fans see that shot in every promo. It might also have something to do with the fact that Leattner intentionally stomped on the chest of a Kentucky player during that game. There is such a dislike there that even merchandisers in Kentucky have been able to help fans express it.

Monday night provided yet another chance for Kentucky fans to tell Laettner how they feel about him. Thanks to the NBA lockout former Kentucky player Jeff Sheppard was able to organize an exhibition game in Rupp Arena. There would be a team of forner Kentucky players. The other team was made of Villains, former college players who had success against UK in their college careers. Proceeds of the event went to the V Foundation.

This is what brought Laettner to Kentucky. To help raise money for a great cause and do it in one of the great venues in college basketball. It was a chance for Kentucky fans to let Laettner know they had not forgotten what happened in 1992.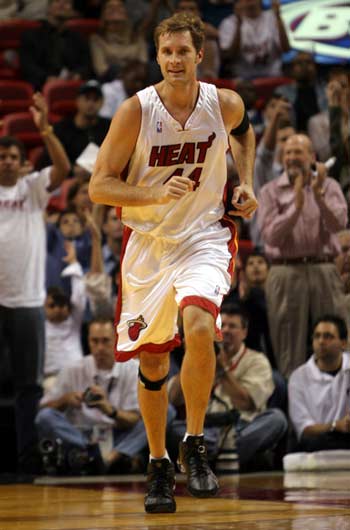 A lot of credit has to go to Laettner for agreeing to do this. He knew he would be walking into arena with fans that had almost 20 years of venom built up. He could have been quiet and just stayed under the radar in the weeks leading up to it the game.

He did the opposite. He went on national airways and talked about the upcoming game. He even shot a commercial that played around Kentucky building up his appearance at Rupp Arena.

The crowd was not as good as one would hope. At the time there was around 9,000-10,000 tickets sold. So unless there was strong walk up sales, Rupp Arena would be less than half full. There were many sections that were empty, including most of the upper deck. The fans that did show up took advantage of the chance to yell at the team of UK Villains and Laettner.

The game itself was about what you expect from an exhibition game during the NBA Lockout. There was little defense played. The lead changed back and forth throughout the game with each team going on runs. In the end the Villains and Laettner would win in overtime 152-149. Corey Brewer led the Villains with 32. Jodie Meeks of the Big Blue All-Stars led all scorers with 42.

Kentucky fans not only got to boo Laettner, but they got to see just how good a sport Laettner can be. Towards the end of the game there was some sweat on the floor that needed to be wiped up. Laettner was happy to lend a hand, much to the delight of the home crowd.

Then came a moment the fans probably enjoyed the most. After a foul was called on his team that Laettner did not agree with, he started talking to the ref. That led to a technical foul. He kept talking and jawing to the ref. Then he was ejected.

That brought a cheer from the Kentucky fans; there were a few boos too. Before leaving the game Laettner walked to the foul line and wanted to remind the fans of his famous shot. Big Blue coach Rex Chapman would not have it. He bear hugged Laettner before he could shoot.

Laettner walked off the court with his hands raised and a smile on his face. He had played his part perfectly and seemed to enjoy doing it. Perhaps Kentucky fans will be able to put 'The Shot' behind them now and bury the hatchet with Laettner.

It would really help if CBS would not show it every March.


What do you think?
We'd love to hear your comments and/or opinions. If you submit them here, other visitors can read them, rate them and comment on them. An e-mail address is not required.