Khalif Barnes Doesn't Like This Hick Town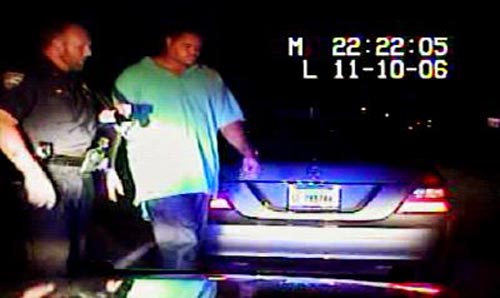 NFL Fans Khalif Barnes.


Khalif Barnes is a name many NFL fans probably have not heard of.
He plays in Jacksonville. He went to school in Washington. Not big market places.
He'll be remembered now but only because of how stupid he is.

After his arrest last November for speeding and drunken driving, Khalif told the police how he really felt about being paid millions of dollars and playing in Jacksonville.
"This is unbelievable, man, unbelievable being a pro athlete in Jacksonville. I can't wait to get out of here. Can't wait. Especially if you're black. Of all the places in the -- world that I came to this -- hick town. They -- hate us here. Why you even want to have a pro team here? What's the use? They don't even -- respect you."

He later calls the cops a "KKK devil that hates all colored people." He was upset that cop arrested for DUI when he claims he passed all sobriety tests and had trouble one part because his legs were tired from practice. Yet his blood alcohol level was .12.

Khalif is right. The town of Jacksonville hates the Jaguars at time because they're so frustrating to watch. So much talent and so inconsistent play. We really never know which Jaguar team is going to show up. The one that runs all over the Colts or the one that loses to the Texans. And I would say we don't respect anyone who goes on a loose lipped rant like that blaming everyone but himself for getting arrested that night.

And yes Jacksonville is a hick town. You see them all come out for the Jaguar games.

What do you think?
We'd love to hear your comments and/or opinions. If you submit them here, other visitors can read them, rate them and comment on them. An e-mail address is not required.
What Other Visitors Have Said
Click below to see contributions from other visitors to this page...

Hick town Not rated yet
2010/04/27 at 6:38 pm ... lot better. Former Jaguars OT Khalif Barnes called Jacksonville a "hick town" after his 2007 arrest for drunk driving. …
The black female Basketball team Not rated yet
2007/04/10 at 3:09 pm Read the above article its obvious. Oh, by the way you hear what they said about the black female Basketball team two weeks well …
How stupid he is Not rated yet
2007/04/01 at 1:43 pm ... Lay wrote an interesting post today onHere's a quick excerptKhalif Barnes is a name many NFL fans probably have not heard …