Kerry Rhodes Fathead
Player Name: Kerry Rhodes
Team: Arizona Cardinals
Position: Safety
Born: August 2, 1982 in Bessemer, Alabama
College: Louisville
Turned Pro: 2005
Kerry Rhodes was born in Bessemer, Alabama to Jubrella and Jerome Rhodes and began playing football at nine years old. Kerry was a starting quarterback and honor student at Jess Lanier High School in Bessemer. As a junior, he threw more than 1,500 yards and 15 touchdowns while rushing for 500 yards and three scores in 1998; guiding Lanier to a 10-2 record. During his senior season, Rhodes threw for more than 1,600 yards and ran for another 850. He was also selected Metro Player of the year and first-team All-state in basketball of which he led his team to the 6A title game.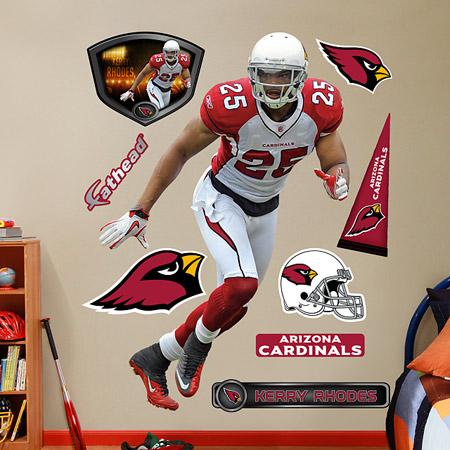 2006 was a breakout season for the young safety. On September 24, 2006, he made a pivotal play against J.P. Losman of the Buffalo Bills, stripping the ball from the quarterback's hands and allowing Victor Hobson to return the fumble for a touchdown. This helped the Jets to a 28-20 victory. He was named AFC Defensive Player of the Week for week 3. In Week 7, Rhodes intercepted a pass by Detroit Lions quarterback Jon Kitna. In Week 12, during the game against the Houston Texans, Rhodes intercepted a pass by quarterback David Carr in the second half. On Sunday, December 10, 2006, Kerry received the Sparkplug of the Year Award�the highest honor from the Jets Pack, a fan tailgate. Rhodes' statistics at the end of the season were of a Pro Bowl caliber, but Ed Reed, Troy Polamalu, and John Lynch proved to be more popular in fan voting and earned the nod ahead of the Jets' safety. Kerry was named to the 2006 "All Pro" teams by ESPN.com, Sports Illustrated and the Associated Press.
2007 Kerry was ranked #29 out of the top 500 players in the NFL by Peter King for Sports Illustrated. On April 9, 2008 Kerry signed an extension with the Jets for 5 years worth similar to the five-year, $37.5 million contract that Indianapolis Colts safety Bob Sanders signed in December. Rhodes deal is worth for $33.5 million, with $20 million guaranteed.On December 31, 2010, Kerry was awarded The Lloyd Herberg MVP award for the 2010-2011 season by the Arizona chapter of the Pro Football Writers Association.
---
What do you think?
We'd love to hear your comments and/or opinions. If you submit them here, other visitors can read them, rate them and comment on them. An e-mail address is not required.
---
Andy Dalton Fathead | Anquan Boldin Fathead | Blaine Gabbert Fathead | Clay Matthews Fathead | Clayton Kershaw Fathead | Donovan McNabbn Fathead | Freddie Freeman Fathead | Fred Jackson Fathead | Marshall Faulk Fathead | Patrick Peterson Fathead | Reggie Bush Fathead | Ricky Stanzi Fathead | Victor Martinez Fathead | Von Miller Fathead | Nnamdi Asomugha Fathead | Kenny Britt Fathead | New York Knicks Fathead | Washington Wizards Fathead | Deron Williams Fathead | Dwight Howard Fathead | Florida Panthers Fathead | Kobe Bryant Fathead | Nashville Predators Fathead | Sacramento State Hornets Fathead | Tampa Bay Lightning Fathead | Watkins Glen International Fathead | Winnipeg Jets Fathead |
---
From Kerry Rhodes Fathead to Fatheads | From to Best Sports Blog | Sports Blog | NFL Football Blog | NCAA Football Blog | NFL Football Archives | College Football Archives | MLB Baseball Blog | College Baseball Blog | MLB Baseball Archives | NBA Basketball Blog | NCAA Basketball Blog | NBA Basketball Archives | NCAA Basketball Archives | Fantasy Football | Fantasy Basketball | Fantasy Baseball | Soccer Archives | Olympics Archives | Stupid Athletes Archives | Other Archives | Football Forum | Basketball Forum | Baseball Forum | NFL Football Store | NBA Basketball Store | MLB Baseball Store | NCAA Football Store | NCAA Basketball Store | NCAA Baseball Store | NFL Football Tickets | NBA Basketball Tickets | MLB Baseball Tickets | NCAA Football Tickets | NCAA Basketball Tickets | NCAA Baseball Tickets |
---
Home Page
About Us | Contact Us | Site Search | Advertise | Terms of Use |
---