Kansas State Basketball
Visit our Kansas State Basketball Store.
This article is a look at Kansas State Basketball: its history, player accomplishments, and current playing level. A lot of Best Sports Blog users have asked for is biographies on major NCAA basketball programs-Kansas State included-so this is one of a series of articles designed to meet that need. So, without further ado, let's take a look at the history of Kansas State Wildcats basketball:
The Kansas State basketball program is one of the oldest in the country and began in 1902. Kansas State enjoyed a lot of success in the first half of the 20th century. The school captured conference titles in 1917 and 1919 under all-time coach Zora Cleveger. However, Kansas State basketball was dormant for several years after Cleveger's departure in 1920 and did not become a dominant program again until coach Jack Gardner's arrival in 1939.
Coach Gardner's tenure was the Golden Age of Kansas State basketball. Gardner coached the school from 1939-42 and 1946-53 and his teams sported an impressive 147-81 (.645) record. Even more importantly, Kansas was a dominant post-season team during the period; the Wildcats went to their first NCAA Final Four in 1948 and won the NCAA national title in 1951. Despite the school's long record of accomplishments, the 1951 title remains the only NCAA championship in program history.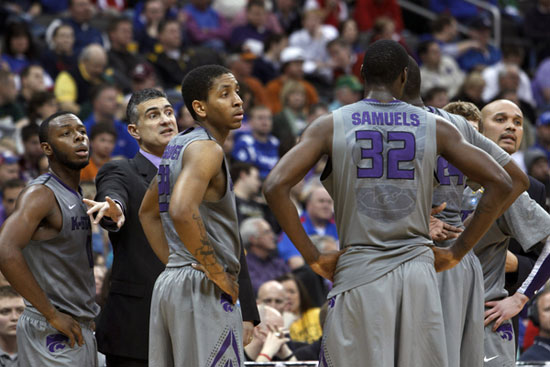 March 10, 2011: Kansas State Wildcats head coach Frank Martin pulls his team together during a timeout at the quarterfinals
of the Phillips 66 Big 12 Men's Basketball Championship at Sprint Center in Kansas City, Missouri.
---
Following coach Gardner's departure, the Wildcats continued to be a strong national contender under new leader Tex Winter. Winter led the Kansas State basketball program from 1953-1968 and maintained a high standard of play. The Wildcats reached the NCAA Final Four in 1958 and 1964 and the NCAA Elite Eight in 1959 and 1961 but could not break through and win another NCAA championship. However, despite their failure to win a title, Winter's Wildcats became famous as the first practitioners of the Triangle Offense. Winter's Triangle Offense would later become the staple of the NBA's Chicago Bulls from 1989-1998 and Los Angeles Lakers from 1999-the Present Day and has been directly responsible for eleven NBA professional basketball championships.
After coach Winter's departure, Kansas State basketball remained a strong program but was no-longer a regular contender. Under Jack Hartman, the Wildcats reached four NCAA Elite Eights in 1972, 1973, 1975, and 1981 but could not break though to the NCAA Final Four. The Wildcats reached the final eight again in 1988 but, after failing to break through yet again, the program went without an appearance past the Sweet Sixteen until their surprise 2010 run. Ultimately, while the program has remained competitive in each decade of NCAA basketball, the Wildcats have not been true contenders for three decades. However, the program remains a prestigious destination for top ball players and, if they can assemble the right talent, the Wildcats might have a second NCAA championship up their sleeves.
---
What do you think?
We'd love to hear your comments and/or opinions. If you submit them here, other visitors can read them, rate them and comment on them. An e-mail address is not required.
---
From Kansas State Basketball to NCAA Basketball Blog | Sports Blog | NFL Football Blog | NCAA Football Blog | NFL Football Archives | College Football Archives | MLB Baseball Blog | College Baseball Blog | MLB Baseball Archives | NBA Basketball Blog | NBA Basketball Archives | NCAA Basketball Archives | Fantasy Football | Fantasy Basketball | Fantasy Baseball | Soccer Archives | Olympics Archives | Stupid Athletes Archives | Other Archives | Football Forum | Basketball Forum | Baseball Forum | NFL Football Store | NBA Basketball Store | MLB Baseball Store | NCAA Football Store | NCAA Basketball Store | NCAA Baseball Store | Fatheads | NFL Football Tickets | NBA Basketball Tickets | MLB Baseball Tickets | NCAA Football Tickets | NCAA Basketball Tickets | NCAA Baseball Tickets |
---
Home Page
About Us | Contact Us | Site Search | Advertise | Terms of Use |
---