Junior Seau and The Growing CTE Problem that Could Sink the NFL
It's official, now – Junior Seau, when he committed suicide, had chronic traumatic encephalopathy, or CTE, a degenerative brain disease very likely due to his years of playing football. He joins a sad, growing list, including Dave Duerson and Ray Easterling, of former football players who have both committed suicide and shown signs of CTE or other brain damage. It's a turnaround from initial reports, which said any damage to Seau's brain was, at best, inconclusive – and another tragedy.
The hardest thing about CTE is that, at the moment, there is no way to diagnose it before someone dies – there isn't a test or an indication that the damage is there. Thus, there's no way to treat it yet – and, while science and medicine is always advancing, and there's some hope that the abnormal tau protein that builds up as a result of CTE may eventually be able to be dispersed or otherwise treated – unlike, say, Alzheimer's, which has many of the same symptoms as CTE -- such a breakthrough might be years away. That means preventative action needs to be taken to avoid that list of ex-NFL players from continuing to grow.
The issue is with the nature of football itself – it's not just the big concussive hits that can damage someone's brain, it's the repetitive subconcussive, lesser hits to the head – sometimes called "microconcussions" – that players, especially along the offensive and defensive lines, suffer dozens of time during the course of a game. That won't ever change – at least, it won't ever change and still have the game resemble any form of football you or I watch. Obviously, the best way to prevent brain damage to football players would be to have them not play football – but that's, of course, a last ditch solution, and could be applied to any injury – Adrian Peterson wouldn't have torn his ACL if he was an accountant, not a running back. There will always be a risk of injury when playing any contact sport – the key is how to reduce that risk to acceptable levels. That means the NFL needs to focus on three key aspects that can help their players avoid these sorts of injuries – recovery, protection, and information.
The NFL has made strides this year in their dealing with concussion recovery – it wasn't that long ago that players were told that they just got their bell rung and were sent back out onto the field. Players get baseline tests in the offseason to see how they act before any concussion, and then, when a concussion is suspected, they are evaluated by team medical staff – and independent athletic trainers as well. They aren't cleared to come back until both team medical staff and an independent neurologist clears them for play. These are great steps, but the NFL can go even further. The NFLPA has advocated having an actual independent neurologist on the sideline during games. The NFL has said that this would increase confusion – "no one knows the players as well as the athletic trainers," says the head of the NFL's head, neck, and spine committee. This is true, certainly – you need a baseline comparison to diagnose if someone's been concussed; it's not like, say, a broken bone which is clearly wrong. But surely, this is procedural, at best? Why not have the same independent neurologist stay with a team for an entire season? Or multiple seasons? That way, they'd have that baseline in question. I'm not saying that team doctors don't have the best interest of the players at heart – far from it. But there is a conflict of interest there, because a slightly concussed, say, Tom Brady is going to be better for the Patriots than a fully healthy Ryan Mallett. At least two quarterbacks this year – Alex Smith and Jay Cutler – stayed in after the initial concussion, at least for a few plays, and received additional hits that could have worsened their injuries. Give an independent neurologist authority to pull those players, and you might see some of those additional hits go away.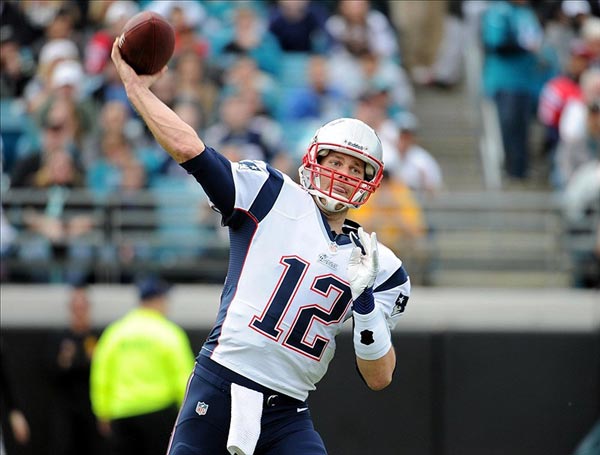 ---
Right now, the NFL requires players to pass a series of gradually increasing tests before being cleared to play again – first no symptoms for a full day, then gradually ramping up activity through four different stages. Each of these steps takes 24 hours, to give the doctors time to make sure that the player really is symptom free. Again, this is a great step – but I wonder if it couldn't be slightly improved. Some doctors suggest a three-week recovery period for most concussions would be best, rather than ramping up activity – that might be a bit excessive (or it might not – I'm not a doctor myself, though I find myself playing one with alarming frequency in these articles), but perhaps a mandated week off would be good for a player who suffered a concussion? At least that might be something for the NFL to look into – you could even tie it in to an expanded season with an extra bye week, but that's a subject for another article.
All that is great for dealing with full-bore concussions, but what about those repeated subconcussive impacts? You can't pull a player every time someone bumps into his head, yet repeated collisions, like the one on essentially every play at the line, can cause damage just as much as a large hit could. No, the eventual solution for that is better equipment. I don't think any helmet will even make concussions a thing of the past, but research is constantly being done in this field – Riddell has recently come out with the Riddell 360, which is designed to reduce forces from frontal impacts via fancy materials in the lining and extra hinge clips in the facemask. Another example of potential technology can be found in Popular Science, which recently had an article entitled "The Helmet That Can Save Football" – a great read for anyone really interested in this sort of thing. There's not going to be one advance or one helmet that will ever get rid of these impacts – but there's so much promising study going on, I find it hard to believe that some combination of these technologies can't help alleviate the problem, be it MIPS reducing some of the rotational force that causes the brain to slosh around in the skull or Riddell's hexagonal energy absorbing lining.
You'll note I haven't focused on what the NFL has been doing most visibly to try to reduce these things – penalizing hits on the field and fining and suspending players. That's a more nebulous area, especially because it's nearly impossible, at game speeds, for a referee to determine if a hit really IS a violation or not. I think, more than any actual safety enhancement, what they have the best chance of doing is helping change the culture of the game – bringing me to my third point, awareness. The current generation of NFL players, just like every generation before them, were trained and taught to hit hard, to blow people up. The risks of potential head injury are only recently coming to the forefront of discussions – when these players were in high school or Pop Warner, we weren't talking about head injuries; we were showing Jacked Up on ESPN. I'm not saying players shouldn't be taught to hit hard by any means – but there needs to be a change. A large portion of hits to or with the head are instinctual, because that's the way the players have always played – no rule change is going to stop that in a year or two. The NFL is trying to force that change with punishment – their heart is in the right place there, even if I don't necessarily agree with the methods. They need to continue to educate their own players – and reach out to high school and youth football programs as well – on the risks and dangers. Coaches, all the way down to the lowest levels, need to emphasize the risks and teach players how to reduce those risks to themselves and their opponents. You can hit a guy hard without the head coming into play. There's no way to play football that completely eliminates these risks, but there are ways players can protect themselves, but it's going to take years – and probably a new generation of players.
The NFL rule changes have their hearts in the right place, but I just don't think they are appreciably improving player safety. Hits that should be legal by the wording of the current rules are being penalized, hits that should be illegal aren't. The problem is you can only really tell this with the power of slow-motion replay – a clean, but violent hit looks a hell of a lot like an illegal, but violent hit when viewed at full speed. An NFL without hitting shouldn't be the goal here – or, at least, not the first goal. Here, sadly, I don't have a solution – don't penalize the players during the game, but fine them afterwards? That reduces the immediacy of the punishment, dulling the impact. Require all these hits to be assessed via instant replay? Five hour games aren't exactly appealing to me. Perhaps the next generation of helmets could have some sort of impact-sensor in them? Possibly, but now it's beginning to sound a little more like science fiction than actual fact, and that doesn't help now. It's a complicated subject, and one without easy answers.
None of this has an easy answer. If it did, it'd be solved by now. I think the NFL has made great strides this year in helping ensure the safety of their players for the future, but there are great strides left to go. I just wonder how many more Junior Seaus there will be before we get a handle on the issue entirely.
---
What do you think?
We'd love to hear your comments and/or opinions. If you submit them here, other visitors can read them, rate them and comment on them. An e-mail address is not required.
---
From Junior Seau and The Growing CTE Problem that Could Sink the NFL to NFL Football Blog | Sports Blog | NCAA Football Blog | NFL Football Archives | College Football Archives | MLB Baseball Blog | College Baseball Blog | MLB Baseball Archives | NBA Basketball Blog | NCAA Basketball Blog | NBA Basketball Archives | NCAA Basketball Archives | Fantasy Football | Fantasy Basketball | Fantasy Baseball | Soccer Archives | Olympics Archives | Stupid Athletes Archives | Other Archives | Football Forum | Basketball Forum | Baseball Forum | Sports Trivia Questions | NFL Football Store | NBA Basketball Store | MLB Baseball Store | NCAA Football Store | NCAA Basketball Store | NCAA Baseball Store | Fatheads | NFL Football Tickets | NBA Basketball Tickets | MLB Baseball Tickets | NCAA Football Tickets | NCAA Basketball Tickets | NCAA Baseball Tickets |
---
Home Page
About Us | Contact Us | Site Search | Advertise | Terms of Use |
---