Johnny Football: Give the Man his Heisman
By Matt Green
I've seen Collin Klein. I've seen Manti Te'o. I've seen Kenjon Barner and Marqise Lee. I've seen AJ McCarron and Braxton Miller. But I've also seen Johnny "Football" Manziel. There's just one "word" to describe what I've seen: Heis-Manziel.
First of all, let me start by saying that I understand the Heisman voters being hesitant to vote for a freshman to receive the Heisman trophy. I get it. Even I believe that, if there is an equally worthy upperclassman who is in the running for the most prestigious award in all of sports, he should receive it. However, in the case of the 2012 Heisman trophy, there is no man more worthy than Texas A&M's savior, Johnny Manziel.
A&M moved to the SEC amidst a flurry of doubters and were abruptly picked to finish anywhere from 5th to 6th in the SEC West. I'm sure there was someone out there who picked them to finish 7th. Turns out, the Aggies had a reason to be optimistic. I'll let many sportswriters off the hook, because who knew the Aggies QB would be able to rip apart SEC defenses much like former Heisman winner Cam Newton did for Auburn just a few years ago.
Now that the preseason is gone and most if not all predictions have been locked up and burned by their creators, it's time to get down to the numbers and the performance that should earn the Aggies their second Heisman winner in school history. Manziel is 2nd in the nation in Total Yards Per Game, behind only Nick Florence of Baylor, but the latter plays in a conference known for it's wide open offenses and it's total lack of defense the past decade. Johnny Football plays in a conference known nationwide as a defensive stalwart, a conference that seemingly cannot be beaten in BCS games in recent memory, beating powerful offenses like Oklahoma and Oregon with no sweat (even an average Auburn defense held Oregon to 19 points). Point is, nobody thought that Manziel, or really anyone, could come into the SEC and, within a span of 10 games, completely turn the conference on its head and beat defenses like Alabama and Mississippi State.
Yes, he struggled against Florida and LSU. Give him a break for the Florida game, though. It was his first ever college football game against a team and a coach who consistently have great defenses. If they were to play Florida at this point, I think most people would agree it would be a different story. The LSU game, he was bottled up pretty well. But, again, as a freshman, facing a defense like that, he played admirably and almost got the Aggies a win.
But all of that matters not, because, after his 2nd half comeback against Ole Miss after a first half that went as poorly as a first half could go, and after a Louisiana Tech game that the A&M defense should have put away 4 or 5 times, and after beating the top-ranked Crimson Tide on the road, this guy has earned himself some hardware.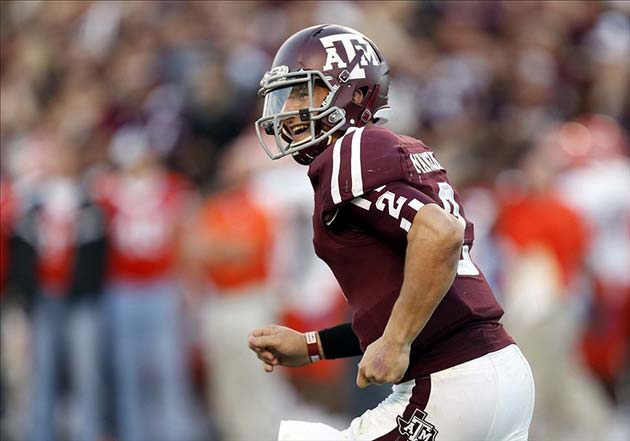 ---
He has 33 total touchdowns in 10 games this year, while becoming just the 2nd freshman in NCAA history to throw for 2,000 and rush for 1,000 yards in the same season. He has thrown only 6 interceptions in 2012, which is unheard of for an inexperienced guy in a spread offense that has over 300 attempts against vaunted SEC defenses. But he has even more impact on a game than the things that go in the box score. He converts third downs. He leads the offense. He keeps them uptempo which is where the Aggies gain an advantage. He is unselfish and perfectly willing to give his other guys like Swope and Evans and Malena a chance to make a play. But, most importantly, he wins. He has led A&M to 8 wins. If A&M takes care of business, they will wind up with 10 wins. TEN. Ten wins in a year where most predicted 5 or maybe 6 if they got lucky. But most people didn't count on Johnny Football.
I understand completely the impact the other Heisman candidates have on their respective teams. Collin Klein is a beast. He is the physical and emotional leader of the soon-to-be number 1 Wildcats, and you'd be hard-pressed to find a guy whose impact is felt on a game more than Manti Te'o. So why Johnny Football for Heisman?
Because nobody, NOBODY expected A&M to do anything this year. They were too small, too slow and not athletic enough to compete in the SEC, the home of the last 6 national champions. Their spread offense was "a gimmick" and could not possibly work against the speed in the SEC. Johnny Football Heis-Manziel is as important as any player on any team in America. If you don't believe me, well, you didn't watch the Alabama game.
Heisman voters, do yourselves a favor: Don't hold bias against a freshman just because he's a freshman. He can't help his age. What he can help is his impact on his team's wins. And he has. As much as anyone. I know Klein's team is #1, but it's only thanks to Johnny Manziel. I know Manti Te'o's team is back in the National Title race, but that's only because of Johnny Manziel's Fightin' Texas Aggies. It's an easy choice, Heisman voters, so don't be stupid.
---
What do you think?
We'd love to hear your comments and/or opinions. If you submit them here, other visitors can read them, rate them and comment on them. An e-mail address is not required.
---
From Johnny Football: Give the Man his Heisman to NCAA Football Blog | Sports Blog | NFL Football Blog | NFL Football Archives | College Football Archives | MLB Baseball Blog | College Baseball Blog | MLB Baseball Archives | NBA Basketball Blog | NCAA Basketball Blog | NBA Basketball Archives | NCAA Basketball Archives | Fantasy Football | Fantasy Basketball | Fantasy Baseball | Soccer Archives | Olympics Archives | Stupid Athletes Archives | Other Archives | Football Forum | Basketball Forum | Baseball Forum | NFL Football Store | NBA Basketball Store | MLB Baseball Store | NCAA Football Store | NCAA Basketball Store | NCAA Baseball Store | Fatheads | NFL Football Tickets | NBA Basketball Tickets | MLB Baseball Tickets | NCAA Football Tickets | NCAA Basketball Tickets | NCAA Baseball Tickets |
---
Home Page
About Us | Contact Us | Site Search | Advertise | Terms of Use |
---