Johnny Drama Would Say "Victory!!!!"
Three out of four games this weekend come down to the last game or last few minutes of the game. It's really all we want in the playoffs. I don't know about you but I'm exhausted and I didn't even move my ass from the couch for most of the day.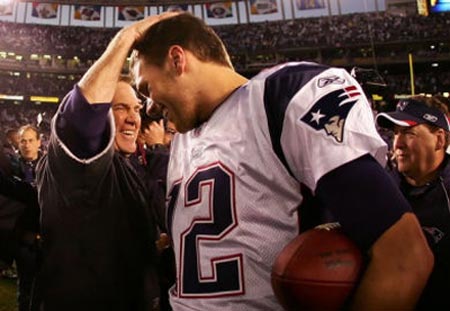 Brady
---
This weekend the thought was that the old were overmatched (New England, Indianapolis) and that the new teams (Baltimore, San Diego) would be facing each other in the AFC championship. Hey you play for home field advantage right?? Hey it's so loud I can't hear the plays!! So much for that in the AFC.
This is what the Colts needed. When most people doubted them, they end up still winning. When they're heavy favorites to go to the Super Bowl, they choke. All week we heard Baltimore defense this. Baltimore defense that. There was better defense in the Ray Lewis murder trial. Instead they Colts are playing the best defense thus far in the playoffs. The Colts? Playoffs? Defense? Fourteen points allowed in two games. Manning hasn't had a great game yet (5 INT's buddy) but they say defense wins championships. Plus it never hurts to have the most clutch kicker in playoff history.
Playoff experience was key for the Colts and it proved to be why the New England Patriots are in the AFC championship game again. We tried to forget Marty had horrible luck in the playoffs. It's not just horrible luck. It's so bad black cats stay away from him. Rumor is he will be fired, even having a season a lot of other teams would dream of. In the end it came down to experience and inexperience. Stupid penalties helped New England keep drives alive. Lots of dropped passes. Lack of experience and lack of discipline. Tom Brady throws a game saving interception. It was that kind of bad luck that haunted San Diego.
In the end, was there any doubt when New England had the ball with 3:30 left in a tied game at their own 15 yard line that Brady wouldn't lead them to a field goal?? It's Brady magic. He bottles it up, sprays it on himself before the game, and then afterward he gets to enjoy an orgy with young women.
Count me as still not impressed by Chicago. This Bears defense, who gave up a gobble of points the last month of the season, are still giving up points. If Seattle didn't have a quarterback that once said "We want the ball and we're going to score!!" in an OT playoff game only to throw a game ending interception for a touchdown, they might have won.
Okay Grossman didn't have his worst game ever but he benefited from having the Seahawks secondary so depleted and filled in with rookies. Seattle was the weakest team left coming into this weekend left in the playoffs. So I think it made the Bears look better.
The Saints ARE the feel good story of this playoff. I wouldn't say that the NFL wants them to win like some think but it would be a great story. Andy Reid did them a huge favor by punting the ball with less than two minutes left in the game and still needing a field goal to tie. A wimpy call if you ask me.
I wouldn't be surprised if the public are rooting for them against the Bears. Sean Peyton is going to use his arsenal of weapons to expose the Bears defense. It's going to happen. The Bears aren't all strong and mighty and if they have not been the past month, one week is not going to supercharge them. I'm pulling for a Saints upset next week. One reason is cause I can't stand Rex Grossman and his "I played so shitty tonight cause it's New Year's Eve" attitude. Also I think if the Bears were in the Super Bowl, it would be a horrible sight to see. Grossman would be the most valuable player on a losing team the first time in history from his four interceptions.
New England vs Indianapolis for the right to go to the Super Bowl is only fitting. If Manning wants the chance at the ring, he'll have to go through his kryptonite. Awesome. New Orleans vs. Chicago has the top two seeds in a weaker NFC conference. Someone remind Grossman to start making New Year's Eve plans now. I'll make a prediction later in the week.
(*For those who don't know the title, it's from HBO's Entourage, which is one of the best and funniest shows on TV)
---
What do you think?
We'd love to hear your comments and/or opinions. If you submit them here, other visitors can read them, rate them and comment on them. An e-mail address is not required.
What Other Visitors Have Said
Click below to see contributions from other visitors to this page...

Same feeling with regards to Brady Not rated yet
2007/01/15 at 3:01 am I had the same feeling with regards to Brady at the end there… he had not really been that good all day, but having the ball in …
---
From Johnny Drama Would Say "Victory!!!!" to NFL Archives | Sports Blog | College Football Archives | MLB Archives | NBA Archives | NCAA Basketball Archives | Soccer Archives | Olympics Archives | Stupid Athletes Archives | Other Archives |
---
Home Page
About Us | Contact Us | Site Search | Advertise | Terms of Use |
---