John Calipari Returns In Final Four Again in 2011
By Dennis Berry

For John Calipari, he is back in a familiar place. He has been to the Final Four two times before this trip with Kentucky. He knows what it takes to reach the final game, though he has yet to win it.

Although according to the NCAA his record in Final Four games is 0-0. That is because those previous trips were vacated by the NCAA because of violations that happenedd at those schools. Even though Calipari was cleared by the NCAA in each case, it is something that is associated with him.
His first trip to the Final Four came in 1996. He had built the University of Massachusetts Minutemen into one of the best teams that season. That year they went 35-2. They were lead by All-American Marcus Camby. They spent much of the second half of that season as the #1 ranked team in the country. Their only losses that year were to George Washington and then Kentucky in the Final Four.

It was because of his success at Massachusetts that Calipari was offered the head coaching job for the New Jersey Nets in the NBA. Camby would be selected second overall in the 1996 NBA draft by the Toronto Raptors.

Soon after that it would come to light that Camby had accepted cash and gifts from a sports agent. By NCAA rule, that made him ineligible. As punishment, the NCAA vacated those wins and made the school return money it made while appearing in the tournament.

The NCAA cleared Calipari in the Camby case. The NCAA ruled that Calipari had no knowledge of what Camby had done. So it chose to not punish him in any form.

The next trip to the Final Four came in 2008 with the Memphis Tigers. That season the Tigers would go 38-2 and make it to the NCAA Championship game, but they would lose to Kansas in overtime. Calipari had put together another outstanding team that was lead by All-American's Chris Douglas-Roberts and Derrick Rose.

It was Rose's play in the NCAA Tournament that would lead to him being the first pick in the 2008 NBA Draft by the Chicago Bulls. Calipari would stay in Memphis another season and make a Sweet 16 run. After his season was over, Calipari accepted the head coaching job at Kentucky.

Soon after Calipari accepted the job at Kentucky, it came to light that the NCAA was looking into academic fraud involving a Memphis basketball player. A letter addressed to the school says:
"An unknown individual completed student/athlete's SAT with the student/athlete's knowledge, which was used to obtain his admission into the institution and to certify his NCAA eligibility."
It was later determined that the student/athlete in question was Derrick Rose. Mainly because that the time mentioned was the 2007-08 regular season and 2008 NCAA Tournament. After the NCAA conducted its investigation, it was determined that Rose did not actually take his SAT.

The NCAA vacated the Tigers' season and run to the championship game. The NCAA never mentioned Calipari in the report. At this time, he has not been punished by the NCAA for what happened in Memphis.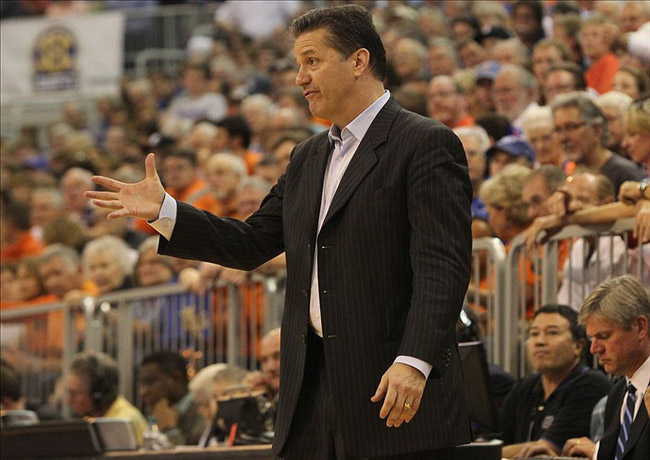 Calipari's critics like to point to him being the only coach to have two NCAA Final Four trips vacated. They like to point out that Calipari is what is wrong with college basketball, even though the NCAA has never punished or suspended him for any wrong doing.

Controversy has followed Calipari to Kentucky as well. During his first year as coach, the NCAA investigated whether or not the grades of former Kentucky player Eric Bledsoe had been changed in high school. The NCAA ruled that it could not prove it had been.

Why does this keep happening to Calipari? It's because of the players he recruits. He is not afraid to go after the best players in the country. Even though they bring with them this baggage, mainly because agents and coaches try to attach themselves to the best players as soon as they can.

In the case of Camby, it was during college. Today with the rise of AAU basketball, coaches and agents can see players as early as in high school. They can try and influence where players will go to school and who they might sign with once they turn pro.

This does not stop Calipari. He wants those players to play for him. It is the reason he has had the three straight top recruiting classes at Kentucky. Even with his 2010 class there was controversy with Enes Kanter, a Turkish player who the NCAA ruled received extra benefits while playing in Turkey and was therefore deemed permanantly ineligible to play. Calipari knew that Kanter was a long shot, but still brought him in.

Calipari has done nothing wrong in the eyes of the NCAA. It is the players he has brought in that have. If you are looking for a coach that has been punished by the NCAA for violations then you just have to look on the other side of the scorers table at Connecticut sidelines.

So while Calipari is only the second coach to take three teams to the Final Four, joining Rick Pitino, by NCAA standards Kentucky's game against Connecticut will be his first as a head coach. He is the most experience head coach in Final Four history to be 0-0.


What do you think?
We'd love to hear your comments and/or opinions. If you submit them here, other visitors can read them, rate them and comment on them. An e-mail address is not required.