Joe Flacco Finally Gets His Due as the Baltimore Ravens win the Super Bowl
Best regular season record since 2008.  8-4 postseason record, equaling Peyton Manning's career total. Three AFC Championship game appearances in five years.  Eight touchdowns in the 2012 NFL Playoffs, with no interceptions.
By the stats, Joe Flacco is an elite playoff quarterback.  But it took a 34-31 Super Bowl win and a Super Bowl MVP trophy for Flacco to get his due.
Before Sunday night, Flacco was met with nothing but doubt.  When he declared he was a top NFL quarterback heading into the season, he was met with laughter.
Who exactly is laughing now?  Flacco silenced them from the summit. 
Heading into the 2012 NFL Playoffs, the pundits picked Peyton Manning and the Broncos.  Despite Manning's poor postseason record and history of late playoff collapses, no one gave the Ravens a chance.
After beating Manning, Flacco went on to face Tom Brady in the AFC Championship.
Predictably, pundits picked the Patriots, despite Flacco's dismantling of New England at home in 2009 and Flacco's strong play in last year's narrow loss.  No matter, Flacco made it through with flying colors.
Yet, even heading into the Super Bowl, no one gave Flacco his due.  CBS promos announced the game as a matchup between Colin Kaeparnick and the retiring Ray Lewis, nearly ignoring Flacco entirely.
But no one can ignore Flacco now.
"Cool hand Joe," as he should be nicknamed, led Baltimore to the win with three crisp touchdowns, five scoring drives, and excellent game control.  Even when things threatened to get out of hand after the power outage, when Baltimore's defense shut down and let Kaepernick run loose for three touchdowns, Flacco never lost his nerve.  He led the Ravens to two tight, late field goal drives, sealing the 34-31 win.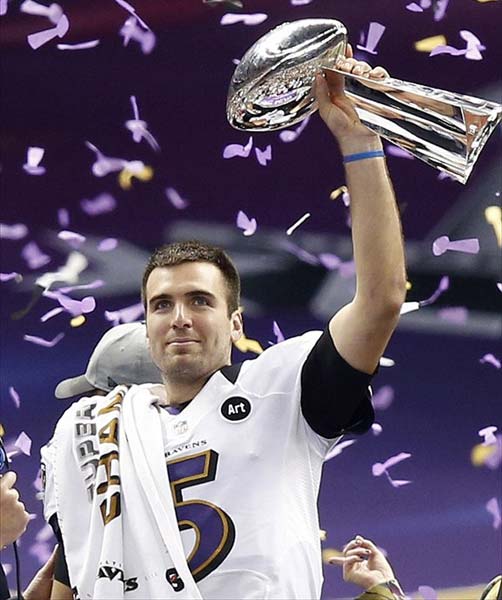 Feb 3, 2013; New Orleans, LA, USA; Baltimore Ravens quarterback Joe Flacco hoists the Vince Lombardi Trophy after defeating the San Francisco 49ers in Super Bowl XLVII at the Mercedes-Benz Superdome. Photo Courtesy By Derick E. Hingle-USA TODAY Sports.
---
At the end of the game, finally, Flacco got his due.
With almost seeming reluctance, the NFL awarded Flacco the Super Bowl MVP, his play so transcending that of teammate Ray Lewis that the NFL was left no choice.  For the first time, seemingly in his career, Flacco spoke first after a Baltimore win.  Lewis waited his turn.
Now Lewis is gone, headed into the championship sunset. It is Flacco's team now.
The only question is: where will he lead them?
What do you think?
We'd love to hear your comments and/or opinions. If you submit them here, other visitors can read them, rate them and comment on them. An e-mail address is not required.