Jimmy Johnson wants to make a comeback...on Survivor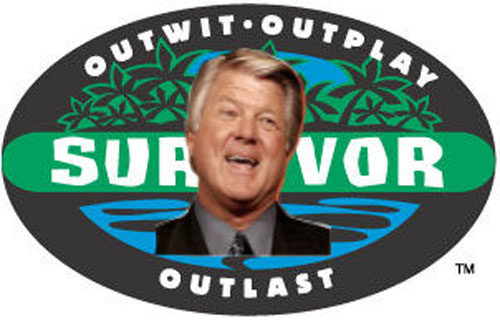 Jimmy Johnson on Survivor.
---
Jimmy Johnson dreams of being on Survivor. No it's true. He's a big fan of the show and attended a taping of one of the Survivor finales. He even taped an audition tape and submitted it (wonder what he said on it? Now that would be a nice find). CBS rejected Johnson because the show tapes in the summer time and airs in the fall. Johnson is a NFL analyst on FOX in the fall. FOX and CBS don't go hand in hand when it comes to promoting each others network. Now if he were on CBS, then the possibilty would be better.
Now the current retired Jimmy Johnson would be boring on Surivior. The one who just fishes now, enjoys hanging out with buddies, drinking rum runners, and finding inner peace. He doesn't care about his hair and how it looks. Sounds nice and sweet, Jimmy. Maybe he'll start doing yoga next. Is this Jimmy in the Bizzaro world?
Back when he cared about his hair he would have been a heck of a Survivor contestant.The football coach Jimmy Johnson would have been great on the backstabbing, cutthroat, ruthless style of competition. Here is a man who actually did and said all these things.
Once told University of Miami president Tad Foote to go to hell.
He screamed at an out of breath asthmatic Dallas kicker for running not fast enough in wind sprints.
He was called "Pork Face Satan" by Notre Dame fans for running up the score and "nuclear face" by his players for his rage.
Cut players after one fumble or for being tardy to one meeting.
Mocked Jerry Jones' face-lift on TV by comparing him to Michael Jackson.
Johnson loved it in 1986 when his captains told Oklahoma's captains, "Don't be afraid," during the coin toss, then refused to shake hands.
And that's just a bit of what he was like. Wouldn't he be great? He'd be the one you'd love to hate. One of those reality show people you hate so much but they make the show interesting. He sounds like a Keyzer Soze for Survivor. Although he couldn't go on the island with a limp and make up stories of his past say he killed his family rather than give in to his enemies demands. All just to put fear in his tribemates.
*Sigh* but those are the old days. Now we get the Jimmy Johnson who asks for little kisses from his Teacup Yorkie named Buttercup. Awwww. So now if he were to be on Survivor he'd be the guy who does the fishing. Maybe some cooking. Lead campfire songs. He'd probably thank all his tribemates and wish them luck when he got voted off. Instead we'd love "nuclear face" to lash out in a tirade wishing harm upon all tribemates and warning them about falling asleep at night. Have his face turn a bright red and breaking down the set as he walks out. Now that would make some must see tv.
---
What do you think?
We'd love to hear your comments and/or opinions. If you submit them here, other visitors can read them, rate them and comment on them. An e-mail address is not required.
---
From Jimmy Johnson wants to make a comeback...on Survivor to NFL Archives | Sports Blog | College Football Archives | MLB Archives | NBA Archives | NCAA Basketball Archives | Soccer Archives | Olympics Archives | Stupid Athletes Archives | Other Archives |
---
Home Page
About Us | Contact Us | Site Search | Advertise | Terms of Use |
---