"It Ain't Over Till It's Over" and Seems It'll Never End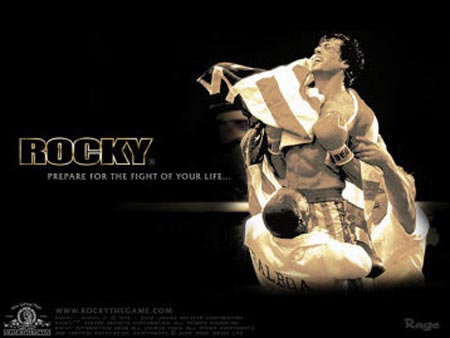 Rocky.
---
Would you pay $10 to see this face box in the ring? Do you think he's had some work done to his face? Botox? Face lift? Is a pig's fanny pork? Does the pope wear a beanie? This could be his wax figure for all I know.
Last year when I heard a Rocky 6 was coming, I laughed. I know I was not the only one. It's been 16 years since the last Rocky came out and even then it was nominated for many Razzie awards, which are given to the worst movies of the year. I know Hollywood is running out of original ideas for a movie but when you drag out a movie series six times, it can't be so good.
Rocky Balboa is not getting any younger (Stallone is 60). Yet there's going to be another Indiana Jones with Harrison Ford (64). Bruce Willis (51) has "Live Free or Die Harder" coming out. Also a Rambo IV is in pre-production now. I'm not kidding. So why can't Rocky make a geriatric comeback?
Surprisingly the reviews are coming in and they are positive. That's right. Positive reviews from critics. A sample from a front page article in USA Today.
"I expected to go all Scrooge on Sylvester Stallone's sixth round as Rocky Balboa," Rolling Stone's Peter Travers writes. "(But) just when you're ready to puke, the old Bill Conti theme (Gonna Fly Now) kicks in – are you feeling it? – Stallone steps in the ring and every day is Christmas."

As word of mouth spreads, preview trailers once met with laughter are now greeted with applause and long, joyful shouts of "Yo!" The PG family-friendly movie could become the Christmas season's sleeper hit.
If seeing 60 year old Stallone with his shirt off fighting then doesn't turn you away, then you'll see cameos by the cast of ESPN 2's Cold Pizza including the unbearable Skip Bayless. All the HBO boxing analysts. Also Mike Tyson is listed in the cast playing himself.
What do you think?

We'd love to hear your comments and/or opinions. If you submit them here, other visitors can read them, rate them and comment on them. An e-mail address is not required.
---
---
From It Ain't Over Till It's Over and Seems It'll Never End to Other Archives | Sports Blog | NFL Football Blog | NCAA Football Blog | NFL Football Archives | College Football Archives | MLB Baseball Blog | College Baseball Blog | MLB Baseball Archives | NBA Basketball Blog | NCAA Basketball Blog | NBA Basketball Archives | NCAA Basketball Archives | Fantasy Football | Fantasy Basketball | Fantasy Baseball | Soccer Archives | Olympics Archives | Stupid Athletes Archives | Football Forum | Basketball Forum | Baseball Forum | NFL Football Store | NBA Basketball Store | MLB Baseball Store | NCAA Football Store | NCAA Basketball Store | NCAA Baseball Store | Fatheads | NFL Football Tickets | NBA Basketball Tickets | MLB Baseball Tickets | NCAA Football Tickets | NCAA Basketball Tickets | NCAA Baseball Tickets |
---
Home Page
About Us | Contact Us | Site Search | Advertise | Terms of Use |
---