Is Wladimir Klitschko The Most Underrated Boxer Ever?
By Aaron Reynolds

Heavyweight boxer Wladimir Klitschko has been downplayed for the era in which he inhabits; disgraced and disregarded for his competition and divided divisions, with critics even going as far as to bash the 6'6 Ukrainian monster for not fighting his brother, Vitali Klitschko, who as this time serves to be his only worthy contention. Regardless, Wladimir continues to win, and win, and win again.

The facts don't lie: Klitschko is the longest reigning IBF, WBO & IBO heavyweight champion in history with the most title defenses for those organizations. Overall, he is the fifth longest reigning heavyweight champion of all-time with the third most consecutive title defenses at 12. If it wasn't for his brother, he would probably be the WBC Heavyweight Champion of the world too.

Why, then, will Wladimir Klitschko likely go down as the most underappreciated boxer in the history of the sport, alarming considering that the heavyweight division is traditionally a favorite among boxing enthusiasts and average fans alike?

Even though the Klitschkos reign on the heavyweight crown is impressive, it is evitable that the discussion will somehow turn to the brothers lack of competition in boxing's biggest (both literally and figuratively) division. Still, at age 36, the only thing that is possible of slowing down Wladimir at this point in time is political office, not another fighter.

This year alone, Klitschko has polished off two challengers (Jean-Marc Mormeck & Tony Thompson) in one-sided drubbings while threatening to retire from the sport to pursue political ambitions back in Europe. His next opponent, Mariusz Wach, likely doesn't stand anymore of a chance.

Therefore, the discussion must then progress to how Wladimir would fair against the all-time greats: Statistically, Klitschkos record ranks right up there with any boxer, including the legend known as Muhammad Ali. During his career, Ali won 56 out of 61 bouts (92 percent win rate), 37 by the way of knockout. Wladimir, meanwhile, has won 58 fights, 51 of which were decided by knockout, and while Klitschko does not even come close to facing the competition that Ali did during his tenure, the numbers are still noteworthy.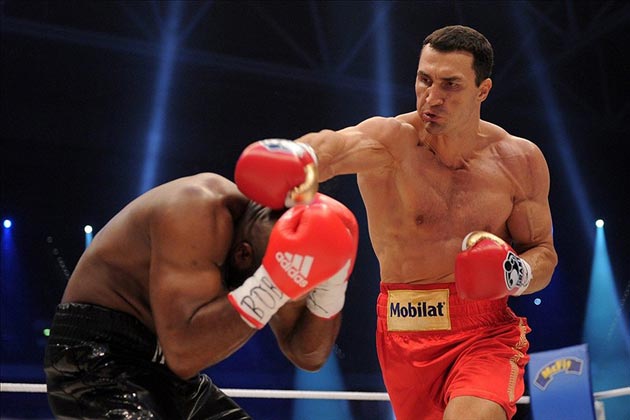 Where the brothers fall short in factors they cannot control, namely outside competition, they are still impressive with intangibles. For example, regardless of their competition, it is impossible to ignore that both Wladimir and Vitali are physically intimidating, with body weights, heights, and reaches that would trouble any fighter, current or retired.

The brothers are also smart (they each have PH'ds in sports science), and go above and beyond with their humanitarian work. Wladimir has a career in politics after putting the gloves away for good, something that very few other boxers can boast about.

However, in the end it comes down to performance inside the ring when ranking the all-time greats and Wladimir's shortcomings (namely a weak chin) would be an issue with quick and aggressive fighters like Mike Tyson or George Foreman, who would keep Wladimir off balance and not able to rely so much on his formidable left jab. Additionally, Klitschko may have the numbers on Ali, but if the two could square off in the ring, both in their prime, it is difficult to go against 'float like a butterfly, sting like a bee'.

Is Wladimir Klitschko the greatest heavyweight champion of all-time? Of course not, but if you take away the era in which he dominates (and could get your hands on a time machine), Klitschko would put up an entertaining fight with any previous champion. That is why he deserves to end up with the all-time greats, and cement his legacy as one of the most under appreciated boxers the sport has ever witnessed.


What do you think?
We'd love to hear your comments and/or opinions. If you submit them here, other visitors can read them, rate them and comment on them. An e-mail address is not required.
From Is Wladimir Klitschko The Most Underrated Boxer Ever to Boxing Blog