Is the One and Done System Hurting College Basketball?
By Zach Gilliland

Freshmen players are always exciting in college basketball, but the one-and-done rule is hurting the game because of a lack of identity and continuity.

This season, we have seen guys like Jabari Parker, Andrew Wiggins, Julius Randle, and Joel Embiid steal the highlights on SportsCenter, but is this good for the image of college basketball? Sure these guys are stars, but are they at school to win NCAA championships or simply buying time until the draft?

The game could be much more exciting if the fan base knew Wiggins and Parker would be back next season to battle it out again. Now, there are some kids in high school that will come in and attempt to do the same things as freshman before. But is one year really enough time to build a program?

In college football, teams are built on upperclassmen and experience mostly. This is why college football is much more exciting. Fans spend the summer before the season doing countless (mostly useless) predictions and rankings based on returning players and last season's stats.

The average fan has no clue who the stars of basketball are anymore, until the season is a few months in. Back in the day it was easy to identify with guys like Ralph Sampson and Hakeem Olajuwon because they stayed in college for longer than eight months.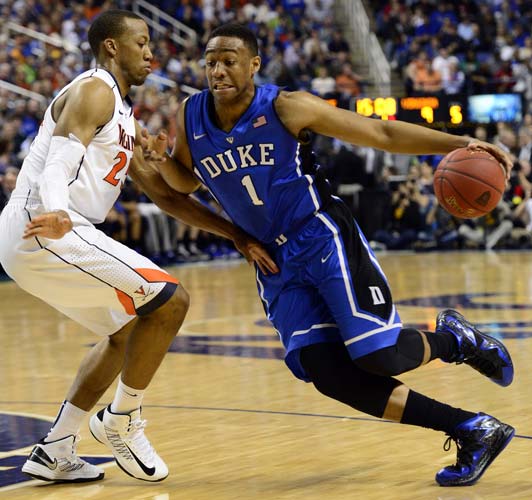 There is also another big issue with this: education. What happens if a kid gets hurt? These guys have no education to fall back on. The same argument can be made for football, but guys have to stay three years and would only have one year left to complete.
 
Adam Silver, new commissioner of the NBA, has stated that he would like to see the age limit raised another year. This would help with player maturity and give them at least another year of education in most cases, but it still leaves out a small percent of players.
 
The guys like LeBron James and Kobe Bryant, who are good enough to turn pro after high school would be the exception here. Flat out, there are just some guys that are elite basketball players and can compete with the professionals.

College baseball has a system in place in which you can turn pro after high school or sign with a college, but once you go to college you have to stay for a set number of years. This could work for basketball, but after a while more players would just elect to turn pro because of the fear of having to stay three years in college.

Guys in high school should be able to turn pro, only if they receive a high first-round grade from a team of NBA scouts who can measure potential. The guys who do not fit this group should go to school and be forced to stay three years, just like in football.

There is going to be tons of ongoing debate with this issue, and it has become a hot topic around sports talk lately. There may not be an easy fix, but the league needs to find a policy and stick with it.


What do you think?
We'd love to hear your comments and/or opinions. If you submit them here, other visitors can read them, rate them and comment on them. An e-mail address is not required.
Is the One and Done System Hurting College Basketball to NCAA Basketball Blog