Is the Big Ten Conference Really This Terrible?
by Paul Grossinger
Yes, it's only Week 3. But it's time to ask: how bad is the Big Ten?


As I watched Michigan face Akron on their own 4 yard line with the game in the balance, I could not help but wonder.
Michigan has the No. 11 national ranking and is fresh off beating National Championship finalist Notre Dame. But the Wolverines came oh so close to losing to a MAC team that is not even the most talented in its own division. Worse, Michigan's win over the Irish hardly looks impressive after Notre Dame barely held off a middling Purdue team that almost put them into a 1-2 hole.
Nebraska, supposedly the third best program in the Big Ten, was flattened by UCLA 41-21. Worst of all, Nebraska actually led big in the first half and then inexplicably collapsed to allow 35 unanswered points.
Wisconsin, fresh off Bret Bilema's departure, lost 32-30 to Arizona State. When the Big Ten's fourth best program loses to an unranked back-of-the-pack member of the Pac-12, you are in trouble.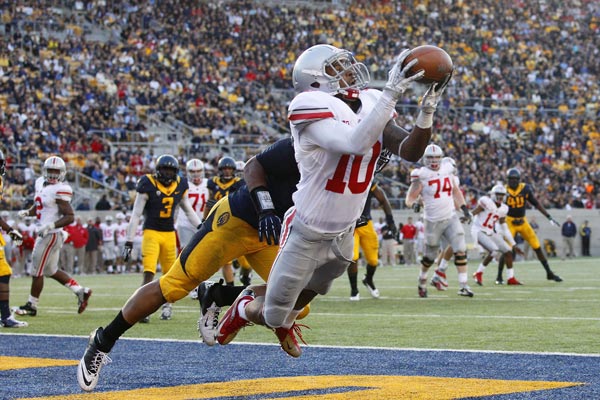 Looking for positives? Ohio State remains 3-0 after hanging 52 points on Cal. But, guys, this is Cal we are talking about; how can Ohio State claim to be a serious contender until they face a real team?
Honestly, the most exciting Big Ten news of the week is that Northwestern won convincingly and remains on track for their first ten win season in recent memory.
So, where does that leave us?
There appear to be two ways to look at the Big Ten. The glass half full says Ohio State, Michigan, and Northwestern are all top 15 teams nationally and, with their soft schedules, the Wolverines and Buckeyes could face off in a de-facto National Championship entry game in the last week of the season. The glass half empty says Michigan is an 8 win squad coasting on an easy schedule and Ohio State looks like a potential prop piñata for an SEC team to pummel in the National Championship Game.
So, you tell me: is the glass half full or half empty?