Is It Okay To Boo?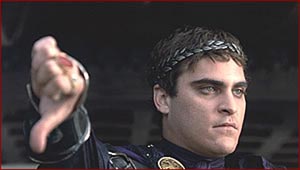 The fans of New York have hurt A-Rod's feelings and people are debating whether it's right or not to boo him. First it's extremely difficult to feel sorry for someone who is making $25 million a season. Even if flesh eating bacteria invaded his limbs and he couldn't play baseball anymore, it's still not enough. Any athlete, especially one making millions, is subject to booing. It's part of the territory. If they don't like it, work at a car wash.
Booing is a sporting ritual as old as sport itself. The first written record comes from ancient Greece. Playwrights competed to determine whose tragedy was the best. In the sixth century B.C., audience participation came to be regarded as a civic duty. The audience applauded to show its approval and shouted and whistled to show displeasure. In ancient Rome, the booing was common at gladiator battles.
We boo when our team or indiviuals on the team aren't playing up to expectations. If a player has dropped their 3rd pass of the game, the offense has another three and out series, or last season's MVP makes routine errors everyday from 3rd base, it warrants a boo. It's not necessary to boo an isolated incident. Booing comes out when futility rears it's ugly head over and over again. Adam Viniteri missing a field goal doesn't get a boo. Brad Lidge blowing another save does.
It's silly to say the home fans shouldn't boo one of their own because it doesn't help. It doesn't help confidence but what's the other option? Should fans cheer when Peyton Manning throws his 5th interception of the day? "It's okay Peyton! You'll get them next time!! We're okay about losing to the 49ers!" Should they make no noise? No. They expect him to execute the offense and play how he's been known to play.
So what do I say? Keep on booing. It's perfectly within our rights as fans to boo. Boo them relentlessly if they are under performing. We cheer just as loud for great plays and when we just need to be loud. As long as the sun shines and there is oxygen in the air, booing will always be around.
---
What do you think?
We'd love to hear your comments and/or opinions. If you submit them here, other visitors can read them, rate them and comment on them. An e-mail address is not required.
---
From Is It Okay To Boo to MLB Archives | Sports Blog | NFL Archives | College Football Archives | NBA Archives | NCAA Basketball Archives | Soccer Archives | Olympics Archives | Stupid Athletes Archives | Other Archives |
---
Home Page
About Us | Contact Us | Site Search | Advertise | Terms of Use |
---