Iowa Hawkeye Basketball
Here's an article about our Iowa Hawkeye Basketball Store.
This article is an overview of Iowa Hawkeye Basketball: its history, player accomplishments, and current playing level. A lot of Best Sports Blog users have asked for is biographies on major NCAA basketball programs-Purdue among them-so this is one of a series of articles designed to meet that need. So, without further ado, let's take a look at the history of Iowa Hawkeye basketball:
Iowa basketball began in 1902 under coach Ed Rule. Rule led Iowa to a 10-2 record in the program's inaugural season and a 37-15 record in four seasons. But, after Rule's departure, Iowa went through a weak period until the 1920s when the Hawkeyes won their first Big Ten championship in 1923 and tied for it again in 1926.
After a very weak two decades, Iowa basketball enjoyed a Golden Age from 1952-1958. During that period, Iowa reached the NCAA Final Four in 1955 and 1956. Often called the "Age of the Fabulous Five," the period remains Iowa's greatest era of basketball success. Led by Bill Seaberg, Carl Cain, and Bill Logan, the Hawkeyes got better and better with each successive year and many devoted Hawkeye fans still think that the program should have won the 1956 national title. However, after the Fabulous Five graduated and departed, Iowa's Golden Age ended.
Since the Fabulous Five, Iowa has been a strong program but rarely a player on the national stage. The exception to that rule was the early to mid 1980s. Led by guard Ronnie Lester, the Hawkeyes began the period with an unexpected trip to the NCAA Final Four in 1980. They followed with another run to the NCAA Elite Eight in 1987, which closed this era of dominance but, surprisingly, the best the Hawkeyes could do in the interim was a 1983 trip to the NCAA Sweet Sixteen. Since then, Iowa has made the tournament on several occasions but never been past the Sweet Sixteen.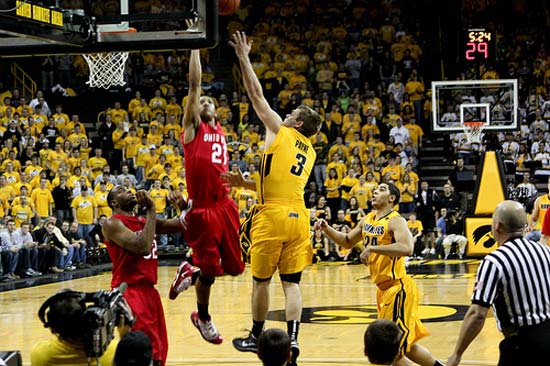 Thanks to Castleton Road from Flikr.com for this great picture of Iowa Hawkeye vs. Ohio Buckeyes Basketball.
---
Looking forward, Iowa must continue to rebuild. The Hawkeyes have not been to the NCAA tournament since 2006 and have been unable to recruit high level talent in recent years. However, the program still has history, allure, and the hope that another Golden Age of Iowa Hawkeye basketball is coming soon!
---
What do you think?
We'd love to hear your comments and/or opinions. If you submit them here, other visitors can read them, rate them and comment on them. An e-mail address is not required.
---
From Iowa Hawkeye Basketball to NCAA Basketball Blog | Sports Blog | NFL Football Blog | NCAA Football Blog | NFL Football Archives | College Football Archives | MLB Baseball Blog | College Baseball Blog | MLB Baseball Archives | NBA Basketball Blog | NBA Basketball Archives | NCAA Basketball Archives | Fantasy Football | Fantasy Basketball | Fantasy Baseball | Soccer Archives | Olympics Archives | Stupid Athletes Archives | Other Archives | Football Forum | Basketball Forum | Baseball Forum | NFL Football Store | NBA Basketball Store | MLB Baseball Store | NCAA Football Store | NCAA Basketball Store | NCAA Baseball Store | Fatheads | NFL Football Tickets | NBA Basketball Tickets | MLB Baseball Tickets | NCAA Football Tickets | NCAA Basketball Tickets | NCAA Baseball Tickets |
---
Home Page
About Us | Contact Us | Site Search | Advertise | Terms of Use |
---