Into the Sports Desert: My World After the Super Bowl
In my world of poor analogies, I always think of the Super Bowl as this gleaming, beautiful oasis at the edge of civilization, looking out on to the desert.
I look forward to it with excitement - knowing it will be the most fun game of the year - yet I also look toward it with trepidation, knowing the desert that lies beyond.

After the Super Bowl ends, the sports fan is left with little on the calendar: a barren sports wasteland of regular-season basketball, post-lockout hockey, and spring training baseball.
 
Late winter, early spring is the worst stretch of the sports calendar.  Sports fans are spoiled in November, December, and January; treated to baseball's World Series, college football's BCS bowls, the NFL Playoffs, and the Super Bowl.
 
But, after the big game, the calendar suddenly goes blank.  Baseball's free agency frenzy ends, the game won't pick up seriously until June.  College football lies dormant, basketball chugs onward, and hockey never fails to disappoint.  Even tennis can't muster up a Grand Slam event in the spring.
Fans' one saving grace comes in March: March Madness!  The NCAA's college basketball tournament is one of the most exciting events on the calendar; a spectacle for its sheer size (64 teams) and complete unpredictability.  The moment the Super Bowl ends, and the Lombardi Trophy is presented, millions of fans silently circle it on the calendar.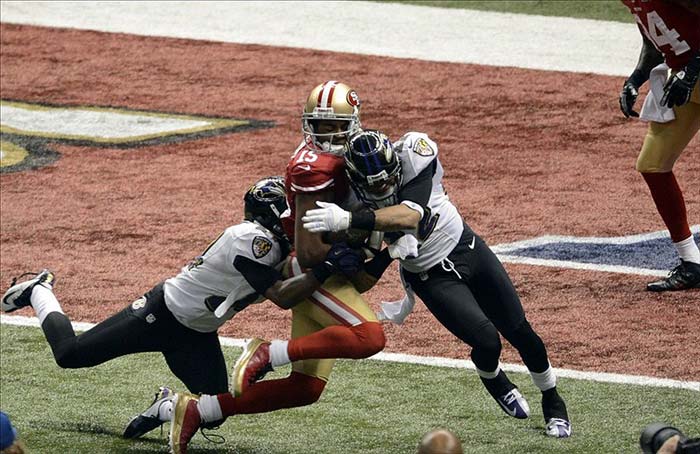 Feb 3, 2013; New Orleans, LA, USA; Baltimore Ravens cornerback Jimmy Smith (22) and Corey Graham (24) break up a pass for San Francisco 49ers wide receiver Michael Crabtree (15) during the fourth quarter in Super Bowl XLVII at the Mercedes-Benz Superdome. Photo Courtesy By Richard Mackson-USA TODAY Sports.

---

Yet, nothing replaces football when it's gone.  Now, the NFL simply dominates the American sports landscape.

So, who wants to watch the NFL Draft?
What do you think?
We'd love to hear your comments and/or opinions. If you submit them here, other visitors can read them, rate them and comment on them. An e-mail address is not required.